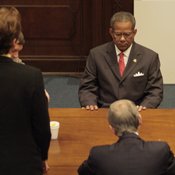 Mayor Frank Melton's second trial for the Aug. 26, 2006, demolition of an occupied duplex at 1305 Ridgeway St. will allow him less room to maneuver than his first. Melton and his former bodyguard Michael Recio are scheduled to appear in federal court Feb. 2, almost two years after a state trial, in which the men were acquitted on all charges.
In April 2007, a Hinds County jury acquitted Melton, Recio and the mayor's other former bodyguard, Marcus Wright, of all charges for their roles in the demolition. Defense attorneys never contested the defendants' involvement in the destruction. Instead, they won the state trial by presenting their clients as crime-fighters with pure motives, trying to clean up the city they were sworn to protect. Melton and his co-defendants could only be guilty, defense attorneys argued, if they acted with "evil intent."
Mississippi College law professor Matt Steffey, said that interpretation of the law, while unusual, was permissible and ultimately a matter of the judge's discretion. "It may have just been his lawyers got the better of the argument that day," he added. "That seems far less likely to happen this time."
The Feds' Narrow Focus
Steffey said several factors contribute to the less favorable outlook for the mayor this time: "It's the nature of the charges; it's the resources that the prosecutors can bring to bear, and it's the judge's view of the case."
In his state trial, the district attorney charged Melton with burglary, conspiracy to commit burglary, malicious mischief, conspiracy to commit malicious mischief and causing or directing a minor to commit a felony. At the federal level, Melton faces three civil rights charges: conspiring to commit an unlawful search and seizure "under color of law," actually committing the unlawful acts and doing so with a handgun.
That Melton and Recio acted "under color of lawԗthat is, while appearing in their official capacity—will be easy to prove, given that they drove to Ridgeway Street in Melton's Mobile Command Unit.
Prosecutors must also prove that the mayor and his bodyguard acted intentionally, a more contentious point. With the investigative resources of the federal government behind them, however, prosecutors have amassed a daunting mass of evidence that the mayor knew he was depriving tenant Evans Welch and owner Jennifer Sutton of their civil rights. The trial was originally slated to begin Nov. 12, but Judge Daniel Jordan granted the defense a two-month continuance to read thousands of pages of discovery material that prosecutors have amassed.
On several occasions before the Ridgeway incident, prosecutors say, Melton ordered unlawful searches or seizures and was warned of their illegality. In July 2005, Melton allegedly asked police officers to kick down the door of an occupied hotel room. Officers told him that they had no legal justification to do so. In March 2006, Melton and his former bodyguard Michael Recio had a car towed without probable cause, despite explicit warnings from police officers that Melton could be arrested. Recio later "caused a false report to be written to obscure this illegal act," prosecutors said.
Prosecutors have successfully excluded references to the past that might show the mayor in a more sympathetic light. Jordan granted prosecutors a motion to ban references to the mayor's acquittal in his state trial, on the grounds that his acquittal on different charges did not prove his innocence.
Jordan also granted a motion to exclude evidence of the defendants' good conduct. Melton argued in his response that he needed to demonstrate his "habit or routine in enforcing the law and in demolishing dilapidated and threatening structures." Jordan rejected Melton's argument.
"Evidence that Defendant Melton had a reputation for fighting crime or removing dilapidated property is simply irrelevant to whether he willfully deprived these individuals of their Fourth Amendment rights," Jordan wrote in his order on the motion.
Steffey said Jordan's order still allowed some room for the mayor to present his crime-fighting reputation to the jury. "The mayor is allowed to bring character witnesses that say he is a law-abiding man," Steffey said. "You just don't ever know exactly what people are going to say on the stand."
Intent or 'Evil Motive'?
Federal prosecutors anticipated that Melton might resurrect his defense strategy from the state trial. In a Sept. 29 motion, they asked Jordan to exclude from trial evidence of drug activity at the Ridgeway duplex. The use of drugs there has no bearing on whether the mayor and his bodyguards intentionally demolished it without legal basis, the government argued.
Melton maintained that such evidence is necessary to establish a lawful basis for his merely being at Ridgeway Street. He submitted five affidavits—mostly from young men he has mentored—to corroborate claims that the duplex was a drug haven.
On Dec. 19, Jordan said the defense can enter evidence of the house's condition at the time of the raid, as it pertained to Welch's request and Melton's decision to visit. "[A]n absolute prohibition against any evidence regarding Defendants' reasons for visiting the property on the night in question would deprive the jury of necessary context," he wrote. He stopped short of permitting references to crime in general or in the neighborhood, or past instances of drug activity at the house. He also banned the use of "crack house" or other colloquial terms for the house.
At the November pre-trial hearing, Melton's attorney John Reeves also raised the issue of how to define "willfulness" in the mayor's charges, which allege that Melton "willfully" deprived Evans Welch of his Fourth Amendment rights. Echoing the mayor's defense during his state trial, Reeves told Jordan that prosecutors would have to prove that Melton acted with a "bad purpose or evil motive." U.S. Attorney Mark Blumberg contended that "willfully" simply meant the intention to deprive someone of their constitutional rights. Jordan ordered both sides to submit briefs on the matter.
Reeves expanded on his claim arguing that the history of drug activity at the house was essential to proving that Melton had no evil motive. Welch had complained to the mayor about drug activity at his house and asked for help, Reeves claimed.
"Mayor Melton's defense is in part that … the tenant and the Mayor had a previously established relationship, the tenant reached out to the Mayor for help, and the Mayor responded to the location after being notified that drugs were again being sold on the premises," Reeves wrote in his brief.
On Dec. 12, Evans Welch told the Jackson Free Press that he had not asked for the mayor's help.
"I deny it," Welch said at his parents' home. "That man tore up my house on his own." He declined to comment further.
In a Dec. 19 ruling on the government's motion, Jordan did not determine how he will instruct the jury regarding Melton's "willfulness." The definition will depend on the evidence presented at trial, he said.
Bodyguard Turned Witness
Melton and Recio suffered a serious blow Oct. 7 when Wright pled guilty to a lesser misdemeanor conspiracy charge in return for his cooperation.
Wright entered his version of the events surrounding the Ridgeway incident as part of his plea, but the government is expected to call him to the witness stand as well. Wright's plea alleged that the mayor had been drinking the night of the Ridgeway raid, matching witness testimony from the state trial. If Wright does testify against his former colleague and boss, Steffey said, he could do significant damage to Melton's and Recio's defense. "That's going to be very difficult," Steffey said, "to now, all of a sudden, try to portray someone you entrusted your life with (as) a liar."
A joint motion to dismiss, filed Nov. 7, hinted at how the defense might seek to discredit Wright's testimony. The motion accused the government of "prosecutorial vindictiveness" for failing to promptly disclose JPD Internal Affairs files on Wright.
Included in the motion was an affidavit by a former male prostitute alleging that Wright had engaged in sexual misconduct while on duty as an officer. At the government's request, a federal magistrate judge restricted access to the affidavit a few hours after it was made available to public viewing. Jordan denied the motion to dismiss on the grounds that defense attorneys had received the potentially exculpatory IA files in advance of the trial.
The Wild Card
While pre-trial motions have revealed the trial's battlegrounds, testimony by the mayor could change the trial significantly. Recio's attorney, Cynthia Stewart, acknowledged as much when she admitted in an unsuccessful motion for a separate trials that "his defense is somewhat unpredictable."
Steffey says that he is most interested to see whether the mayor chooses to testify.
"If he thinks the case is going great for him, he probably won't testify," Steffey said. "(But) he made some statements before trial that people are finally going to hear his side. … If so, that's probably the most critical part of the whole thing. He can be a persuasive and charming man."
Daily Melton coverage at meltonblog.com.
Previous Comments
ID

142642

Comment

I would put Melton on the stand only if the case was lost already, because I think his testimony would likely be a disaster. He is undeniably charismatic, but he is also something of a maximalist in his claims, har har. Furthermore, he has a temper and does not respond well to contradiction. I think he would do well in his initial testimony, but then the cross examination would be devastating. Anyone remember how Melton completely sabotaged his own defense in the Meridian lawsuit? Surely the defense is not going to rely on the absurd suggestion that Welch asked the mayor to destroy his home. Thanks for the updates, Ward. Let's hope the mayor takes his meds, both for his sake and so that we might have an end to this soap opera some time before the end of the century.

Author

Brian C Johnson

Date

2009-01-02T13:15:23-06:00
More stories by this author
Support our reporting -- Become a JFP VIP.
The news business has changed dramatically in the past year, and we need your help more than ever to keep bringing you important stories about Jackson and the Metro. Become a JFP VIP with an annual membership or you can Sign up as a monthly supporter. Thanks for anything you can do to empower our journalism!