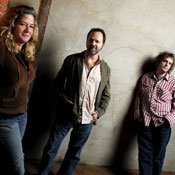 Alt-country pioneers Blue Mountain have been through it all in the nearly two decades since they formed in Oxford, Miss.: changes in lineup, underwhelming management, tough salad days, success and dissolution of both a marriage and the band. But while many thought the seminal band's days were done, 2007 was a lucky year for Americana fans—and for Blue Mountain themselves—when the band officially reunited in a series of shows that led to a new album, "Midnight in Mississippi," released in August 2008.
Last week, Cary Hudson, Blue Mountain's singer and guitarist, was on one of the band's "micro tours," which last just a few days. He spoke to the Jackson Free Press from New York City about the band's new album, his professional reunion with ex-wife Laurie Stirratt and the state of the music business today.
Where are you touring right now?
We're in New York City playing a songwriters' night. We've got this new way of touring where we stay out for just four or five days. On this tour we hit Kentucky, D.C., Boston and New York.
Before Blue Mountain broke up, you had been based in Oxford. Where are you and Laurie based now?
I'm based in Sumrall, Miss., which is about the size of the bookstore I'm sitting in right now, and Laurie just moved from Chicago back to Oxford.
How's the new album doing?
I think it's going great. You know, it hasn't been out long enough to know from the distributor how it's doing in stores. I don't have my hopes up too much because this is a terrible time for the music industry, but from being out on the road, it's going great. The reviews have been really nice. And as far as what I've been hearing from my fans, it's really cool because they've been coming up to me for, like, 18 years saying, "I love your first record, Dog Days," and now they're finally saying, "I love this one as much as Dog Days" or "This is my favorite record from you guys." And that's nice to hear.
How is "Midnight in Mississippi" different from past Blue Mountain albums?
When we started making records, we were really just trying to capture the sound of the band playing in the room—real stripped-down and simple. And as we've started making more records, adding more stuff in, we kind of got away from that a bit. I think the way this new record is different is that it kind of goes back to what we used to do, mainly capturing the sound of the band in the room. We cut most of the stuff live. We kind of stripped things back to the basics.
How long did it take to record?
We did it quick, within about two weeks. We recorded it in Dallas with (Grammy award-winning engineer) Stuart Sikes. He's worked with the White Stripes and Cat Power. One of the reasons we wanted to work with him is that we knew he cut records live.
This is a new album, but also the first after Blue Mountain reunited. Is everything new, or is there any older material that just didn't find its way onto a past album for whatever reason?
There are two old songs from my solo records, and there's one song from a record that Laurie did with her brother John (Stirratt, bass player for Wilco), "She's a Wild One." That was an old one that we brought in and kind of reworked.
Blue Mountain broke up around 2000, and it's impossible to speak about the band without mentioning your marriage also being a part of that. What's it like now to have the band together again?
I think when we first got back together, we both felt like we were going to feel this out and see how it goes. Laurie and I were married for eight or nine years, so we had to feel out what that was going to be like. And it turns out that we've still got great chemistry. I love playing music with Laurie. And it's turned out that we're friends, too. So that's a good working relationship.
We've certainly played well over a thousand gigs together, so it's hard to replace that kind of relationship. I'm not going to meet up with some other musician who I'm going to be able to have that kind of chemistry with. The fact that we could be friends, and the musical thing is still there; it's good business and still making decent money. Especially in this era when the whole country's basically in a recession, we're still okay. We're not getting rich, but that's OK.
What's it like now for a touring musician with the American economy wavering?
It is a little bit tougher right now. People aren't going out and spending as much money. It's not terrible. The fact that gas prices went back down helps us, since that was eating us up out on the road. You know, I'm just glad I'm a guitar player and that's my position in the music industry. A lot of my friends who did stuff like work at record stores and at record labels, they don't even have jobs anymore. It's nice doing what I do. The market might get smaller, it might get bigger, but you can always go out and play live and make money. I guess I would mark my attitude in that respect as "grateful."
What do you have in store for Jackson?
We'll be playing a gig at Hal & Mal's at some point, probably in March. Then I have a solo gig at Fenian's Pub. I graduated from Millsaps, so that's my personal connection to Jackson. Jackson's always been really supportive of Blue Mountain. We have a great fan base and a lot of friends there.
More stories by this author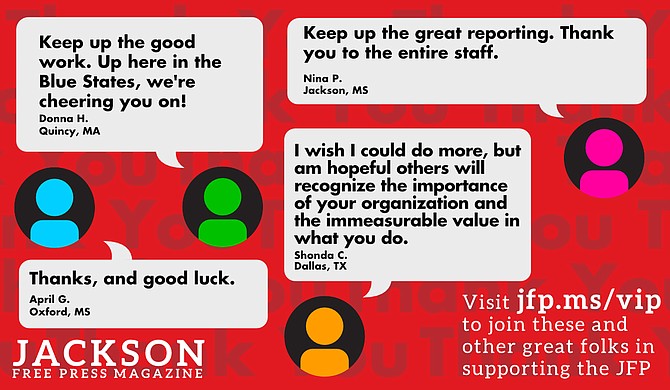 Thanks to all our new JFP VIPs!
COVID-19 has closed down the main sources of the JFP's revenue -- concerts, festivals, fundraisers, restaurants and bars. If everyone reading this article gives $5 or more, we should be able to continue publishing through the crisis. Please pay what you can to keep us reporting and publishing.