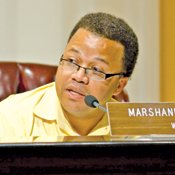 A number of notable Jacksonians are throwing their support behind Councilman Marshand Crisler in the upcoming mayoral election. Jackson restaurateur Jeff Good—the finance director of the current mayor's campaign—is hosting a fundraiser for Crisler on Dec. 8. In an invitation(doc) to the event, Good mentioned his co-hosts, among them former-Gov. William Winter, former Secretary of State Dick Molpus, businessman Leroy Walker and former Mayor Kane Ditto.
A Democrat, Crisler has represented Ward 6 since 2001. He has served as the city council's president and currently chairs the planning committee.
Reached Tuesday for comment, Crisler said that he was "absolutely ecstatic" to receive support from such prominent members of the community. He added that, while he hasn't officially announced his candidacy, he would do so soon, possibly at the fundraiser.
"We're preparing ourselves for a formal announcement," Crisler said.
Good acknowledged that Dec. 8 is an early show of support.
"We believe the potential for an early election is quite possible," Good wrote in his invitation. "Hosting a fundraiser NOW helps us secure finances and secure our place as the front runner, should an election be held in the coming months."
The general election for Jackson's next mayor is scheduled for May 5, 2009, but current Mayor Frank Melton's legal troubles could force him out of office and require a special election earlier in the year.
Melton and his former police bodyguard, Michael Recio, have been charged with federal civil-rights violations in connection with the 2006 demolition of a duplex on Ridgeway Street. Melton and Recio are scheduled to go on trial Jan. 5. If convicted, the mayor could face five to 25 years in prison.
Good supported Melton in the last mayoral election.
"I believed in what the candidate said he would do … as a vast majority of our electorate did," Good wrote. "Unfortunately, once the candidate took office, things dramatically changed."
Other possible mayoral candidates include former Mayor Harvey Johnson, City Council President Leslie McLemore and Tax Collector Eddie Fair.
The print version of this story erroneously stated that Crisler currently chairs the budget committee. Ward 1 Councilman Jeff Weill is chairman of that committee. Crisler serves as vice-chair.
Previous Comments
ID

141963

Comment

Please let me know of opportunities to help get this man elected.

Author

daniel johnson

Date

2008-12-02T21:12:25-06:00
ID

141965

Comment

Former police chief Robert Johnson threw his hat in the ring last month.

Author

LatashaWillis

Date

2008-12-03T05:18:47-06:00
ID

141968

Comment

I heard Sheriff/Chief Mac is considering a run for mayor too . . .

Author

jxngrl03

Date

2008-12-03T10:49:47-06:00
ID

141969

Comment

Let me guess: He'll try to wear *three* hats now. ;-) We don't think he should be wearing two.

Author

DonnaLadd

Date

2008-12-03T11:21:37-06:00
ID

141977

Comment

Right about now, almost anybody not named Frank Melton is better than what we've got now.

Author

golden eagle

Date

2008-12-03T16:15:23-06:00
ID

141983

Comment

Goode need to sit down and shut up! He supported Melton because he want to have influnce in the Mayor office and now he putting his name behind Crisler one the main individuals tyhat have created problem for Harvey Johnson and Frank Melton. I am not surprise that Leroy Walker would support him, Walker has great leadership and business experience since he lost several McDonald's and Kane Ditto the has been Mayor of Jackson. Goode and these people are all has beens and have done nothing to help the City of Jackson. William Winter a so called democrat and Kane Ditto a so called Democrat never support employees right to Unionize or did the ex-govenor pay the City of Jackson for providing police and fire protection for State property. Crisler is a joke and before he decide to run he should show how many City contracts went to member of his family in the last eight years. Leadership is lacking in Crisler who will swing to any direction as long as he thinks it something in it for him. In fact what has he done for South Jackson? Nothing! but Crisler platform should be I did nothing in my ward and I intent to do the same for the City of Jackson. Crisler, we will be publicly exposing you. Crisler for Mayor, we don't need him for councilman then why would anyone support him for Mayor. A citizens stated when this article came out in the JFP that the only one's supporting him is three white and one ? That's the way to show the voters who will own you if you are elected. 80% Black and your support is from a sandwich maker and a bunch of has beens be real!!!!

Author

Hot Sauce

Date

2008-12-03T21:31:08-06:00
ID

141984

Comment

I bet you that Goode did not tell the people that he fought against Kane Ditto re-election when his friend Pat Frascona was running for Mayor and I bet he didn't tell Leroy Walker that he went around calling Walker Harvey Johnson boy and now he's playing them to use their name and their questionable reputations to help Crisler get elected to Mayor. Goode, the real joke is you thinking you have clout to get anyone elected to the position of Mayor. Remeber, Goode I was there with you when these things happened!!!!!

Author

Hot Sauce

Date

2008-12-03T21:42:47-06:00
ID

142022

Comment

...and the rest is history. I'm suprised at the tone of this article and Hot Sauce, you have made some great points. Hopefully this community will not be fooled again by Goode and company. Goode is known for his restaurateurship in this community; however, how can he be trusted after bringing melton to the table, a person he knew was a nightmare for WLBT and a disaster for the MBN. All of the stories that the FBI is investigating were known to this community of which Winter, Molpus and Goode were/are a part of. What saddens me even more is the fact that black people knew where the bones were buried, but, were willing to listen to the "johnson is too elite" (this was also a label given to Obama, remember?)or "Johnson is too slow" or "Johnson is building a house in Madison." The fact of the matter is, Johnson could not be bought by these "early Chrisler supporters" or anyone for that matter. He was well trained, loved Jackson and its citizens and never did or said anything to embarrass or hurt anyone. Our City was listed among the 6 best places to live during his administration. How soon we forget! In spite of all of his positive history for this City, I have heard from people who knew better, lie, treat him like dirt and with so much disregard and such negative disrespect. As I have said many times, black folks do not have the luxury of distroying even ONE good and capable African-American male. I don't know who else will enter the race; however, I do know that there was an interruption of a man named Johnson and his bid for continuing to put Jackson on the map and following his slogan of making it the "BEST OF THE NEW SOUTH." He hast not formally announced, but, if and when he does, I will be fron row and center helping to put out the fires that will only burn Jackson.

Author

justjess

Date

2008-12-04T16:45:59-06:00
ID

142025

Comment

I'm going with Johnson too unless I run myself. Fat Harry and Lawclerk have been begging me to run and offering to give big money toward my campaign platform. I didn't expect their generosity. They say Obama's performance during the campaing and since has completely changed their outlook toward Democrats and foreward thinking people such as myself.

Author

Walt

Date

2008-12-04T17:09:36-06:00
ID

142029

Comment

The problem with Harvey was that he allow his ego to get in the way of the truth. Harvey also took to much time to make decision and he also allowed his personnel director, his Fire Chief and several other of his directors to lie to him and he never would take it on himself to investiate who was telling the truth. On the other hand I think that Robert Johnson and several other potential canditates for Mayor should be given the opportunity to hear their platform for improving the City of Jackson. I am really impressed with Robert Johnson and I really like his honesty and his professionalism. This is really what the City of Jackson needs to recover from the shame that has been placed on the City of Jackson by the current Mayor, Frank Melton. If you put Melton and Crisler in a pot a shake not stir, when you pour it out of the cup you will only see ego's, lies, deceit and more violations of the law. Melton and Crisler, M-C could the Letters M-C be short for MASTER CRIMINALS?

Author

Hot Sauce

Date

2008-12-04T19:50:39-06:00
ID

142032

Comment

The Progressives have already begun to gear up for the Mayoral season by organizing some debates. Harvey Johnson impresses me as well. i like Crisler for many of the decisions i've seen him make on the council and what he has chosen to discuss with me on the occasions we had opportunity to speak. i look forward to the debates.

Author

daniel johnson

Date

2008-12-04T20:37:47-06:00
ID

142033

Comment

Much too early for me to back anybody, but if I had to pick now I'd go with Mary Coleman, John Horhn, or Leslie McLemore. I suspect Harvey Johnson was the best mayor we ever had while he was in office and will be remembered as such by historians, but he would not be my first choice at this juncture because of how badly he flubbed the primary race in 2005; because of his lack of political skills (despite his profound gifts as a policymaker), he bears (I believe) some responsibility for the mess we're in now. Robert Johnson is, I'm sure, a fine man and very qualified, but I can't get excited about him as a candidate right now. This may change later. Marshand Crisler is an excellent candidate but would not be my first choice, so I probably will not be attending this fundraiser despite the considerable respect I have for those involved in organizing it, including Jeff Good (who deserves none of the criticism directed at him in the anonymous comments above, IMHO). Malcolm McMillin has no business running, period, and I can only assume rumors that he will are some sort of joke. The only circumstance under which I can see myself ever voting for him is if his opponent in a runoff is Frank Melton or someone equally problematic. There are white candidates who would be viable, IMHO--Cecil Brown and Margaret Barrett-Simon, to name two--but none of the ones who have been rumored to actually run strike me as viable. I'm not running for mayor next year, for the record. ;o) Faye Peterson is a name I haven't heard mentioned much recently, but she'd be qualified to run for mayor. Wouldn't necessarily be my first choice but we could do worse. Kimberly Campbell, who lost her job standing up to Melton and then went on to beat Erik Fleming in the District 72 primary, would be an amazing candidate but I don't think she wants to leave during her first House term. I have nothing against Eddie Fair, but I don't know why he's running.

Author

Tom Head

Date

2008-12-04T21:03:40-06:00
ID

142034

Comment

Indeed Daniel, The Jackson Progressives along with Yups, The Jackson Chamber of Commerce, and Leadership Greater Jackson have come together to organize what will hopefully be one of the biggest debate events of all time. WAPT will be exclusively broadcasting a two-part debate series with part one taking place with all primary candidates and being simulcast online. Part 2 will be a televised debate in prime time during the general with the remaining two candidates. Both debates will be held in the new Duling Auditorium in Fondren. In the upcoming weeks we will be fielding questions from citizens at our email address [email protected] that we will choose from to ask during the debate. The questions will be asked by jxnpro and Yups members finally giving our demographic a voice. Send those questions in of all the candidates. And get ready for this debate!

Author

Kamikaze

Date

2008-12-04T21:12:33-06:00
ID

142035

Comment

Wow--that sounds exciting, Kaze!

Author

Tom Head

Date

2008-12-04T22:18:36-06:00
ID

142042

Comment

I hope you are talking about Dr.Mary Coleman of Jackson State University.

Author

Bell

Date

2008-12-05T10:48:58-06:00
ID

142107

Comment

I live in Crisler's ward and can't seem to get anything done. The first few years when you called with a problem, he would personally return your call and one of his staff would follow up with you. Now, I can't get a return call or even an acknowledgement from his office. As you can tell, he won't be getting my vote for mayor. As for Eddie Fair, I like him as a candidate right now. If he can turn Jackson around the way he turned the tax collector's office around, he's the man! I remember having to practically take 1/2 day off work to conduct any business in that office Now, I can zip right through there on my way to work. I must admit, that impressed the h*ll outta me! I really do love Harvey Johnson and think he got a raw deal.

Author

honey2me

Date

2008-12-08T12:51:53-06:00
ID

142116

Comment

How a person runs a campaign says a lot about their management skills. Conversely , it is tough when you are outspent and face a hostile media giant blaming you for out of control crime. We now have the highest murder rate since the nineties. Maybe help is on the way?

Author

FreeClif

Date

2008-12-08T16:27:42-06:00
ID

142135

Comment

We are now at 66 murders in the City. Crime is at a record high. I thought that the swearing in of McMillin as Sher/Chief was what Jackson thought would be the answer to the crime problem. It wasn't. The greatest task for McMillin was to keep melton in check. He didn't. I supported McMillin for Sheriff; however, I did not and still don't think that the merger of these 2 positions was a good idea. There are capable members of the police force, who given the chance, could do an excellent job as Police Chief. My point here is, what will Crysler do about seperating these positions? It will be interesting to see where all of this is headed if Crisler is elected Mayor.

Author

justjess

Date

2008-12-09T09:30:10-06:00
ID

142138

Comment

Solving crime will take more than better policing. It will take economic development to create jobs to reduce inequality. It will also take community policing, putting a larger number of officers in high crime areas who walk or bicycle beats --- in other words I am talking about the Powell Doctrine: overwhelming force presence that creates a sense that the police are in power and in control. To reduce turnover you must pay them better. This will take money and there are only two ways to get it. You either become a better managed city and cut spending in lower priority areas or you raise taxes or both.

Author

FreeClif

Date

2008-12-09T10:01:13-06:00
ID

142140

Comment

Whitley, your recommendations for solving crime is a page for what Jackson was headed for during the Johnson Administration. Remember the Lind/Maples study? More officers were put on the streets of Jackson: We had an economic focus and the high crime census inherited from the Ditto Administration was cut in half. The City had 99 murders the last year of Ditto's Adm.

Author

justjess

Date

2008-12-09T10:56:15-06:00
ID

142142

Comment

I agree with justjess; Johnson was doing many of the technical things that needed to be done. What he did not do well, though, was communicate with the public, inspire us, get us excited. I understand that the bad media had brought a bunker mentality to his administration -- but he needed energetic people around him who were going to get out there and communicate with the public about possibilities, and help the public rise above the negative perceptions. It's all about building relationships across boundaries and despite distrust of certain people and groups. He did not do the building-relationships thing well at all. And as much as I'd love to support him again for mayor based on his ideas, I haven't seen any evidence that he has overcome the communication deficiencies that enable a Frank Melton to jump around, act a fool and proclaim that he end crime in 90 days ... and then get elected. For the record, I'm not excited about the potential field so far, and am far, far from endorsing any candidate. I hope they give us a lot more than empty sound bites, and show the ability to inspire us to help the city ourselves, instead of thinking that any of them are owed this office based on who is supporting them or anything else. And for God's sake, they need to listen as much as they talk, and they need to be specific with their solutions. This city has seen enough drama, personal and otherwise, in our public officials.

Author

DonnaLadd

Date

2008-12-09T11:23:36-06:00
ID

142143

Comment

Also, we will never "solve" crime by focusing on it as the city's biggest problem. Only someone very ignorant about crime would argue that, and we got plenty of them in this city, starting with those yucks who run The Clarion-Ledger. Everyone should read "Community: The Structure of Belonging" by Peter Block, especially if you thinking of running for office.

Author

DonnaLadd

Date

2008-12-09T11:25:54-06:00
ID

142144

Comment

What would impress me is if potential candidates would take it upon themselves to hold public community gatherings to talk directly to people and, most importantly, LISTEN to what they have to say. Essentially, they should go on a local "listening tour" and spend at least as much time doing that as soliciting funds and big support. Just my two cents.

Author

DonnaLadd

Date

2008-12-09T11:41:31-06:00
ID

142145

Comment

We need a doer (somebody with proven ability to accomplish things) not merely someone who wants to be mayor or to hold power. We got a nut like that right now. Look where he took us. My problem with Crisler who is a fraternity brother is that I don't know if he's a doer. He's a talker and has the ability to make important people like him, but what is he beyond that and someone who wants to be mayor. What has he done on the council that makes him stand out? Crisler has had ample time to distinguish himself, but has he done anything other than place himself in a position to receive the largesse of a disappointed constituent? We need more than a mere default to Crisler.

Author

Walt

Date

2008-12-09T12:00:16-06:00
ID

142155

Comment

melton did exactly that, laad. He excited people: Remember the school bus that he stopped on I-55 to "get a HUG?" Many whites were inspired, especially when melton became "THE MAN" who could push Johnson, the "boy" who couldn't be controlled, out of office. The sad thing is that he was able to inspire (fool) 65% of the black folks who got a "kick" out of his ability to lie, drink and hang, curse, talk down and dirty to young women, roll that mobile command unit around town like a bat out of hell: These folks actually believed that melton had their back. This was the first group he went after. These were the people he went into the pockets of, raised their trunks and the "most unkindest cut of all" was that of his taking advantage of a vulnerable adult who lived on Ridgeway. To borrow a page from JFK, and with a few alterations: Ask not what Johnson can do for you as mayor of the City of Jackson: Ask what you can do to help him put the City of Jackson "BACK ON TRACK".

Author

justjess

Date

2008-12-09T14:28:48-06:00
ID

142156

Comment

No one has to tell me anything about Melton. I've been warning people about him for years now, and supporting the warnings with hard reporting. However, that does not mean that there are only two options, or that the only way to "inspire" is to lie to people and make stupid promises to a gullible citizenry. If Johnson, for instance, were to have a shot at winning this office back, he would have to present himself as a person who has learned some lessons and is willing to take helpful criticism. He would also be reaching out to everyone in site, and showing a willingness to listen to people and their concerns. To borrow a page from JFK, and with a few alterations: Ask not what Johnson can do for you as mayor of the City of Jackson: Ask what you can do to help him put the City of Jackson "BACK ON TRACK". I disagree with this. Johnson (or anyone) needs to ask people what he can do for the city, and ask them to help put the city back on track, and then truly listen to them. I fear that he will not do this, as do many others. And that's coming from someone who liked him as a mayor and likes him as a person. Sadly, I fear we're going to be faced again with voting for a (a) talker who doesn't take time to think/listen or (b) a thinker who doesn't take time to talk/listen. I'll be brutally honest when I say that I don't think I've heard of a listener interested in running for the office. The candidates have time to put us on a different track and shore up their weaknesses, but they'd better get to it. Battle lines are being drawn, and it's going to be tough to have an intelligent campaign if someone doesn't step out and lead, and fast. Right now, it doesn't look good on any front to me.

Author

DonnaLadd

Date

2008-12-09T14:38:20-06:00
ID

142158

Comment

Oh, and ego needs to come out of it. I'll give you one example: One of the candidates called me a couple months back and asked me to lunch to talk about his candidacy. He was 30 minutes late without calling to tell me he'd be late as I waited in front of the restaurant, and then proceeded to essentially try to wheedle me into supporting him. He asked few questions, and talked rhetoric a lot. He dissed Melton, of course, but didn't lay out any kind of considered ideas. Why would I support him based on that performance?

Author

DonnaLadd

Date

2008-12-09T14:41:20-06:00
ID

142159

Comment

Wow, What a great discussion. It covered MOST of the basis. 1)Good policy maker (Johnson). 2)Bigger than life motivator + media savy (McMillin) 3)Nice Guy (Crisler) 4)Qualified (Peterson) 5)Good candidate (Kim) 6)Efficient administrator (Fair) In my opinion what is missing is an active, engaged and thinking electorate (that's short for citiizens who actually vote). I am convinced that we would get better candidates if the electorate, through their community leaders, present at least the inclination and propensity to be willing to do what it takes for any leader to succeed. What sane person would want to take a job where he knows he can't get the money he needs to get the job done? That'e why we got the crazy mayor we have now. To remind the 80% of the elcetorate that put him in, Melton said "No new taxes, cut waste, run it like a business, give me 6 months and I'll solve the crime problem". All this talk about eliminating waste to get the money needed to address our needs is a joke that should be put permanently away. Improving efficiency and cutting wast won't come close to paying for 1) Increasing police and police support staff pay. 2) Investing in new technology to enable city admininistrators and staff to have real time access to the information and data that the city runs on. 3) Hiring sufficient staff to put all the information, forms, applications and data bases a citizen needs to know on-line so the citizens can monitor what's going on - an off shoot of purchasing new technology. Yes, that includes keeping the on-line info up to date. 4) Paving and improving our streets. 5) Increasing the quality and acces to of our rereational and cultural institutions 6) Improving our bridge, sewer. water and transportation. Kaz, the forum and debate is fine: however let me make a suggestion. The cost for any candidate being allowed to participate is a written plan that addresses the areas the candidate feels the city needs to improve upon. Put the plans on a website for at least two weeks before the forum. Let the panelists or moderator then question the candidates on the particulars of their plan on the day of the forum. If Crisler is a doer, with all of the years he has on City Council, he should have a very complete plan put together by now. If Eddie Fair is a good administrator, with his years of experience in the City Clerks Office he should be able to do the same. We know Harvey Johnson can put together a plan, so he's got to address his "other" issues. The time for talk is over. Obama has given us the model of what we need in a leader. Show me the plan!

Author

FrankMickens

Date

2008-12-09T14:54:47-06:00
ID

142160

Comment

ladd, I think you and I are saying the same thing as it relates to putting Jackson "BACK ON TRACK." Think about it: Why did it take 700 million dollars to run the Obama campaign? I know that we are talking about the mayoral race and not the presidential race; however, the facts are the same. A viable black candidate must first prove that he/she is not a monkey. The next step is to prove that you will listen to others; followed by that is your doing what "others" say. This is the piece that killed Johnson. My question is: What is it that you (anyone) have asked Johnson to do that he could have done and didn't?

Author

justjess

Date

2008-12-09T15:01:38-06:00
ID

142161

Comment

Justjess, it's not about asking Johnson. There's the disconnect. It's about him, or whomever, stepping up and asking us for feedback, advice, criticism, ideas. It sounds like you think he should wait for us all to show up at his door and ask for his help to put the city back on track. We need a leader, and a leader doesn't wait to be asked. If we wait for that, we'll get a demagogue like Melton again. Meantime, we don't wait for a good leader to come along, though. We step up and lead ourselves, build relationships and community, and move forward, with or without a leader who wants to work with us. That is, the ball is in the court of the candidates to prove themselves, not in our court to ask them to do it.

Author

DonnaLadd

Date

2008-12-09T15:06:39-06:00
ID

142162

Comment

Casual wrote: In my opinion what is missing is an active, engaged and thinking electorate (that's short for citiizens who actually vote). I agree. Totally. We're getting the candidates we deserve so far. It's up to us to get educated and engaged and ask the right questions. And it's up to leaders to ask us to help and guide them. I think a forum/debate is a fine idea, but what is really needed are leaders who step out on their own and host listening events for the community and not so much for the media. They have to take the risk of being criticized in public; what we need is a leader who can handle that and learn from it. That kind of person would be out there NOW, or six months ago, or two years ago, filling the leadership vacuum that Melton left. But that doesn't seem to have happened; people are running for office and trying to line up supporters, but I haven't seen a lot of *leadership* emerge. Leaders act. Leaders listen. Leaders connect people. Leaders put the good of the community above personal egos. My fear is that we're going to see the same-old, same-old–with the media not asking real questions, the candidates just jostling for position and endorsements, spewing nonsense about crime, launching personal attacks and whisper campaigns, and no "forms" until right before the elections. NOW is the time for forums, questions and answers. They need to be forming their ideas and plans based on the people's needs and thoughts; not telling us how to think.

Author

DonnaLadd

Date

2008-12-09T15:09:19-06:00
ID

142163

Comment

And for the record, I know personally that Johnson has lost some potential (and prominent) support by not taking more of this approach of going out and figuring out what he has done wrong and fixing it. And I'm not talking about mine; I'm as undecided (and frustrated) as someone can get by this field of candidates so far.

Author

DonnaLadd

Date

2008-12-09T15:10:53-06:00
ID

142164

Comment

Justjess, don't you agree that Johnson needed and needs to do some of the things Donna is suggesting. He had many gifts including coolness and restraint, but he was untouchable or unreachable in some people views. He could have possibly changed all of that. And maybe still can with some active steps. I agree that he was greatly qualified for the job as far as job skills. People/voters sometime require us to stretch.

Author

Walt

Date

2008-12-09T15:14:51-06:00
ID

142165

Comment

I think the crime thing on Johnson was trumped up nonsense, but a couple of criticisms were legitimate: 1) Poor marketing/public relations. People want to feel that you are down to earth, that you can be Joe Six Pack (or bottle o' whiskey guy) like Melton. That is why Obama had to try to bowl, sip cheap beer and eat lousy food. That is why MLK went and shot pool with the brothers in the hood. 2) Long drawn out decision-making process. It is great to take your time and think, but sometimes people want to know that if you need to be a gunslinger that you can be quick on the draw also. People want Shane for mayor (Don't go Shane. We love you Shane.) They want him to make great decisions, but to make them in a timely manner (or through good marketing make it seem timely).

Author

FreeClif

Date

2008-12-09T15:17:45-06:00
ID

142166

Comment

I agree that he was greatly qualified for the job as far as job skills. People/voters sometime require us to stretch. Amen. Leaders strive to stretch and learn and grow their entire careers/lives. That's why I say ego has to come out: ego blocks growth. Someone mentioned Obama: He was out there, listening, talking, inspiring. He felt our pain, and he returned with answers. He went places other candidates were uncomfortable with or unwilling to go. He even changed his mind on some issues and will continue to, no doubt. He is a leader.

Author

DonnaLadd

Date

2008-12-09T15:19:20-06:00
ID

142167

Comment

Agreed, Whitley, on both points. Truthfully, leaders should take a while to decide on certain important issues, but they should be filling in the gaps by talking and listening and explaining to us. Granted, Johnson faced a hostile media and a cabal of people shaped to be against dating back to the beginning of the Metro Crime Commission and before, but Jackson is a different city now in many ways, and he needs to be willing to do things he wasn't before. If he's not, he will lose again. We all know it.

Author

DonnaLadd

Date

2008-12-09T15:21:58-06:00
ID

142169

Comment

Shane said: "A gun is a tool, Marian; no better or no worse than any other tool: an axe, a shovel or anything. A gun is as good or as bad as the man using it. Remember that." I paraphrase: "A government is a tool, my friends; no better or no worse than any other tool: an axe, a shovel or anything. A government is as good or as bad as the man using it. Remember that."

Author

FreeClif

Date

2008-12-09T15:35:57-06:00
ID

142170

Comment

Ladd, he didn't wait. Johnson had Ward meeting once a month for eight years and had every department there to respond to the citizens concerns and to listen to their input. Johnson met with business leaders every month for eight years. If I had anything to say about what Johnson didn't do, it was the TOOTING of his own horn. This is a cultural perspective/difference. We were taught that "bragging" was in poor taste: Our reference was from an old Negro Spiritual whose words read: Let The Work I've Done Speak For Me. Unfortunate for Johnson, he was evaluated very negatively by the Clarion Ledger on a daily basis, Tisdale and Blunson would lie to the high heavens weekly on Straight Talk. Ladd, no, it's not about "asking Johnson." It's about our asking ourselves, followed by some behavioral strategies to ensure the best possible chance for your candidate to get the message out. Question: How many people got a chance to talk to McCain or Obama to voice their concerns about what the Country needs and your solution for dealing with it through your voiced corrective measures? Just asking.

Author

justjess

Date

2008-12-09T15:40:57-06:00
ID

142171

Comment

I agree with Whitley too. I believe Johnson has a shot at fixing his past faults and making another run for mayor, but he will have to admit to faults, accept responsibility for part of his down fall, (fair or unfair) and face the issues the voters think are important. Looking straight ahead as one of us is the task, not down at us - no matter your skills, ability or understanding. Perception is often just as good as the truth. Justjess, Johnson apparently even mis-calculated his popularity in the black community. That popularity or support fell dramatically over a period of time. I know he stood up to some powerful people who wanted to control him, both black and white. However, he lost the poor or middle class voters, too. I was shocked at some of the things I heard so many of them say about him. It bordered on arrogance and malfeasance to not know about the displeasure festering in those black communities about him, to adress them boldly, and to fix what could be fixed. I think the mindset has to be that the politican needs the voters, not the the other way around (although we certainly need a good leader).

Author

Walt

Date

2008-12-09T15:42:35-06:00
ID

142173

Comment

Ladd, If you can recall, Harvey Johnson does a magnificent job talking and listening to people during three of his four campaigns for Mayor. When elected he did put together the first comprehensive plan for the city, which included extensiove community input, called "Colors" or something to that effect. His downfall was possibly that he appeared to become a "different" person when faced with criticism and alternative ideas from the media (lack of response), general public (at public meetings), his supporters and friends (so I am told). Not only wouldn't he listen, he often was outwardly belligerent and rude in his demeanor and responses. I'm almost sure he wasn't aware of of how negatively people responded to his actions. HHHhhhmmm.. I have that same problem myself! Had Harvey Johnson maintained his campaign organization to rasie money so he could better advertise his programs and also to constantly remind him that another election is upcoming, I m sure he would have been overwhelminlgy re-elected. I don't see why people don't govern using the same attitude and actions they maintained while they were campaigning. That is I will listen respectfully, I will respond politely and in a timely fashion, and I will do what's best for everyone all of the time and what's best for some peole some of the time. And I will explain myself in an open fashion by expressing my understanding of the issue, the alternatives and why I selected the course of action finally adopted. Is that so hard? I mean that's parenting 101! As for I could never be a good Mayor!

Author

FrankMickens

Date

2008-12-09T15:54:26-06:00
ID

142174

Comment

Great Casual. That might be the best explanation I've heard of his responses to criticisms.

Author

Walt

Date

2008-12-09T16:00:41-06:00
ID

142175

Comment

Justjess, it's not just about ward meetings. He needs to visibly reach out to the entire city. Look, I under the "tooting horn" problem. We live in Mississippi. We all grew up under an inferiority cloud, and too often Mississippians (of all races) both hold ourselves to a low standard and belittle those who step up promote themselves, which is what successful people and businesses have to do everywhere. But what I'm talking about is not bragging; in fact, just the opposite. It is cultivating the ability to ask for feedback and then listen without defensiveness and even admit mistakes publicly. I understand well about the Ledger's shenanigans, but unfortunately, a certain kind of media will do those things to leaders and competition, regardless. Certainly, it was done to Obama; think about the biased coverage of Rev. Wright. It's not just about asking ourselves, although there is that, too. It's about leaders emerging who can challenge us all to a higher place. Obama did that. And his people figured out every way possible to make voters, especially young ones, feel like he was listening directly to them. And he wasn't afraid to adopt positions that were controversial and sticking to his guns on them. I have yet to see a city candidate figure out a Web strategy, for instance. In addition to setting up those listening sessions (and making sure they're taped and put online in their entirety to build that two-way connection with voters), smart candidates would find a way to blog themselves, to get a young crew supporting them and blogging on their behalf, texting, Twittering, getting fans on Facebook, you name it. It's not like it's hard these days, but you do have to teach old dogs new tricks, so to speak.

Author

DonnaLadd

Date

2008-12-09T16:01:35-06:00
ID

142176

Comment

A candidate must endear himself to the voters. Bill Clinton could do all kinds of weird stuff and dissed our beloved Obama and I still have his picture up on my wall. After all is said and done, many still appreciate his down to earth (doggone it) qualities. Bill Clinton made [doggone it] popular before Palin. People want you to be both a thinker and be down to earth. History has shown that if they have the choice between an aloof thinker and a down to earth lunatic, they often will choose the cartoon character. Guys like Clinton and Obama succeed in pulling that off. Hillary figured it out too late. Barbour did a great job of sounding like Jed Clampett when it was convenient.

Author

FreeClif

Date

2008-12-09T16:03:42-06:00
ID

142177

Comment

Here would be a good test: Would Johnson read our comments here so far and get defensive and come up with excuses? Or, would he print this out, and go think about what he can do to overcome these objections? After, there aren't a lot of Johnson-haters saying this stuff. I personally think he would be an amazing mayor if he could/would make the effort to overcome these issues. First and foremost: no more bunker mentality.

Author

DonnaLadd

Date

2008-12-09T16:04:16-06:00
ID

142178

Comment

Quote o' the Day, Whitley: Barbour did a great job of sounding like Jed Clampett when it was convenient.

Author

DonnaLadd

Date

2008-12-09T16:05:26-06:00
ID

142181

Comment

Way to go Whitley. To send ol Hailey off I offer the following "So he loaded up the truck and moved to D.C: Washington that is: Swimming pools Lobbyists Ya'll come back now...hear?" Ta Tum!

Author

FrankMickens

Date

2008-12-09T16:24:23-06:00
ID

142182

Comment

Simply fabulous, Casual.

Author

DonnaLadd

Date

2008-12-09T16:27:49-06:00
ID

142189

Comment

Alright, Hot Sauce, you're going too far as an anonymous poster. That's coming down. Control your posts, please.

Author

DonnaLadd

Date

2008-12-09T17:31:49-06:00
ID

142196

Comment

Let me jump in real quick right here. I understand that support for Harvey Johnson is heavy on this site, however, I do not think Johnson is the best we can do for the Mayoral office. He had his time. He did nothing. There is no room for moving backwards. We are moving forward in this city. We are being progressive not regressive. Therefore, I don't agree that the city of Jackson will be saved by Harvey Johnson. Secondly, I see the points made about Jeff Good and let me say that it's really easy to judge people here. But he is so not the only person who was swindled by Frank Melton. We are all human and we all fall short from time to time -- most of us -- I know those of you here probably never do. But the rest of us do make mistakes. The ideal candidate will be READY to work for the betterment of this city. He or she must be WILLING to get off the sofa and out of their luxury vehicles to explore and encourage in the gut of the city and work out it's problems. Who needs a Mayor who doesn't relate to the entire body of Jackson. I don't want a mayor who only serves those who have money, contribute money or could persuade policies with thier money. I don't want a Mayor who turns his nose up at homeless people; a mayor who we never see; a mayor who needs body guards; a mayor who really doesn't give two sh!!ts about the city but is more heavily concerned about personal advancement and power! I have no interest in a man or woman who fits in either of these categories. We need a person who has experience in all the things you guys mentioned above, but that person has to have a progressive attitude and willing to take chances. To much "friends of friends" happens in city government here and that's a major contribution to our problems. I HAVE NO IDEA WHO TO VOTE FOR. But I promise I won't make the same mistake I made last time in voting for someone based on TALK instead of ACTION. So, whoever thinks they can bring it, better bring it. This time, they'll have to take hold of our issues prior to becoming elected. THIS TIME, we are strong and ready to MAKE the MAYOR do his JOB. Enough with the rhetoric, smilie comments, promises and wishes -- I want a mayor who will get the job DONE.

Author

Queen601

Date

2008-12-10T13:57:46-06:00
ID

142197

Comment

"He's had his time. He did nothing." This statement along killed your argument, Queen601. Since you admit that "I HAVE NO IDEA WHO TO VOTE FOR", it would probably be safe to say that you were also unaware of what was being done in this City almost 4 years ago and the role former Mayor Johnson played in its fruition. I think you have misread this particular blog. Most of the comments suggest that Johnson would perhaps have a chance or that they are willing to consider him but most, if not all came with conditions. And this is, in my opinion, as it should be.

Author

justjess

Date

2008-12-10T14:17:28-06:00
ID

142201

Comment

justjess -- That statement killed my argument TO YOU!!!! I have no idea who to vote for because I am determined to vote for the best person for the job. You have every right to your opinion. And just so that you are aware, I don't agree with most of the comments that say he "has a chance or that they are willing to consider him"....I'm not and yes, I know you are...that's you! I know enough about what happened while your guy was in office to know that he doesn't need to be in that office again. So there!!!!

Author

Queen601

Date

2008-12-10T14:44:34-06:00
ID

142207

Comment

Just a hint to the wise: Several people have called me to report that their employers have been called about them blogging on the JFP. With so many lay-offs, don't run the risk of making it easy. This is not a joke!

Author

justjess

Date

2008-12-10T15:35:39-06:00
ID

142211

Comment

Well so long to JFP for me! Peace!

Author

Queen601

Date

2008-12-10T16:04:32-06:00
ID

142214

Comment

Secondly, I see the points made about Jeff Good and let me say that it's really easy to judge people here. But he is so not the only person who was swindled by Frank Melton. Very true, and Jeff Good has the backbone to admit it and apologize for it. More than you can say for many of Melton's strong supporters. Or Bush's, for that matter, but that's another topic. As for choices for mayor, we're quickly getting past finding who is "best" and to the point of choosing from those willing to run. For all of the reasons already stated, I find no front-runner among the group, although Crisler clearly has some strong support.

Author

DonnaLadd

Date

2008-12-10T16:19:58-06:00
ID

142216

Comment

Just a hint to the wise: Several people have called me to report that their employers have been called about them blogging on the JFP. With so many lay-offs, don't run the risk of making it easy. This is not a joke! Right, this one guy calls my employer often to complain about my blogging. I usually hang up on him. ;-) Sorry, I know you're being serious. Don't mind me. I disagree with Queen about Johnson not needing to be mayor again. I know a lot about what happened to, as well as lies that were told against him. That doesn't mean I think he is going to do what it takes to win the office again, though. Wish he would.

Author

DonnaLadd

Date

2008-12-10T16:22:55-06:00
ID

142221

Comment

This is my biggest disappointment with Harvey Johnson that somehow seems to seep pass people when discussing this: Harvey was a stuff shirt, he still is. He had very little connection with the people of Jackson. He was Mayor. We never ever saw him. And yeah, I know you guys are going to say he was everywhere...he did this, he did that...well, believe me there are areas of this city he would not, and still won't even go into. He does not seem to carry himself in a way that is welcoming to all jacksonians to include those who are NOT RICH. He has a very superior attitude that simply turns me off. I would rather see a mayor get his hands dirty than to throw out orders all over town and not see that they get done. I think he'd make a great advisor of sort to the new Mayor because he's smart and has great ideas. He just didn't bring those ideas to life. To me he seemed to be apart of a growing class here in Jackson. A group of people who have learned to LOOK THE PART all the while getting nothing accomplished.

Author

Queen601

Date

2008-12-10T17:34:52-06:00
ID

142222

Comment

ladd, the statement that I have been making is addressing a public figure that I not only know him but that I went to face to face to ask him for help not for me but for several people that lived in his Ward. He was adivsed about the City Grants and other illegal activities of City of Jackson employees ad he did nothing. I am sick and tired of these so called elected officials that constantly lie to the public. I will at your request tone down some of my statements but I would also ask you to investigate these candidates and I bet you will find out that every statement I have made is True! I really hope people would realize that Crisler has been and continue to be a major part of the problems that is destroying the City of Jackson.

Author

Hot Sauce

Date

2008-12-10T17:39:09-06:00
ID

142354

Comment

That would be great if the JFP did profiles on the ones "willing to run." Cuz I have no idea who to vote for either.

Author

WMartin

Date

2008-12-17T10:22:15-06:00
More like this story
More stories by this author
Like independent media outlets around the world, the Jackson Free Press works hard to produce important content on a limited budget. We'd love your help! Become a JFP VIP member today and/or donate to our journalism fund. Thanks for considering a JFP VIP membership or one-time support.