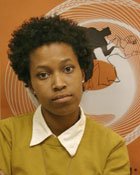 Some people are true sports fans. They venture out to every game, rain or shine, regardless of the projected excitement of the matchup; they tear up at the end of a losing game or at a monumental triumph. They have a fiercely passionate relationship with sports.
I've never had this relationship, although growing up in the '90s and watching such greats as Ken Griffey Jr. and Shaquille O'Neal, it wasn't hard to become a doting admirer.
As a child, my friends and I would play basketball in the driveway of our home until sunset most summer days. (We called it "basketball," but it was more like throwing the ball onto the roof of the house and seeing who could catch it as it rolled off the side.) Before we started each game, we decided who would portray each NBA player. We took on the persona of our favorite players as we dribbled up the driveway toward the garage, often leaving our real names behind. Everyone wanted to be Michael Jordan or Charles Barkley. But I always fought to be Magic Johnson.
I'm not sure that I'd ever seen Johnson play, beyond his video game character on NBA Jam at least, but I think I just liked his name: Magic. For a 10-year-old, it was mystifying.
But it wasn't just Johnson. These athletes were of epic proportion. On the court, they displayed incredible talent and strength. We believed they could do anything, and therefore, so could we. They would have never had to compete with Paris Hilton or Britney Spears (or Barack Obama, according to McCain) for the spotlight. The media loved them, and so did we—not because they were outrageous characters (we're not counting Dennis Rodman, of course), but because they were downright good.
Just think about Sammy Sosa and Mark McGwire's home-run competition to beat Roger Maris' season record. I was never a huge baseball fan, but I sat alongside my dad and followed the excitement. I remember that historic home run that put McGwire on top. It was exhilarating.
These guys were on the front of Wheaties cereal boxes, motivating kids every day. (I didn't really like Wheaties, but I had a crush on Ken Griffey Jr.). But who do kids have to look up to today? I'm not sure whether athletes are getting sloppier or the government smarter, but sports heroes are falling from glory everywhere I turn.
When I heard that Atlanta Falcon quarterback Michael Vick was under federal indictment for illegal dogfights, I was amazed. Not only is dog fighting cruel and sinister, but it Vick wasn't desperate for money. "How could a man who made millions of dollars each year and played before thousands of fans every season throw it all away for a cheap (and sickening) thrill?" I asked myself.
Back in February, the House Committee on Oversight and Government Reform interrogated seven-time Cy Young Award-winning pitcher Roger Clemens. Streaming live footage throughout his and others' testimonies, national news networks gave commentary on Clemens' alleged HGH and steroid use. During the hearing, several representatives alluded to Clemens' place as a role model to American youth, and how the allegations might harm his image. I worry about the same thing. I don't know if Clemens took drugs, but the truth is that he should not have put himself in any precarious situation that would have questioned his character, regardless of his innocence or guilt. Either way, someone is lying, and it can only bring about more turmoil.
I was an eighth-grader when I watched the 2000 Olympic Games in Sydney, where Marion Jones won five medals. I remember being proud; she was a strong, American woman who had trumped the competition through hard work and excellence. Or, so I thought. Last winter, the International Olympic Committee disqualified Jones from the five events she won in that Olympics and took away her medals. Jones admitted to taking a banned drug, "clear," in 2000 and 2001. She was the first woman ever to win five medals in a single Olympics, and in one moment, it was all gone.
When the 2008 Summer Olympics in Beijing began last week, I was skeptical that my faith in the idealistic, heroic athlete could be restored. But as I watched Chinese acrobats in the opening ceremony running around and doing back-flips across a larger-than-life model of the world, I reverted to that gleeful 10-year-old wanting to believe in good—wanting to believe in magic. And maybe a (Millsaps) Miracle or two.
This Olympics has been nothing short of magic. I've watched world records broken, one after the other. I've sat on the couch many nights in the last weeks watching Americans make history. I've watched all of Michael Phelps' events and seen him tear up at the sound of the United States National Anthem. I've watched nervously as Nastia Liukin completed her balance-beam routine and seen her take the all-around gold medal.
More than that, though, I've seen these athletes become heroes to kids out there watching the television screen at home. In a time when it's difficult to tell the true heroes from the fake ones, I've seen a new class of athletes rise to the challenge and succeed. I can only hope that once the cameras are off, they accept their roles as leaders in their respective sport and to the world.
Maybe you'll see kids doing makeshift floor exercises in the driveway instead of "Throw the basketball on the roof." I hope it drives them toward excellence and pride in what they do. Perhaps today's heroes will even turn out some doting admirers. Or at least a little magic.
Previous Comments
ID

133357

Comment

Excellent Maggie. Magic Johnson is my all time basketball player, he surpassed Dr. J.who formely held that position. Johnson is also a great human being to boot. He even handled AIDS like a champion. I love his attitude and personality. These olympic games are exciting. I don't like it because Jamaica or the Caribbean Islands are giving us too much of a run in the track and field games.

Author

Walt

Date

2008-08-21T08:38:02-06:00
ID

133359

Comment

I second that, Walt! Usein Bolt; that guy can sprint and make it look effortless. :)

Author

maggie

Date

2008-08-21T09:09:16-06:00
ID

133483

Comment

What wrong with America's sprinters in dropping or losing the batons. The girls and boys relay teams dropped the baton. I think we should leave their sorry butts over there for doing this.

Author

Walt

Date

2008-08-22T15:48:17-06:00
ID

133484

Comment

Why can't we beat Cuba in the 100 yard hurlers. That Cuban young fellow made it look like a walk in the park. What's going on? Have the other country caught up or what? We may need to send Jessie Jackson (aka Revern Cut Your Nuts) to give our atheletes a pep talk. And Jessie please take the knife with you.

Author

Walt

Date

2008-08-22T15:53:55-06:00
More like this story
More stories by this author
Support our reporting -- Become a JFP VIP.
The news business has changed dramatically in the past year, and we need your help more than ever to keep bringing you important stories about Jackson and the Metro. Become a JFP VIP with an annual membership or you can Sign up as a monthly supporter. Thanks for anything you can do to empower our journalism!