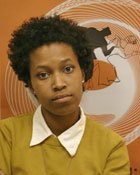 Stories this photo appears in:
Editor's Note
In an unexpected move, the U.S. Supreme Court this week strayed from precedence to rule against a race-based hiring practice. Overturning an affirmative-action decision by an appellate panel, the Court ...
Editor's Note
Last week, my husband, JP, was leaving our house to go to work when he saw something huddled in the bushes. Just as soon as I had heard his key ...
Editor's Note
Mothers have a habit of bestowing advice and rules to live by, often perpetuating old wives' tales or insensible teachings like: "Don't read in the dark. You'll go blind." (I ...
Editor's Note
During trips to my mother's hometown of Oxford, it was customary for her to point out the areas of land, now heavily developed, that blacks owned when she was growing ...
Editor's Note
When I arrived at the office one recent morning, an e-mail from a "concerned citizen" was awaiting my eyes in my inbox. In that e-mail, a Jackson resident expressed her ...
Editor's Note
I had my first encounter with jazz—real jazz, the kind that washes over your body like a cool, gentle caress—when I was a high-school sophomore at Murrah High School. One ...
Editor's Note
After a failed attempt at filling the Medicaid budget shortfall last year, Mississippi lawmakers left the capitol city and returned home with a $10,000 salary and no solution. The prior ...
Editor's Note
After an exquisite breakfast of fresh fruit and hot flapjacks during our recent honeymoon in Belize, my husband, J.P., and I slowly sipped our glasses of orange juice and walked ...
Editor's Note
After a much-needed Waffle House run last Sunday, my fiancé and I hopped into the car and headed home. Like most times we're in the car, he soon turned the ...
Editor's Note
After Sen. John McCain announced he would not attend the presidential debate last week until a bailout deal was reached, many people, including the two nominees, began throwing around the ...
Editor's Note
Some people are true sports fans. They venture out to every game, rain or shine, regardless of the projected excitement of the matchup; they tear up at the end of ...
Editor's Note
Mississippi in July, ah. What joy the summer sun brings to us southerners!