So WAPT is reporting that a store clerk shot a man who had attempted to rob his store for a case of beer. This guy is facing murder charges since the robber died from the gun shot wound.
My question is this, if the law says that we are permitted to shoot violators who try to rob us, why is this man facing a murder charge? Is it likely that he'll get off? Was he within his rights to shoot the man who has already ran out of the store?
Sound off, Jackson....what's happening here?
Previous Comments
ID

133170

Comment

Queen, didn't he chase the guy outside and shoot him in his truck? And it sounds like the guy wasn't armed. We can't have a civilized society if people going around shooting each other for taking stuff. Yes, charge them and send them to jail. But shooting them? It's absurd. It's like hanging someone for stealing a horse in the old days. Or your teenager goes through a shoplifting stage, and the store owner can kill him for it. We can't condone this kind of over-reaction, and it's happening all around us. Someone running firing down the street at someone who tried to break into his car -- his CAR -- is going to kill someone in the community. You watch.

Author

DonnaLadd

Date

2008-08-18T13:41:51-06:00
ID

133175

Comment

The problem with shooting people except in cases to save lives is that you may overstep the boundaries of the law. Too few people learn the law before they start trying to execute it to perfection. Clearly, it's wrong, morally and likely legally, to follow a man down the street and shoot him for taking a beer. I wouldn't shoot or kill a man over someone else's beer or mines. But I don't drank. Well, Dudley, at least we have some of that crime deterrence here that you lauds. If the man is indeed dead he won't steal another beer.

Author

Walt

Date

2008-08-18T15:03:26-06:00
ID

133176

Comment

Yes, it seems clear that many Mississippians already don't know what they can do under the Castle Doctrine. Not that it's a good law, but they don't know its legal limitations, regardless. Chasing a guy who stole beer outside and killing him is just remarkable. If he did it, it's good he was arrested. And I sure don't want to live in a world, or a country, where that is legal.

Author

DonnaLadd

Date

2008-08-18T15:12:20-06:00
ID

133178

Comment

I heard that he did run after the guy, however that wasn't in the article I read. I personally think if the guy was out of the store, he could have just called the cops. I mean, now he's facing time for a case of beer. That really has to suck! Do you think the clerk was thinking that the Shoot to Kill law would save him? I mean it seems like so much time went by to where he could have acted in a different manner. I'm concerned that our society will begin to use this law as an excuse to just kill people. In other words take the law into their own hands.

Author

Queen601

Date

2008-08-18T16:00:14-06:00
ID

133186

Comment

He probably wasn't thinking, which is his problem. Defending yourself is one thing; stopping a shoplifter is another.

Author

Ironghost

Date

2008-08-18T18:17:39-06:00
ID

133190

Comment

Yes, Iron, shooting an unarmed shoplifter is murder.

Author

DonnaLadd

Date

2008-08-18T20:13:56-06:00
ID

133193

Comment

I think the store owner went way too far with his actions. It's one thing if the thief was threatening the owner and his customers, but the guy was walking away and, by all indications, was unarmed. A case is beer is, what, $10? So the thief was killed over $10? Of course, I've heard of people being killed over things even less. I'm willing to bet, though, that the store owner will not be indicted.

Author

golden eagle

Date

2008-08-18T21:45:50-06:00
ID

133196

Comment

The law says you must "have reasonably feared imminent death or great bodily harm." An unarmed man stealing a case of beer and driving away shouldn't have made the store owner afraid he was going to be killed or even hurt. Sure, it would make you mad, but you can't chase a car down and kill somebody for shoplifting. That is murder.

Author

Tre

Date

2008-08-19T08:47:35-06:00
ID

133197

Comment

I suppose the greater problem here is the crime-ridden environment we have in this City. The store owner was probably operating off of the premise of "A Stitch in Time, Saves" MMM-INE. I agree that the penalty for stealing a case of beer was drastic; however, I hear stories about theives coming into businesses and taking weeks of profit on a daily basis. This man's behavior is best described as the cup that ran over. Charles Evers, last week, gave a command to his workers to "shoot to kill" and this too could have been another loss of life/lives. The Indian business community has experienced several deaths and many injuries at the hands of "robbers" over the past few years. There is an old saying that goes: If you put yourself in harm's way, you will be harmed. We have a lot of work to do with our young people.

Author

justjess

Date

2008-08-19T08:53:50-06:00
ID

133199

Comment

Justjess, you do make a good point. But it brings to mind another point of interest. Are people now so fed up with crime that we are policing ourselves instead of allowing the police to do their jobs? If that is the case, surely that's understandable since nothing is being done to protect the small business man in the general scheme of things. I dont' think the man was trying to KILL the robber. I personally think he was pissed off and thought he'd scare the criminal by shooting "at" him. Unfortunately he shot and killed him. Is there any chance that this could be considered accidental homicide? Is murder fair? And Donna, I get your point, the guy was leaving, he was unarmed....yes, this is true. One second longer of thought and this man's life could have been saved. But as JJ mentioned, the Indian community in our city has been left without hope for safety for a very long time. This was bound to happen. It's unfortunate and not an exact science by far. This law will need some stipulations, some if's and's and but's, I would think. What if the guy "thought" the man was armed? It still doesn't justify him chasing the man out the store with the gun, I know....I guess I'm just wondering what would happen if the guy had not killed the man. What would be happening in this case if he shot him and the man didn't die?

Author

Queen601

Date

2008-08-19T09:35:38-06:00
ID

133201

Comment

...thought he'd scare the criminal by shooting "at" him. Unfortunately he shot and killed him. ... He shot him more than once. I really doubt he was trying to shoot "at" him. He was trying to shoot him. Period. We can't go around killing every petty thief or anybody that just pisses us off. The only time it is ok, by law, is when you think you are about to be killed yourself. The dude was leaving when he was killed, not threatening the store owner.

Author

Tre

Date

2008-08-19T09:49:02-06:00
ID

133203

Comment

I stop at that store regularly. As a matter of fact, I stopped there yesterday morning. Sarbrinder and his wife practically live in that store and are probably the nicest, convenience store clerks I've encountered (much friendlier than most in my own 'hood). Always a friendly hello, how are you, etc. They also basically spend their days caged behind glass/plastic to protect them from violence and/or robbery just to make a living. We always think of victims of murder and rape --especially those that retaliate in some manner... When it comes to Sarbrinder's case, he has witnessed his profits and livelihood walk out the door through robberies and shoplifting far more often than he could count (I'm sure). This man and his family have most likely been "victimized" on a daily basis. Hell, I even watched someone shoplift while I was in his store one morning! I can easily fathom how Castle Doctrine, plus angst, and this possibly being a second or third visit from the shoplifter could turn this into a volatile situation. Factor in Sarbrinder's wife often being alone in the store and having dangerous situations presented to her weekly and I can truly see where a man might momentarily snap and feel overwhelmed by the consistent victimization, theft, and demoralization. I'm on the fence on this one. It's easy to say he should not have shot a man over beer. It's really easy if you simply look at that one fact. But, are there other possible facts that few ponder: this being a common occurrence with this particular individual; the consistent theft the owners experienced; the feeling of victimization caused by your own property being stolen daily... There's so much more to this than a man shoots another man. It's far from being that simple from where I sit. This was most likely a culmination of events that ended in an unintended/deadly climax. Hard-working people are becoming dangerously fed up with the criminals in Jackson. They are tired of being robbed. Tired of being scared. Tired of their families never feeling safe. Tired of hearing gun shots. Tired of replacing and repairing their property. Tired of being victimized. It's not one or two bad apples... It's a growing culture of disrespect and disregard that I haven't seen anywhere else. Cocky kids. Disrespectful adults. Ignorance all around. I think more reports like this are going to be in the news as the economy continues to slide and people can't deal with the fruits of their labor being snatched from them while JPD's hands are tied or unwilling to help... Now, people are working much harder to cover their basic needs and that will certainly influence their reactions to being victimized.

Author

kaust

Date

2008-08-19T10:23:47-06:00
ID

133204

Comment

Okay Tre...I get it. I'm on the fence on this too. I missed the part that he shot repeatedly. That's alarming to think this guy ran out the store trying to kill the man over a case of beer. WOW!

Author

Queen601

Date

2008-08-19T10:36:45-06:00
ID

133205

Comment

Kaust. I understand all you've stated. I'd be surprised too if he got indicted and shocked if he got convicted of murder considering the Castle Doctrine and times in which we live. He may get charged with something less than murder if the facts support it and he may get let go altogether. This may be the case that helps define the so-called Castle Doctrine. However, no matter the law, when you choose to live and work in certain areas to receive certain benefits from certain people, which you may or may not like or respect, you've got consider these factors. In other words, you have to consider the situation in which you live or placed yourself, no matter the law or your blind feelings about your personal situation. I'd be interested to know whether the killer regrets the killing. If he regrets it then he made a decision that didn't suit his morality or situation. I'm not talking about whether he regrets the charges, but instead whether he regrets taking a life thereby placing himself in a situation that could have been avoided.

Author

Walt

Date

2008-08-19T10:38:03-06:00
ID

133206

Comment

If the killer doesn't regret the killing then I say he did what he wanted to do and now we'll wait to see if he followed the law perfectly. If he violated the law in his rage, frustration, hatred, fight for survial or whatever it was then he should suffer the consequences according to the law and prosecutorial system. Our feelings and personal situations aren't valid excuses for not knowing the law, misinterpreting it, or excusing it.

Author

Walt

Date

2008-08-19T10:46:45-06:00
ID

133209

Comment

Guys, I'm missing the reason why it's important if he regrets it. The damage is done by his own fault....so even if he regrets it, what does that mean? It's one thing if he ran out the store shooting in the air to let off steam and to make a statement to the rest of the would be robbers in that community. But it's something totally different to run out the store, aim, and shoot several times with the intent to kill. I'd be more interested in knowing what his mindstate was at the time, than whether he regrets it afterwards. Was he trying to kill this man? Was he, in his mind, protecting himself? Or, was he just frustrated, felt violated and in anger decided to shoot this man hoping that he'd be able to defend his actions by saying he was being rob and felt his life was in danger. Are there any witnesses? Were any other people in the store?

Author

Queen601

Date

2008-08-19T11:25:09-06:00
ID

133210

Comment

Regret is a personal matter to me because I cherish freedom, movement, self control and peace. Regret may not matter very much from a legal standpoint, but if you cherish these things one bad act can take them all away and render you unavailable to your wife, children, lifestyle, et al.

Author

Walt

Date

2008-08-19T11:41:28-06:00
ID

133211

Comment

Folks, I was just talking to Chief McMillin on a different topic, and he brought up this incident. He is concerned that people think that the Castle Doctrine gives them the right to kill someone who is shoplifting and unarmed. And he is concerned that these kinds of incidents will keep happening if people don't get educated about the law -- and what it is intended to do, which is not give you the right to shoot someone who tries to steal from you. It is vital to understand that it's there for people to use force to protect themselves from harm -- not because someone steals beer from them. We need to make sure people talk about this and start understanding it. Pass the word to everyone you know. Apparently a lot of people are confused.

Author

DonnaLadd

Date

2008-08-19T11:45:41-06:00
ID

133212

Comment

That being the case then the shooter need not walk free. This guy should serve as an example. There is no better opportunity to educate than this. Obviously people are not understanding the castle doctrine and if this guy walks away from this, it'll only get worse.

Author

Queen601

Date

2008-08-19T11:56:02-06:00
ID

133214

Comment

This case reminds me of the case where a man in Houston shot and killed two men who were breaking into his neighbor's house. He was on the phone with 911 and the 911 operator told him to not to go outside, but he took the initiative to go over there and shoot them. Eventually the man was not indicted.

Author

golden eagle

Date

2008-08-19T12:36:08-06:00
ID

133222

Comment

It's still murder to shoot an unarmed person for shoplifting. There is simply no justification.

Author

DonnaLadd

Date

2008-08-19T14:40:04-06:00
ID

133223

Comment

I don't know that anyone here supports what the so-called victin did - stole beer. A shot in the ass or a beatdown would have suited me better. I'm not convinced still that we're necessarily any more criminally inclined than any other race of people. Yet it appears we commit and get caught more than anyone else for certain kinds of crime.

Author

Walt

Date

2008-08-19T14:42:15-06:00
ID

133224

Comment

kaust- I understand what you are saying; BUT, even if you are a nice guy, you can't kill people who steal from you. I know it sucks that he works seven days a week behind protective glass while watching people steal. Still doesn't give you the right to kill people. According to the law, you have to feel like you are going to be killed before you can kill somebody on your property. It doesn't matter if you witnessed customers stealing from you every day for a year, then one set you off. You can't kill him. You also can't handcuff him and keep him in a cage in your attic. That's what the police and the justice system are for. I don't believe in vigilante justice.

Author

Tre

Date

2008-08-19T14:45:41-06:00
ID

133227

Comment

There are people looking for excuses to shoot people. Why look for an excuse, if you really feel inclined to shoot somebody, just do it and face the consequences. Otherwise, realize we can't have a civilized society if we're allowed to shhot people we personally think deserve it. After all if we could do this, we wouldn't likely have any congressmen or other leaders.

Author

Walt

Date

2008-08-19T14:51:30-06:00
ID

133228

Comment

Baquan2000 do you beleive these people always, or by and large, treat the members of the black community with the same respect and consideration as they treat whites and themselves? Do you not think the disrespect goes both ways?

Author

Walt

Date

2008-08-19T14:54:28-06:00
ID

133230

Comment

Comparing this to domestic violence is insane! If the store owner were "taking a beat down," then it probably would have been ok for him to shoot the thief. IThe law says if there is "reasonably feared imminent death or great bodily harm" then you can use deadly force. It doesn't say anything about being fed up. I'll say this again: It doesn't matter if you are fed up. It doesn't matter if you witness people stealing from you every day. It doesn't matter if you don't like a certain race of people. YOU CAN'T KILL PEOPLE! I know some say that they understand why he did it. I hope these people also understand why the store owner should be punished for murdering somebody.

Author

Tre

Date

2008-08-19T15:08:19-06:00
ID

133231

Comment

Baquan, you're mixing up your crimes. The one we're talking about here is no way self-defense. And you seem to forget that the shooting of the beer-stealer was a homicide, and adds to those figures. It's just absurd to think that chasing petty thieves down and shooting them repeatedly is going to, er, lower crime. It, er, raises crime, and the worst kind. And before long, an innocent bystander is going to be killed by this Wild, Wild West crap. Can you even imagine if this had been a drunk white frat boy who grabbed the beer and ran? And then got shot? We'd be having a different conversation now, if so. However, this is the problem with our law as it is. People are ignorant about what it really says and thinks they can go around blowing away anybody you wrongs them. That's ignorance in the worst kind of way.

Author

DonnaLadd

Date

2008-08-19T15:13:04-06:00
ID

133232

Comment

Oh, and comparing it to domestic violence is insulting to abuse victims, and a logical fallacy to boot.

Author

DonnaLadd

Date

2008-08-19T15:13:42-06:00
ID

133233

Comment

I still wouldn't have shot the fellow becuase I wouldn have risked killing him or losing my freedom, peace of mind and ability to control my destiny. Fine, he killed the guy. If his ass goes to prison, I won't feel sorry for him at all. What about the mutual disrespect matter from both communities? I don't know that Canada is ever a fair comparison for us. Why not shoot the businessmen who commit white collar or other business crimes on other people, the government, and society. The same devilish inclinations of greed, getting something you didn't earn, love of theivery, etc. make them commit crimes against humanity as well. You see, no matter the popular report, I'm unconvinced we're any worse than most other people. You have allowed the mass media or popular culture to define for you who is bad and who isn't. Don't get me wrong. I'm sick of all this crime too. Business men cheating. Republicans screwing America and the world. And Democrats letting them. And on and on to the break of dawn.

Author

Walt

Date

2008-08-19T15:16:19-06:00
ID

133234

Comment

Exactly. Also, if this guy gets away with this, I'd be more afraid of gun-wielding vigilantes than I would be of beer-stealing petty thieves.

Author

Tre

Date

2008-08-19T15:18:49-06:00
ID

133235

Comment

The last part was comedy or was it?

Author

Walt

Date

2008-08-19T15:19:40-06:00
ID

133238

Comment

Just playing my role to make us think, Baquan. The mass media, popular culture, subliminal suggestions, mis-education and so on have affected/effected/infected us all to some degree. I try to be a dissenter or dissident because I don't trust them. If we looked upon business people in a true light we'd be shocked. Of course, we won't ever do this because it touches on the fabric and core of the capitalistic system which too many of us put before the Almighty. Who is worse the guy who steals millions or the one who stole a beer. Which one would you shoot? I'd shoot the soma_____ who robbed us of millions.

Author

Walt

Date

2008-08-19T15:39:36-06:00
ID

133239

Comment

But we ain't supposed to shoot people and I don't want to lose my freedoms.

Author

Walt

Date

2008-08-19T15:40:30-06:00
ID

133241

Comment

Both were wrong in my opinion.

Author

Walt

Date

2008-08-19T15:47:33-06:00
ID

133242

Comment

:-) I wanted to know what everyone thinks about this. I personally agree with Tre. This situation is being stretched all kinds of ways when the bottom line here is simple. The guy had NO reason to shoot this man who stole beer from the store (was he even the store owner?). And it's a ridiculous for someone to loose their life over a couple of bottles of beer. We dont' know what the shooter was going through. But we do know the end result. If it is not dealt with in this very case, it will lead to more and more of this behavior- the Wild Wild West Crap as Donna put it. So, it does need to be addressed because there are people out there who think this law means they can kill at will pretty much...and as McMillian has stated, that is not the law and they will serve time. I just think if he doesn't go to jail for this it will be a horrible mistake. Even if he gets a lesser charge...he has to do some time or we will be facing some terrible times in these streets. I bet some people went and purchased guns TODAY after this. Preparing to take a life - just in case....NOT GOOD PEOPLE....not good. baquan2000 thanks for your posts. I appreciate your opinion and the fact that you voiced them. Peace

Author

Queen601

Date

2008-08-19T15:48:17-06:00
ID

133244

Comment

People who put their stores in any community know that they are going to loose some stuff to theives. They usually allow for some lost because that is the nature of some people to shoplift or sdteal. That is as old as time. Killing someone over any merchandise is unforgivable. If the person was armed and threatned the clerk sure defend yourself, but when you leave the counter and run out of the store with shooting on your mind you shoud be charged with whatever the law call for for your actions. Yes if that had been a white person especially a colledge student then the community would be up in arms. The black community would be up in arms if this had been a child and the theif was not beer. I am not surprised no one is outraged because a guy died while stealing beer. if he had stolen food then I think things would have been different. Do not judge this person unless you know him. No one deserves to die for stealing without threatening to kill.

Author

jada

Date

2008-08-19T15:53:06-06:00
ID

133245

Comment

Walt, you said earlier that you be surprised if he got convicted because of the Castle Doctrine, why would this even fall under the Castle Doctrine? Its states you do not have to "retreat" you can stand your ground and defend yourself,your home,your business, and help and aid police officers(when asked) . This was not standing his ground and defending, it was attacking.

Author

BubbaT

Date

2008-08-19T15:54:49-06:00
ID

133246

Comment

Baquan, I don't think anyone here is justifying the thief's actions any more than the store clerk. But the Castle Doctrine doesn't allow someone to gun down an unarmed man, albeit a criminal, once they've fled the premises. And let's not forget that he was killed OVER A CASE OF BEER! This kind of Wild Wild West mentality is why the clerk is in hot water right now.

Author

Jeff Lucas

Date

2008-08-19T15:59:55-06:00
ID

133247

Comment

I confess Bubba I haven't read the castle doctrine and as far a s I know it hasn't been tested (limitations, meaning, extent) in court as of yet. I said this because I believe some jurors are capable of letting a person go under the same or similar circumstances because of the misinterpretation or their perception of what the Castle Doctrine is, coupled with the climate of crime that everyone is so sick of. With the right facts the law can be taken advantage of. Consider Frank's guilt in Welsh's house but how the nuances of the law allowed him to escape. Did you notice that I never said in any comment what exactly the Castle Doctrine meant or comprised. I do need to read it specifically, like all of us should, especially those of us who are trigger happy and can't wait to apply it to their personal situations.

Author

Walt

Date

2008-08-19T16:03:53-06:00
ID

133248

Comment

Walt, here's a link to it. http://michie.com/mississippi/lpext.dll?f=templates&fn=main-hit-h.htm&2;.0

Author

BubbaT

Date

2008-08-19T16:17:23-06:00
ID

133249

Comment

Donna to say I had a logical fallacy - is close to calling me stupid and that my view doesn't matter. No, Baquan. Everyone uses logical fallacies, especially when they're clouded by emotion on an issue. So keep your britches on; no is calling you stupid. Your fallacy was comparing a woman killing a man abusing her to a store owner chasing down an unarmed shoplifter and shooting hims several times. And I hate to point it out, but it is another fallacy to say that disagreeing with shooting someone for shoplifting is the same thing as justifying the shoplifting. That's putting illogical words in other's heads and mouthes. Someone who shoplifts should be jailed for shoplifting. As the sheriff-chief said to me earlier today, you don't get the death penalty for shoplifting. The good news is that Queen's post is making people think about this stuff before they do something really stupid themselves and end up in prison for the rest of their lives because they have no idea what the damn law says.

Author

DonnaLadd

Date

2008-08-19T16:22:10-06:00
ID

133252

Comment

B, when my car was broken into a few years ago I think I had the same anger this store clerk felt, enough to kill over it. And it didn't help that JPD detectives basically acted like they didn't give a sh!t about finding the perp which made me angrier. But in my mind taking a life over replacable property isn't worth the consequences. I TOTALLY understand the desire to "send a message" to the thugs, but I really wonder if adopting a Wild West mentality will yield anything positive long term other than more dead bodies, both the guilty and innocents.

Author

Jeff Lucas

Date

2008-08-19T16:49:12-06:00
ID

133253

Comment

I know Donna doesn't like to hear this one, but I've heard many stories about JPD officers who just take names and fill the reports out, "if you need it for your insurance". Nothing ever happens.

Author

Ironghost

Date

2008-08-19T16:54:32-06:00
ID

133254

Comment

If an unarmed guy can be shot multiple times and killed for swiping a case of beer, and people see nothing wrong with that, then we need to seriously reexamine our priorities as a culture. This is beginning to sound like Les Miserables.

Author

Tom Head

Date

2008-08-19T17:28:13-06:00
ID

133256

Comment

The gas station in question is not far from where I live, and I've been there a few times to get gas or put air in my tires. Seems kind of surreal now that all of this is happening. Anyway, when the news first came out that the thief was shot and killed, not thinking it through, I immediately thought, Well, he shouldn't have been stealing in the first place. When I initially heard that the store clerk was being charged with murder, I was like, Why? Now that I know that the thief was unarmed and was in his vehicle when he was shot, I have a better understanding of what he did wrong. After I first heard about the murder, I assumed that the thief was packin' heat and got shot before he got into the SUV. Never assume. The store clerk overreacted. I can understand why he was frustrated, but he shouldn't have shot him. Also, if he is not convicted in some way for this, there will be an even greater schism between the Indian and Black communities. Blacks will say that he got off because the guy he killed was black.

Author

LatashaWillis

Date

2008-08-19T18:12:17-06:00
ID

133257

Comment

We are on our 45th homicide for the year in area of 450,000 people! Toronto Canada has 2 million residence! Do you know how many murders they had last year!? 2! Two people! Does anyone have a way of doing a statistical comparison of Toronto and metro Jackson in terms of economic conditions, law enforcement/citizen ratio, etc.?

Author

LatashaWillis

Date

2008-08-19T18:20:09-06:00
ID

133260

Comment

Baquan2000 was way off for the number of homicides in Toronto. The number of homicides in Toronto for 2007 was 50, 2006 there were 44, and there have been 40 so far this year. Here is a chart from the Toronto Police Service website. http://www.torontopolice.on.ca/statistics/ytd_stats.php And it seems they are on a record setting pace too. http://www.torontosun.com/News/TorontoAndGTA/2008/08/17/6478236-sun.html

Author

BubbaT

Date

2008-08-19T21:27:46-06:00
ID

133261

Comment

Iron, the problem is that most people who tell those "stories" are passing them along from other people and can never prove them. It becomes urban legend. That doesn't mean it doesn't happen, just clearly not as often as rumormongering Jacksonians like to say it does. It's an interesting place to be a reporter—in a city where exaggeration, and often fabrication, reigns supreme. And good post, Tom.

Author

DonnaLadd

Date

2008-08-19T22:40:23-06:00
ID

133263

Comment

Well, in my case I cut out a few people. I know (really!) the person who was there when the Cops did this. If you want to be picky, that only could confirm one instance. It would mean however it could be possible there are more stories out there untold or disbelieved.

Author

Ironghost

Date

2008-08-20T07:52:19-06:00
ID

133264

Comment

...but Tom, in Les Miserables he was hounded for 20 years for a simple charge of shoplifting. ;)

Author

Ironghost

Date

2008-08-20T07:54:47-06:00
ID

133268

Comment

45 murder thus far in a city of less than 200,000. Not good...

Author

QB

Date

2008-08-20T08:34:01-06:00
ID

133274

Comment

Is there an overall increase in crime in North America? Is it related to the economy? I think the world as a whole is more violent.

Author

LatashaWillis

Date

2008-08-20T09:27:47-06:00
ID

133279

Comment

baquan, I get what you're saying about the mental breakdown. I was in customer service for five years and wanted to snap sometimes, and I dealt with customers through phone and email. However, could a similar argument be made for the thief? What if he was thinking, "I'm broke and I want some beer, and I'm sick of 'their kind' making money off my people when I know folks who look like me have a harder time getting a business loan, so I'm going to just take this case of beer because they won't miss $10. They probably live in the 'burbs with kids in private school anyway." As sick as that logic is, that could be what drove the man into stealing and losing his life. The shooter and the thief may both have reasons, but do those reasons justify anything?

Author

LatashaWillis

Date

2008-08-20T09:48:34-06:00
ID

133283

Comment

This argument is completely ridiculous. I don't care if the guy stole a case of beer (unarmed) every day for a year and told the cashier his mother is ugly on his way out the door. I don't care if it was a case of beer or a box of Nutty Bars. You can't kill him for it! I don't care how angry and fed up you are, you can't take the law into your own hands, even if you think the police are inadequate. I understand the frustration, but it doesn't justify murder. I have a problem with road rage. Somebody pulls in front of me or does something stupid on the road every day that pisses me off. Would it be ok if I kill the next person that cuts me off? And, again, the domestic violence comparison is nuts. You can't compare the murder of an unarmed thief to someone who takes daily beatings and mental and sexual abuse from a person they love. That just doesn't work. I'm not trying to insult your intelligence, but c'mon! That's insane.

Author

Tre

Date

2008-08-20T10:30:55-06:00
ID

133287

Comment

baquan, thanks, and I'm a woman. Tre, I agree. The murder was unjustified. The shooter and victim were both wrong. No winners here.

Author

LatashaWillis

Date

2008-08-20T10:54:39-06:00
ID

133288

Comment

We all have pressures. I have a problem with road rage. We all are put in situations where we'd rather slap the crap out of someone at times rather than to take a moment to breathe. However, there is something not clicking to perfection in a person who would take something like road rage or stolen property which doesn't amount to much financially, and shoot someone. The fact is that sure this guy who robbed the man was wrong...who has said he didn't commit a crime. But the crime DOES NOT fit the punishment he received. There is simply no way to justify this guy being gunned down. I am with Tre on that. I understand your poing baquan, please trust that I do. Black people are frustrated. We are tired. We are struggling....but so are white people....so are indians. Point is, if we go around using frustration as a justification for stealing someone's life then we are setting a precedent that will eventually bring our community to demise. We can not afford that. Shooting should not be an option UNLESS, you are defending yourself from harm, or you are convinced that if you don't shoot, you will die yourself. Otherwise, it is a crime, period. No one is saying that this store clerk deserved to be robbed or that he was not a victim. What I am saying is that he is NO LONGER a victim. Unfortunately his actions have turned the robber into the victim. And now, he faces murder charges over a simple $10 case of beer. That's what's ridiculous. I'm glad this is being discussed because there are people out there who are ignorant to what this law states and they need to be educated. I am one of them. I heard an older gentlemen say that the law states (and he said this with much enthusiam and frankness) that if someone walks into my yard, I can shoot him. THAT IS SO NOT WHAT THE LAW STATES. So if someone came into his yard, and he shot them, he is now the criminal and no longer the victim. We have to be careful not to fall into the ignorance and become educated about this.

Author

Queen601

Date

2008-08-20T10:58:16-06:00
ID

133290

Comment

This does not even come close to falling under the castle doctrine in my opinion. The store owner was never in danager. If the news reports are correct the robber never even threatened him in any way. I worked in a retail store for 5yrs and we had people shoplift all the time and I was armed everyday, but never once did I ever think about shooting someone because they were shoplifting. We would chase one down every once in while and kick the crap out of them and get our stuff back, but shooting a shoplifter was never even considered. The only reason the I had a gun was to shoot back if armed robber shot first, because most of them can't hit the broad side of a barn anyway.

Author

BubbaT

Date

2008-08-20T11:24:24-06:00
ID

133292

Comment

Queen, that was my main worry with the Castle Doctrine law as well--not that it legalizes lynching (it doesn't), but that people who listen to talk radio would come away with the impression that it does, that it would let a grumpy old man pick off 9-year-olds if they take a shortcut through his backyard. I'm scratching my head over all these folks who seem to think that murdering shoplifters, or anybody else, is a good idea. No wonder the homicide rate is so high, if we live in a part of the country where it's okay to go around shooting people for doing things you don't like. Do y'all not realize that this is the reason we have 45 homicides? Beefs, turf wars, impulse killings? Person A thinks his girlfriend is cheating on him, so he believes it's okay to murder her and/or the person he thinks she's cheating on him with. Person B has somebody cutting in on his business, so he thinks it's okay to murder him. Person C gets clobbered in a bar fight, so he comes back to murder the guy who did it. These people don't usually just decide they're going to kill somebody. In most cases they have their reasons, too, reasons that justify murder in their own minds. So is this what we're going to reduce ourselves to? A culture where the only difference between the killers and us is that we haven't been given the right excuse yet?

Author

Tom Head

Date

2008-08-20T11:30:56-06:00
ID

133294

Comment

Re the crime rate: Bad national economy plus Katrina = predictable uptick in crime. Crime isn't a disease; it's a symptom. And the fact that our mayor mismanaged the police department for most of his term probably doesn't help.

Author

Tom Head

Date

2008-08-20T11:32:49-06:00
ID

133295

Comment

"Queen you are right!" I totally agree with this statement!

Author

Tre

Date

2008-08-20T11:35:06-06:00
ID

133302

Comment

Then, were do we disagree? I said I understand his frustration, but that doesn't justify killing someone.

Author

Tre

Date

2008-08-20T11:55:26-06:00
ID

133306

Comment

Baquan, would you understand the store owners frustration if he had chase a 6yr old outside and shot him for stealing a candy bar? That's shoplifting just like the guy snatching and running with a case of beer. The store owners frustration has nothing to do with this, he chased an unarmed shoplifter outside and shot him over a case of beer. He was not in any form or fashion in danger from the shoplifter. Mississippi's "stand your ground" law is good, if you read it and know what it means, but for a store owner to think he can shoot a shoplifter, because of it is just plain wrong.

Author

BubbaT

Date

2008-08-20T12:11:04-06:00
ID

133310

Comment

Baquan, this is just for you....listen, I think that you are actually bringing other issues into this one particular issue that may be clouding your judgement. It is irrelevant in most of our minds (here) that the robber was black. There is a general point to be made here which is the crime in which the store clerk outrageously took the position of police officer, judge and jurer in this situation. It would be the same thing if the guy was white, or mixed or indian for that matter. As a matter of fact I am will even venture to say that it may not have even occured if the robber wasn't black. NOW, you want to talk about the state of the black men in our city.....well black people period don't confine it to just black men. Our personal situations cause us to act out sometimes. I act out. I'm black. But I am not going to go rob a store for beer. That's a crime and it shouldn't be excused. Why? Because it isn't his property, therefore, wrong, immoral and against the law. you are so right in that. But this particular situation doesn't have anything to do with the color of the robber's skin or the money he has, or the fact that he doesn't work, or the fact that he's a beer stealer. The point here is that the store clerk took an extreme action that caused this man his life. What should have happend and likely could have benefited the robber, the clerk and the community is if he had ran outside, took down the car tags, took a picture of the guy with his camera phone, paid particular attention to what he was wearing and his features and REPORTED IT TO THE PROPER AUTHORIES. Yes, you're right again, JPD has failed us so much that we don't put our trust in them to get things done. But putting in a police report with enough details to where THEY don't actually have to work to hard (since they seem to be against that idea) would pretty much make it easier to catch this particular guy. He'd be alive and afforded the opportunity to rehabilitate himself. He could have turned his life around and helped others who rob for beer. Now, unfortunately he doesn't have that opportunity. And, the store clerk (again) is headed to jail....hopefully. You are making valid points. I get it. Black men need to step their game up and contribute more positively to our society and our community. No arguement there. However, this particular situation really has little to do with the color of the robber's skin as much as it does with the act of murder on the part of the store clerk... just my 2 cents.

Author

Queen601

Date

2008-08-20T12:31:25-06:00
ID

133314

Comment

Would someone please prove or disprove this myth that is constantly, constantly heard in the African American community. In fact last night, callers to the David Archie show kept repeating this " These people come over here and they don't have to pay taxes" It's a statement that I have heard a million times but I have no clue if it's true. Somebody please explain - IS THIS TRUE?

Author

lanier77

Date

2008-08-20T12:43:05-06:00
ID

133315

Comment

lanier, it's not true at all: http://www.washingtonpost.com/wp-dyn/content/article/2006/06/04/AR2006060400965.html

Author

Tom Head

Date

2008-08-20T12:53:36-06:00
ID

133317

Comment

Don't know how accurate this is, but I did find this and it says all immigrants do pay taxes. http://www.immigrationforum.org/documents/TheJourney/MythsandFacts.pdf I have never heard the Indian immigrants didn't pay taxes, but have heard that the Indian gov't furnished them with low or no intrest loans to buy hotels and stores, but that's probably a myth too.

Author

BubbaT

Date

2008-08-20T13:01:55-06:00
ID

133318

Comment

When I drove by the store this AM, it was relatively more crowded than usual; I pass it every day. It wasn't crowded by protesters but by paying customers. A curious sight...

Author

kaust

Date

2008-08-20T13:21:41-06:00
ID

133319

Comment

Baquan2000 - Point taken! And let me just reassure you that I, too, am very hard on my people and I hold us to a very high regard. I expect more from us AND i am working to instill pride and stregnth into every African American I can by my thoughts and actions. THe best way to correct that which has plaqued our community is to simply encourage and educate. It doesn't help to chat and complain...that never works (not saying you are doing that - or anyone else in particular). What works is those of us who "know better" must get out and inform those who don't know, and by offering an alternative to the life they have found themselves stuck in. We can do that by giving them something to work towards and setting an example. If we all, who are inclined, were to do this, that would surely make our community more educated and fill us all with a sense of pride. I feel you homie!

Author

Queen601

Date

2008-08-20T13:35:48-06:00
ID

133321

Comment

When I first heard about this, I didn't know the ethnic background of the shooter or the thief that was killed. I just immediately thought that it was wrong for the store owner to kill a shoplifter. Race or nationality has nothing to do with it.

Author

Tre

Date

2008-08-20T13:45:09-06:00
ID

133323

Comment

Ditto, Tre!

Author

Queen601

Date

2008-08-20T13:51:21-06:00
ID

133326

Comment

I don't see what difference my job title and skin color makes. To me, race was not an issue. It could have been any combination or two of the same of any race. Killing an unarmed shoplifter is wrong and the killer should be punished. I feel like I have said the same thing a hundred times now, so I'll stop. If it makes you feel any better... I lived in Jackson for 30 of my 35 years. I am white. I am a graphic artist. I have been married for 11 years and have 3 children. I am a progressive liberal. I am Catholic (not a very good one). I am a musician - I play drums with some local blues artists and in a local rock band. What else do you need to know?

Author

Tre

Date

2008-08-20T14:10:59-06:00
ID

133328

Comment

Hey I'm willing to discuss and build with any one black or white who wants to come to some sound determination on progression. So name the place and time sir, I'm there!

Author

Queen601

Date

2008-08-20T14:23:05-06:00
ID

133330

Comment

I'm looking for clarification on a couple of things if anyone can help. #1. Did the store clerk shot the man while he was in the car attempting to drive away? #2. Do we know how many shots were fired? #3. Did the robber die instantly from the gun shot? #4. Were there multiple gun shots or one fatal shot?

Author

Queen601

Date

2008-08-20T14:26:30-06:00
ID

133331

Comment

#1 According to news reports, yes--after he had entered the SUV, but before he had left the parking lot. #2 Only that Hawthorne was hit at least twice. #3 I don't know. I seem to recollect reading somewhere that he was dead at the scene. #4 According to news reports, there were at least two bullet wounds--one bullet in the head, the other in the shoulder. It is not clear which shot was fired first, nor is it clear if additional shots had been fired that did not hit Hawthorne.

Author

Tom Head

Date

2008-08-20T14:42:39-06:00
ID

133333

Comment

We have black teen's dropping out from the same schools roe vs. wade decision made possible for us to go! Brown vs. Board of Education

Author

LatashaWillis

Date

2008-08-20T14:53:12-06:00
ID

133335

Comment

#3 I don't know. I seem to recollect reading somewhere that he was dead at the scene. He didn't die at the scene. When he got shot, he tried to drive away and ran into a pole. He was taken to UMC and died there.

Author

LatashaWillis

Date

2008-08-20T15:14:02-06:00
ID

133336

Comment

baquan: I hope you don't consider this conversation a "battle." I have definitely experienced (experiencing) economic hardships. I may not have experienced some of your social hardships, but I am aware of it. I also get to hear what idiots say behind your back that think I agree with them because of my skin color. I honestly don't care about color. I have family members that are black and mixed races. They are my family. I am just as offended as you are by the 'n' word. I will never know what it is like to live your life, but I am sympathetic. I am aware of the issues we still have regarding race. I just don't think it has anything to do with the fact that killing a shoplifter is wrong. A white store owner killing a black shoplifter is wrong. A black store owner killing an Asian shoplifter is wrong. A black store owner killing a black shoplifter is wrong. In all of these cases, the shooter should be punished. As I have said, I understand that he was frustrated... doesn't mean you can kill and get away with it. Didn't he have security cameras that could have identified the thief? Couldn't he have gotten the license plate number from the truck rather than shooting? With a picture and a plate number, they could have caught the bad guy. He was wrong for stealing, but he didn't deserve to die. Now, if you want to talk about race relations around here, we can. Maybe start a forum topic. But this topic isn't about that. This topic is about a man (just a man, not "black man") that was murdered by a man (just a man, not an "Indian" man) for stealing beer. Queen: About your first question: I heard the shoplifter ran into the gas pumps after he was shot. That tells me that he was attempting to drive away. About the rest of your questions: I heard the same as Tom H.

Author

Tre

Date

2008-08-20T15:16:42-06:00
ID

133337

Comment

Yep...L.W. catches everything. :-) Thanks for the info peeps.

Author

Queen601

Date

2008-08-20T15:21:41-06:00
ID

133361

Comment

thanks for clearing that up on the tax issue, because that's a huge urban myth in our community.

Author

lanier77

Date

2008-08-21T09:45:14-06:00
ID

133367

Comment

hey did you see the ol' guy with no teeth on Channel 16 news last night!? "Dey don't bay no taxes - dey need to go back across dat water where dey come from!" He was missing a few teeth, not exactly all of them. In fact, I think that was the victim's father.

Author

LatashaWillis

Date

2008-08-21T10:20:26-06:00
ID

133377

Comment

Folks are tired. We are tired. No one wants to be taken advantage of or robbed. But I hope we are not so tired that we resort to killing everyone who wrongs us. It starts with beer, then it goes on and on.

Author

Queen601

Date

2008-08-21T12:50:02-06:00
ID

133379

Comment

I think the problem I have with this whole thing is that the clerk put a $10 value on somebody's life. That's just sickening. I believe everybody who is legally able to should be able to own a gun. I think the "castle doctrine" is good if you are in danger and you are force to use lethal forced to defend yourself. I think the concealed weapons permits are a good idea for those who qualify for them and want a means to defend themselves. But I just don't understand the thought of shooting a shoplifter. A shoplifter, not a armed robber, not a strong-arm robber, just a damn shoplifter. This clerk is problably going to have a lot of time in prison to think about whether he would have rather been $10 short that day or was that $10 worth the time in jail.

Author

BubbaT

Date

2008-08-21T13:15:26-06:00
ID

133381

Comment

Off topic: Where are ya'll getting cases of beer for $10?

Author

Tre

Date

2008-08-21T13:35:21-06:00
ID

133383

Comment

LOL....that's hilarious...I'm laughing out loud for real, Tre.

Author

Queen601

Date

2008-08-21T13:38:09-06:00
ID

133385

Comment

LOL It was Milwaukee's Best that nasty stuff has got to be that cheap.

Author

BubbaT

Date

2008-08-21T13:42:56-06:00
ID

133388

Comment

baquan, here's the thing, though: You're talking about the crime problem. Chasing a guy down and shooting him to death IS the crime problem. 45th homicide of the year. And not significantly different from the previous 44.

Author

Tom Head

Date

2008-08-21T13:50:49-06:00
ID

133389

Comment

Exactly, Tom! Also, in all of those other cases, a gun was pulled by the robber. I don't know the specific details, but I bet this guy grabbed the beer and hauled ass out of the store. I don't think there were any threats or any interaction at all with the store owner. We can't kill people because they 'might' have a gun. The store owner could have just been the victim of a petty theft, but he decide to make the thief the victim (of murder) when he chased him down and killed him. Like Tom said, the bigger crime here was the murder of the beer thief.

Author

Tre

Date

2008-08-21T13:58:39-06:00
ID

133391

Comment

If the guy had walked in there with a gun and tried to rob the store the clerk should have shot him. The business owners already have the right to protect themselves, Castle Doctrine, remember? In every instance you mention the the victim had every right to use deadly force to protect themselves, I have no problem with that, but to shoot a shoplifter over beer is insane. We have about nine gazillion gun laws already let's enforce them before you add more.

Author

BubbaT

Date

2008-08-21T14:04:45-06:00
ID

133393

Comment

Well stated BubbaT.

Author

Queen601

Date

2008-08-21T14:07:41-06:00
ID

133397

Comment

But, that's the point! They were robbing places and they had guns. If that were the case, as Bubba said, then killing the robber would have been self defense - Castle Doctrine or not. This wasn't a robbery ("give me your money or I'll kill you" kind of thing). This was a shoplifter that didn't have a gun or threaten the clerk. baquan - we are basically in agreement, it's just the comparisons I disagree with. We agree: -the man shouldn't have stolen the beer. -the store owner shouldn't have killed the thief. What exactly are we arguing about?

Author

Tre

Date

2008-08-21T14:25:28-06:00
ID

133399

Comment

Baquan, let's be clear, I am not trying to sway you because I don't think we are even talking about the same thing. i think the point you are making...that people are frustrated, is a given. However, in this case again, the punishment doesn't fit the crime. That's just it...the guys SHOULD NOT HAVE BEEN KILLED FOR ROBBING THE STORE. He posed no particular threat to the store clerk's life. I don't even think you're making that arguement. I think (and I could be wrong) that you agree with that. You are just trying to make the point that there is no excuse for a man taking anything he himself hasn't paid for. And who's disagreeing with you on that? No one that I can see. Let me ask you a question, would Lil Wayne (or any other artist for that matter) be within his rights to shoot everyone who bootlegs or has purchased a copy of a bootleg version of his album? They've stolen money from him for work he's done. Is he within his rights to kill anyone who has a cd of his that hasn't purchased it from a store -- legally? Just a question, not to be compared to anything...just asking.

Author

Queen601

Date

2008-08-21T14:46:19-06:00
ID

133400

Comment

I think it's great to talk about this issue in order to educate people on what the Castle Doctrine is not -- license to murder an unarmed person, even if they're a thief. Otherwise, though, Baquan, I don't think anyone is trying to convince you of the need to uphold the law. The truth is that if you are defending killing an unarmed person who wasn't a threat, you're taking a radical stance that flies against the very heart of both the law, and the basic foundation of American law. So the only thing that really matters about your belief is the possibility that if you think this was justifiable that you might do the same thing and end up in prison for the rest of your life. So justify away. Sounds like it's your problem unless and until someone is a victim of your belief in lawlessness.

Author

DonnaLadd

Date

2008-08-21T14:51:52-06:00
ID

133401

Comment

Good one, Queen, with the Lil Wayne description. Or, should Bill Gates be allowed to walk up and blow anyone who pirates Microsoft software? Or should I be allowed to kill someone who puts one of my full stories on their Web site? That's illegal, and it's theft of my intellectual property, and arguably worth more than a $10 case of beer. Or, here's a good one: should local publishers be able to storm up to Ledger/TDN distribution drivers and kill them for taking our MIPA boxes from in front of stores without telling us in advance, with thousands of our publications inside, and putting them in a locked lot in Rankin County? (As they did again last week.) Obviously, we have no desire to do that, but the frustration is just as fierce, I assure you. It's our property.

Author

DonnaLadd

Date

2008-08-21T14:56:02-06:00
ID

133402

Comment

baquan- you say I didn't agree with the clerk's reasoning. Well, I did say, in my first post on this topic, "Sure, it would make you mad, but you can't chase a car down and kill somebody for shoplifting" I understand he was frustrated and fed up. That just isn't a good reason to murder another human being.

Author

Tre

Date

2008-08-21T15:04:05-06:00
ID

133408

Comment

enough is enough already...i agree with clayton bigsby, er, banquan2000 if all these negroes could just stop committing crimes people wouldnt have to shoot them. i for one agree with an eye for an eye. the guy couldve had a gun. i couldve had a baby if not for that damn y chromosome. seriously, the guy is fed up and scared. so this means that when a cop pulls me over for dwb i can pop a cap in his monkey @$$...next time someone cuts me off, a real drive-by. im with banquan lets just go back to a time where men were men and preventative measures were in place. you know… when black men were lynched and white men knew their place. all thieves should be shot. ree gardless. see i like where this is going. you on the internet at work? blam! your old job is hiring. eating grapes at mcdades to see if they are sweet? mr. mcdade got the shotty to ya body. time out for laws and judges and juries. let people do their job. maybe if the crime rate was a little a higher, criminals wouldnt have it so easy. i think i know who im voting for… Banquan for mayor 2009…at least he's honest

Author

skipp

Date

2008-08-21T16:24:25-06:00
ID

133427

Comment

WOW....you are still missing it. For my own personal satisfaction, can I get a yes or no from you for the following question.....PLEASE? Is it your opinion that this beer thief should have been killed by the store clerk?

Author

Queen601

Date

2008-08-22T09:32:19-06:00
ID

133431

Comment

If you run up in a Papa John's with a gun, threatening people, and end up getting killed by the store owner... oh well. If you put a gun up to someone's head and attempt to steal their car, then end up getting killed by the driver... oh well. If you are raping and beating a woman and she gets her hands on a gun and blows your head off... oh well. If you attack someone in a parking lot for their wallet and they think you are gonna beat them to death or seriously injure them, then end up getting shot by the victim... oh well. If you run up in a store, unarmed, grab a box of beer and run out the door and drive off without threatening anybody and get killed by the store owner... well, I have a problem with that. There was no self defense/fear of being killed or harmed excuse. He was just pissed and murdered the guy that pissed him off. You can't do that!

Author

Tre

Date

2008-08-22T09:57:23-06:00
ID

133449

Comment

That same mentality now has a man facing murder charges. But hey....whatever works for you man. If I happen to see you on the news for something similar, I will know you did it for good reason - at least in your mind. A waste of a strong soldier who could probably contribute to other issues and problems that aile the black community...but at least we'll understand WHY, which is more important than actually serving some good in the community. That's sarcasm. Really though, you can't sit around and complain about people being frustrated and tired and then speak about bettering the community without offering some resolutions. If you are so tired of black men falling short of their duties to their families and their community; if you are sickened by our men being sorry fathers, robbers, drug addicts, murderers, etc...and you can see that we are in jeapordy, the remedy, my friend is to fix the problem where it lies. NOT to kill off everyone. That will never be a solution that I can live with. I'd rather think that you as an intelligent black man would serve this community better by reaching out to those who are in the situations that cause them to do ignorant actions such as rob people for beer or anything else. Instead of falling enthusiastically on the side of a victim turn killer. And rallying behind the idea that one man's life is better or worse than another man be it a criminal or a business man. Rehabilitation is not an option for this man now. That's the fact. Now our community can not afford to loose black men without first trying to save them, even if they are theives, or addicts. So, again, I understand your point. But I can not and will not ever concede to the fact that this man deserved to die because he was a petty thief. Or that the business man was well within his rights- being tired and frustrated to take the law into his own hands OR to steal another's life. Hmmmm....this kinda leads me want to evaluate my opinion on the death penalty which was a topic of discussion a couple of weeks ago. Baquan you may just have involuntarily offered me more light in my journey.

Author

Queen601

Date

2008-08-22T12:04:30-06:00
ID

133460

Comment

There are a lot of similarities in the conversations going on. I don't understand why people always think everything is one extreme or the other. When I say that I'm against the death penalty, it doesn't mean I think people shouldn't be punished for killing people. When I say I am against corporal punishment, it doesn't mean I don't think children should be disciplined at all. When I say a man shouldn't be killed for stealing beer, it doesn't mean he should be allowed to steal all the beer he wants. With a tag number, a description, and possible video footage, the police could have caught the thief, locked him up, and probably could have got the beer back (or most of it) without anybody losing their life. [quote]Tre let me ask you this question? If you are at a store and someone cuts you off in line. Then you say - "hey, excuse me - but I am here and I have been waiting for a second." - Then they just respond to you by saying, "whatever I am trying to get in here and get out!?" - so you proceed to cut back in your original spot. That same person kind of bumps you and tests your man hood - to see how much game you got in your blood. You just stand your ground and they go, "oh I got something in my trunk to handle you!?" - then what do you do? what till they go and grab a pistol or you jsut going to wing it and ask questinos later?[/quote] Strange question! Funny you ask too, because I experienced a similar situation not too long ago (but I was never threatened). I was waiting in line behind three or four people in a convenience store. I saw a guy come in, go to the slush machine and fix himself a red frozen drink. By the time he finished, it was about to be my turn at the counter when he walked right in front of me, handed the lady a $20 and told her he was getting the change from the drink in gas. I said, "I wish I knew you could just step to the counter in front of everybody! I wouldn't have wasted my time standing here in line waiting my turn!" He looked at me (crazy eyes) and said, "it ain't like that, man, I'm just paying for my gas!" I let him know "I'm just trying to pay for my sh!t too!" He walked out of the store looking at me - as if to say 'I got something in the trunk for you!' If I really thought he was going to come back with a gun, I would have hauled ass and told the clerk to call the police, lock the doors, set off the alarms, let's hide in the freezer... something! Maybe I should have just killed his ass!

Author

Tre

Date

2008-08-22T13:32:15-06:00
ID

133462

Comment

If the "I've got something in my trunk for you" guy came back packing heat, the Castle Doctrine would obviously protect shooting him in self-defense. (For that matter, acquittal on the basis of self-defense would have protected shooting him in self-defense; the Castle Doctrine isn't necessary for that.) But I would have just let him have his spot in line or retreated, given half a chance. I'd rather my manhood take a hit than get in a damn shootout, even if I come out on the right end of it. No part of this scenario, in any case, is relevant to a chasing down and murdering an UNARMED guy FLEEING after SHOPLIFTING A CASE OF BEER.

Author

Tom Head

Date

2008-08-22T13:39:57-06:00
ID

133463

Comment

BTW- Awesome post, Queen, and seconded... Stealing a friggin' case of beer doesn't make someone an irredeemable monster. I know plenty of former drug addicts who lived to apologize to the folks they stole from. This guy won't, because he crossed paths with a murderer.

Author

Tom Head

Date

2008-08-22T13:43:53-06:00
ID

133468

Comment

Just for informational purposes brother, i am an Eastern Star. I see all types of things from your posts. The main being that you are a stern believer in obeying the law. I respect that. My only concern is that I want you to know that killing people shouldn't be an option for rectifying their behavior. We are not GOD. WE can not determine if someone should live or die based on something they've done. Who are you to make that judgement, who am I to make that judgement????? (side note, this is quite contrary to somethings I've stated in the past - just want to point that out before "someone" else does and I'm again noted as a flip flopper). But I digress....Baquan, I think we are all with you in your attempt to explain that something needs to be done to correct the typical criminal behavior. You're right. My point, the answer is not in murder.

Author

Queen601

Date

2008-08-22T14:02:32-06:00
ID

133473

Comment

That's a damaging stance to take. I personally think that if that attitude was the norm for our state, city or country we'd be living in days worse than slavery. But, I recognize when one is set in his ways and beliefs...so I will bag off of you and let you do your thing. But know that while you're impressing upon people that they should kill anyone who steals from them...I'll be on the other hand trying to keep those who steal, from stealing and informing those who are trigger happy of their options to keep from going straight to jail for life. Yours in the struggle my brother! PEACE

Author

Queen601

Date

2008-08-22T14:53:38-06:00
ID

133477

Comment

I'll add this: Two wrongs, or two crimes, do not make any right. And one crime does not excuse another crime. And killing a person not threatening you is a crime, pure and simple.

Author

DonnaLadd

Date

2008-08-22T15:27:28-06:00
ID

133485

Comment

And that, my friends, is the b... uh, oops... I mean... Exactly!!! :P

Author

Tre

Date

2008-08-22T16:03:10-06:00
ID

133514

Comment

Another shooting by a store clerk last night. This time it was at the Chuk Stop on Robinson Road at Lindsey Dr. The clerk fatally shot the robber, who was wearing a clown mask. The clerk will not be charged since JPD deemed he was protecting himself. More here.

Author

golden eagle

Date

2008-08-25T07:40:00-06:00
ID

133517

Comment

I won't shed a tear over that clown.

Author

Jeff Lucas

Date

2008-08-25T07:50:32-06:00
ID

133519

Comment

Wearing a clown mask and carrying a gun.

Author

BubbaT

Date

2008-08-25T07:52:25-06:00
ID

133520

Comment

Neither will I Jeff. I say, "shoot him fo (before) he runs now."

Author

Walt

Date

2008-08-25T07:53:01-06:00
ID

133523

Comment

Agreed, Ladd. Agreed. Baquan, I do consider your stance. I just don't agree that there is any justification for killing someone who has not threatened your life...in any way. I don't care if it was a crackhead or a drug lord. A petty criminal does not deserve to meet his end decidedly by another. Maybe you'd feel differently if it were your family or friend who was dead now because of beer or standing too close to the door with merchandise in his/her hand, or looking suspicious or being at the wrong place at the wrong time, or being black and looking "just like" someone who robbed a store, or just being a black man in a white neighborhood at the wrong time of night. Oops doesn't work when you've shot a man in the head.

Author

Queen601

Date

2008-08-25T08:24:06-06:00
ID

133528

Comment

[quote]especially since the clerk was not harmed! He was robbed, but not harmed!? Riddle me that? [/quote] If he's out any money, he's harmed. Taking money from someone with a gun is a felony, you know. It's not a harmless pastime for bored citizens of Jackson.

Author

Ironghost

Date

2008-08-25T08:47:52-06:00
ID

133532

Comment

Where has it been reported that he was shot in the back? One report from the tv stations say they had a tussle after the clerk gave him the money in the store and then he chased him outside and shot him. But none of the news reports I have read or heard said anything about him being shot in the back.

Author

BubbaT

Date

2008-08-25T09:02:52-06:00
ID

133534

Comment

*sigh* I don't know how I'm going to have any luck here when Donna and other fine folks haven't convinced you, but heck... When he walked into the store with a mask on and possessing a firearm, that qualified him as a viable target. In the BP incident which spurred this thread, the victim was simply shoplifting. Grab and Run. Didn't even say Hi to the clerk. In last nights shooting. The dude walked in, mask on, gun in hand, and declared his intent to steal cash with the implied threat of force. Otherwise, why bring the flipping gun! You're right about one thing; these people shouldn't be surprised people are fed up with Jackson's crime rate and are taking charge. When they commit a crime, they should know they might not be coming back. It may be jail, it may be the grave, but there are prices to pay for theft. Should the thief have been shot? That's a question for the guy behind the gun pulling the trigger. I would say is that the law seems to favor the clerk in this case.

Author

Ironghost

Date

2008-08-25T09:07:44-06:00
ID

133536

Comment

I haven't figured out that mindset yet. No one is entitled to steal stuff. Yet I've run across plenty of people who didn't see a problem picking up the spare HDTV from work. It seems sometimes Jackson has a criminal mindset.

Author

Ironghost

Date

2008-08-25T09:28:55-06:00
ID

133537

Comment

I know too many good people who could have been that clown ten years ago that I won't say I'm not sorry he died, but this does sound (unlike the Pannu-Hawthorne shooting) like it actually was a legitimate case of self-defense, or at least perceived self-defense. Tragic but probably not a reason to prosecute the clerk. Too many clerks have died in these robberies themselves for it not to be a legitimate cause for fear. baquan, you weren't called a Clayton Bigsby because of your stance on crime; you were called a Clayton Bigsby because of your stance on shooting unarmed black shoplifters to death. I wouldn't call you Clayton Bigsby but I would suggest that you're probably not thinking as hard about the other shooting as you should be.

Author

Tom Head

Date

2008-08-25T09:31:34-06:00
ID

133539

Comment

Baquan, if what was reported on tv is the same report they have posted on their website this morning, it doesn't say anything about him being shot in the back.

Author

BubbaT

Date

2008-08-25T09:35:25-06:00
ID

133542

Comment

I am just saying, if you are going to commit the crime - be prepared to the time. <<<<

Author

Queen601

Date

2008-08-25T09:47:32-06:00
ID

133545

Comment

:-) Good question, bruh. Why you ask?

Author

Queen601

Date

2008-08-25T09:59:11-06:00
ID

133548

Comment

I'm voting for the candidate who can move this nation from it's past into it's future! The one who represents those of us who believe in that old saying NEVER SAY NEVER!!! I think he may have been on a magazine or two, including Ebony and Essence, probably even Jet.

Author

Queen601

Date

2008-08-25T10:35:36-06:00
ID

133549

Comment

Alfred E. Neuman '08

Author

BubbaT

Date

2008-08-25T10:38:11-06:00
More like this story
More stories by this author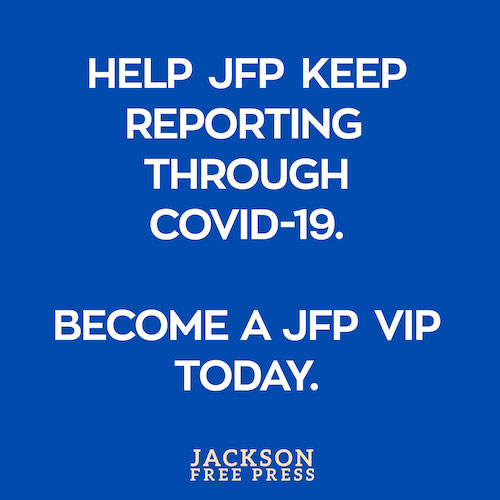 COVID-19 has closed down the main sources of the JFP's revenue -- concerts, festivals, fundraisers, restaurants and bars. If everyone reading this article gives $5 or more, we should be able to continue publishing through the crisis. Please pay what you can to keep us reporting and publishing.