Steven Wells Hicks was a creative advertising director for 35 years before becoming a novelist. Born in Omaha, Neb., Hicks has lived in Jackson since July, 1974 and calls himself a "southerner by choice." He self-published his debut novel, "The Gleaner," in July, using CreateSpace, a subsidiary of Amazon.com. "The Gleaner" weaves issues of race and mourning into a love story, set in a small Mississippi town. Hicks dropped by the Jackson Free Press offices to talk about writing … and sock monkeys.
"The Gleaner" is your debut novel. Had you written a lot of fiction before that?
I really hadn't. This was actually the second I wrote. I wrote a very bad political melodrama before this. My mother read it. It was full of sex, et cetera, and she said, "Can't you write anything clean?" Well, I said, "I'll give it a try." And at the same time there was a woman who used to work over at the old Cherokee (Inn), and she started telling me a story about when she was a kitchen flunky for Paul Prudhomme in Louisiana. That started setting the character (of Olivia), and I just started goofing around, put some before and some after, and eventually it grew into a book.
How long did it take you to put that together, from inspiration?
I wrote the first draft in about five weeks. My wife and I would stay in Florida for a couple of months in the winter. I'd get up every morning around 5:30 or 6 and try to get 1,500 words out. Sometimes that would take 'til 3 in the afternoon; sometimes it took 'til 10 in the morning. It was just a matter of six days a week, getting up and doing it. The final draft—I've been through so many drafts it's hard for me to say, "This is a book,"—is the 11th draft. Writing is basically rewriting.
What's the deal with sock monkeys? I notice that sock monkeys show up in the novel, and your bio mentions that you
have quite a number of them.
I love sock monkeys. I wear, almost every day, the socks the sock monkeys are made of. … When I was a kid, we would go visit my grandmother in Latimer, Iowa, 'til I was about five or six. I was in an upstairs room, under the eaves. It was scary. My grandmother had made a sock monkey that she gave it to me, and that was my security blanket when I was visiting in this house. I wanted something for Olivia to give to Tyler. Olivia's kind of a quirky woman, and it just struck. As people read the drafts—I had varying people read the drafts—people started giving me sock monkeys. I now have about a dozen of them.
How would you advise someone who had a manuscript and wanted to get it published?
I'd advise them to go with self-publishing. … The thing is, the major national publishing houses are having a tough time making money. They're cutting back promotional budgets. They're cutting back editing services. So if you know how to market, or if you're willing to market, it makes a lot more sense to market (yourself) than to put it in someone else's hands. … If you're off to make a best seller, good luck; it's probably not going to happen that way because you need the market muscle, the distribution strength that the majors have. But for someone who's written because they just enjoy writing, it's a great way to go.
What are you working on right now?
I've got several ideas for things I want to do. One is a cycle of books about New Orleans that would be either three or four novels all centered around one building. One would be a crime novel; one would be a romance; but it all goes through [the same building].
You Gotta Start Somewhere
• Newspaper sportswriter
• Door-to-door encyclopedia salesman
• Actor
• Restaurant critic for now-defunct Jackson magazine
• Radio talk-show host
Steven Wells Hicks will sign copies of his debut novel, "The Gleaner," at 11 a.m. on Aug. 9, at Lemuria. Visit his Web site at stevenwellshicks.com for more info.
More stories by this author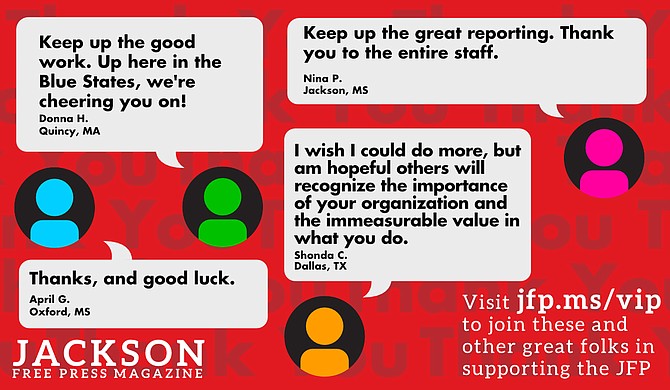 Thanks to all our new JFP VIPs!
COVID-19 has closed down the main sources of the JFP's revenue -- concerts, festivals, fundraisers, restaurants and bars. If everyone reading this article gives $5 or more, we should be able to continue publishing through the crisis. Please pay what you can to keep us reporting and publishing.