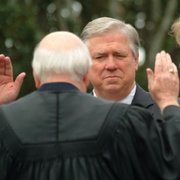 JACKSON — Gov. Haley Barbour is going into his re-election campaign with a certain degree of confidence. Barbour is overseeing a state with millions of dollars of fresh federal money fueling the state's hurricane recovery efforts, from construction vouchers to tax incentives like Go-Zone legislation, which is jump-starting age-old projects like the King Edward Hotel.
The state economy is getting a boost from the unexpected coastal tax revenues—almost $2 million over the projected 2007 budget of 4.5 billion, and a new Toyota plant is on its way to Tupelo. Much of the state's media are nestled comfortably in his back pocket.
Barbour's position doesn't shield him from scrutiny, however. The former Washington lobbyist and former chairman of the Republican National Committee may not be such a "former" lobbyist after all, critics are charging, and he may be using his influence to benefit lobbying clients.
Some legislators claim Barbour is still voting like a lobbyist, behaving in a manner directly beneficial to the GOP lobbying firm he started in Washington, D.C., Barbour, Griffith, & Rogers.
Barbour has undeniably been behaving in a manner beneficial to his old partners at Barbour, Griffith & Rogers—which grabbed almost $2 million representing the tobacco industry since its inception. The governor has crusaded non-stop to promote the sale of tobacco in the state, without compromise, keeping the state's tobacco tax one of the lowest in the nation. He also used his power and influence to effectively kill a state program—funded largely through a tobacco industry settlement—that had successfully cut the annual number of new smokers.
And Barbour's lobbyist-esque actions may not only help his old clients; they still may be benefiting him personally.
Former' Lobbying Firm?
Barbour told reporters four years ago, as he was taking over the governor's mansion, that he had cut all ties to his former lobbying firm, which had famously heralded the breakdown of bi-partisan lobbying in the nation's capitol by catering almost exclusively to Republicans. When Barbour relinquished his partnership in the firm he co-founded, he established a blind trust that his old company pays into annually. Barbour emphasized that he has no knowledge of what business dealings benefit the trust—a requirement of a blind trust, which allows the property owner (Barbour) to benefit from the property if he receives no information about how the property is being managed or benefited.
The Clarion-Ledger went as far as pooh-poohing concerns about potential continuing ties between the new governor and his former fi rm, which had been severed, it assured readers in a Jan. 19, 2004, editorial: "He had already sold the firm, including the name, and it's owned by Interpublic Group of Companies Inc., a publicly traded company. … He has no ownership or stock."
Barbour's former partners bought the company back from Interpublic in 2004, for about $6 million, according to Bloomberg News Reporter Timothy Burger in reports last month that have placed the governor under a national microscope. Burger reported that Ed Rogers, who co-founded the firm, would not say whether Barbour had participated in the buyback. He did say that Barbour "earns no income" from the lobbying firm.
But Bloomberg reported on Aug. 29 that Barbour does, indeed, still own valuable stock in the company and that it is providing the bulk of his income, even as the firm is
lobbying—successfully—for Katrina contracts on behalf of at least one casino.
The state Gaming Commission and the Alcoholic Beverage Control Division worked overtime in 2006 to approve a liquor license for the Hard Rock Casino, in Biloxi, which had been obliterated by Katrina and was fighting to re-build itself. State agencies approved the casino's liquor license in record time.
Barbour's two lobbying partners, Rogers and Lanny Griffith, made $80,000 apiece from New York-based Leucadia National Corp., which had bought the Hard Rock Casino. Bloomberg reports that Barbour's chief of staff, Charlie Williams, said that "we encouraged" the agencies "to expedite" the liquor approval process, "and they did."
Barbour's connection to the firm is not minimal. "The blind trust document he signed about six weeks later says that on Jan. 13, 2004, the day he took offi ce, Barbour still had a stake worth $786,666 in the publicly traded parent company of Barbour, Griffith & Rogers Inc., as well as pension and profitsharing plan benefits from the lobby firm," Bloomberg wrote.
"A copy of the notarized trust agreement, obtained from an individual who requested anonymity, says Barbour receives $25,000 per month, or $300,000 a year, from it. He lists the trust in his annual Mississippi ethics filing as his only source of income outside his $122,160 salary as governor."
Enabled by the Ledger?
One of the biggest concerns is why Barbour has been inconsistent when discussing his blind trust. "What we have here is that some times Barbour has made statements that he did hold an equity position in the parent company of Barbour, Griffith and Rogers—now very much in the news for its representation of the Iraq political ambitions of former Iraq Interim Prime Minister Ayad Allawi—and at other times he said he had severed all ties to the fi rm but was getting a 'retirement payment,'" wrote Steve Clemons in The Atlantic.
Clemons points out that Barbour's lobbying fi rm does not provide retirement benefits—so either he is getting a special payout that other employees do not get, "or the firm is making payments into his blind trust in return for some continuing service." Yet on an Aug. 6 appearance on the Matt Friedeman Show on American Family Radio, Barbour referred to his checks from the firm as "retirement."
"When I left the firm at the end of 2003, I resigned as chairman and chief executive officer, I didn't have any stock. So that totally severed my relationship. Except they do pay me retirement. I don't want to act like they don't,'' Barbour said to a caller. "But they pay me a flat retirement that if they make $50 million or $5 million, I get paid the same retirement. So I don't have any participation, I don't have any financial interest I don't have anything to do with the firm other—today other than they pay me retirement.''
Barbour's attorney, Ed Brunini, insists that Barbour has done nothing illegal under state law. But Mississippi ethics law is very weak. Ethics experts interviewed by Bloomberg said that if Barbour has nothing to hide, he should honor the spirit of public accountability and offer full disclosure. But Barbour resists even making his tax returns public since he's been governor—which runs counter to the actions of former governors. The Mississippi Ethics Commission said it cannot tell if the governor has any conflict of interest with his position as governor because they don't have enough information to make an evaluation. "We're not making up that answer," Ethics Commission Director Tom Hood told the Jackson Free Press.
"It is what it is because the Legislature 20-something years ago said 'this is what you have to report.' The form doesn't really ask those kinds of questions. It doesn't ask you how much money you make. It's designed to disclose the sources of a person's income over a certain threshold. There's a situation where you have to name the businesses that you own and work for, but that's only if you have a position in the business, if you're an employee of the business, and if you own more than 10 percent of the business."
Tom Hood said in his response to Brunini that the commission could not comment on the effectiveness of the blind trust in shielding Barbour from "knowing the current assets of the trust" because the commission "could not offer any opinion regarding a potential confl ict of interest without knowing current, detailed facts about the requestor's financial or family interest … ."
Document
The Commission's faltering answer arrived only after a flurry of back and forth letters between Attorney General Jim Hood and the governor's office (PDF, 352 KB). Sensing a suspicious connection between Barbour's behavior and his past life, Jim Hood wrote in 2006 that Barbour should reveal the information, writing him in August that "Mississippi law prohibits public officials from using their offices to obtain pecuniary benefit for themselves and their relatives and prohibits such officials from having interests, directly or indirectly, in certain public contracts."
Hood told Barbour that his blind trust does not satisfy income reporting requirements. The attorney general sent a follow-up letter that November, containing an Ethics Commission manual defining a "business" to include a "trust," but also including a smoldering threat of legal action: "In order for us to quietly avoid civil or criminal litigation, I respectfully urge you to fully comply with the Ethics laws by filing amended statements of economic interest… ."
Brunini responded with a letter to Hood that December, reminding Jim Hood of the media's "universal approval" of the blind trust, and enclosing the enabling Clarion-Ledger editorial referenced above. Brunini informed Hood that he would request an opinion from the Ethics Commission.
Hood agreed with Brunini's request for an Ethics Commission opinion, but added in a December response that Barbour should request that his personal appointees to the Ethics Commission "recuse themselves from any consideration of your opinion request" "as a matter of maintaining the public's confidence in any opinion issued by the Commission."
"Their participation," wrote Hood, "would certainly cause the public to question the correctness and validity of any opinion issued."
Tom Hood would not say if the governor's appointees had contributed to the Ethics opinion. Barbour's office did not return phone calls for this story.
Can Truth Be Blind?
State politicians must report income over $2,500 on annual fi nance reports, which contain income source as well as amounts. Councilman Charles Tillman, for example, must report additional sources of income from rental property he owns in Jackson.
Barbour's income, in contrast, is listed merely as "blind trust," with no indication of amount or specific source. Barbour still gets $300,000 a year from his profit-sharing plan with Barbour, Griffith, & Rogers, but that information arrived via an anonymous source speaking to Bloomberg, not state paperwork offered up by the governor.
The nature of a blind trust supposedly allows no insight into how the firm is going about making its profits, and by design, offers the governor no motivation to influence government policy to advocate for the firms endeavors. This does not mean, of course, that Barbour has no contact with his old
lobbying comrades. The blind trust is not a restraining order, and no state law forbids Barbour a phone call to his former partners. "Barbour, Griffith and Rogers has represented, and still represents, big tobacco companies, and if he is still receiving a benefit from that lobbying firm then I think he would have a problem with Section 109 of the Mississippi Constitution," said Rep. Jamie Franks, D-Mooreville, who is running for lieutenant governor, and who supported state legislation allowing more insight into subsidiary companies and blind trusts in 2007.
Sen. Charlie Ross, R-Brandon, a vocal ally of Barbour during his failed attempt at the lieutenant governor's seat in the Republican primary, killed HB 1532 in the Senate after it left the House in 2007.
Former Attorney General Mike Moore said the shadowy nature of the trust is not accidental. "Do you really think Lenny Griffith and Ed Rogers don't talk to Barbour? For God's sake, his name's still on the door up there in Washington," Moore said.
And, Moore added, lobbying clients clearly know where to go to peddle for influence. "Let's suppose he's got $50 million in shares with Lorillard Tobacco Company. A guy from Lorillard comes to see him, and says, 'I want you to vote against this bill in the Mississippi Legislature that would've raised the tobacco tax.' So what did the blind trust do to help him be more pure? If he knows he's got $50 million invested in Lorillard, does it prevent him from having a conflict of interest? Of course not. It merely prevents anybody else from knowing that he's got a conflict of interest ... . He's hiding his assets and his conflicts of interests from the public."
Previous Comments
ID

81961

Comment

All, don't miss Adam's revelation in this story that Barbour actually tried to use the fault Ledger editorial to support why he shouldn't have to reveal his financial holdings. Truly amazing! Talk about the dog wagging his own tail, or however that goes.

Author

DonnaLadd

Date

2007-09-13T06:25:01-06:00
ID

81962

Comment

Talk about the dog wagging his own tail, or however that goes. It's "the tail wagging the dog." Well, you tried. :-P

Author

LatashaWillis

Date

2007-09-14T22:40:03-06:00
ID

81963

Comment

A bit off topic but can someone tell me what time the debate between Haley and John is tomorrow on MPB? I can't find anything on the MPB, Haley or John sites. The only thing on MPB is a debate tomorrow night at 8pm but that's a Democrat Presidential Debate. Thanks.

Author

LambdaRisen

Date

2007-09-19T21:15:29-06:00
ID

81964

Comment

I wish I knew the answer to that. Neither of the candidates' Web sites say anything. My guess is that whenever the debate is, the local news will report it.

Author

LatashaWillis

Date

2007-09-19T22:03:29-06:00
ID

81965

Comment

The debate is tomorrow and local news tonight didn't mention it or if they did, I missed it. I figured Ladd would know since she gets all that AP wire stuff. Thanks though.

Author

LambdaRisen

Date

2007-09-19T22:39:47-06:00
ID

81966

Comment

A little bird told me that the debate will not be televised.

Author

LatashaWillis

Date

2007-09-20T14:57:30-06:00
ID

81967

Comment

It will be on MPB radio at 7PM.. 91.3 on your Jackson FM dial.

Author

LambdaRisen

Date

2007-09-20T16:37:08-06:00
ID

81968

Comment

After listening to the debate, I'm shocked that I will now actually vote for Barbour. His blind trust aside, his record speaks volumes and Eaves just didn't offer anything except his first act as Governor would be to require voluntary prayer at the beginning of the day in all schools. And of course the money quote came from Barbour in his closing statement: Now if you leave here thinkin' "you don't know what he would do as governor", I understand. Cause he dudn't know either. Thank you. Yeah, it says "dudn't" because, well you know Barbour has that country boy accent and speak. FYI, I recorded the whole thing. I'm sure MPB will have it online but if not, and you can host it, I'll give it.

Author

LambdaRisen

Date

2007-09-20T19:34:47-06:00
ID

81969

Comment

Hmm, so mention of Kid Care or anything like that?

Author

LatashaWillis

Date

2007-09-20T23:21:47-06:00
ID

81970

Comment

Oh, read Donna's commentary here. This is where she was asking for a recording if anyone had one.

Author

LatashaWillis

Date

2007-09-20T23:26:14-06:00
ID

81971

Comment

Excellent, Lambda. I need to check MPB for it.

Author

DonnaLadd

Date

2007-09-21T09:07:38-06:00
ID

81972

Comment

Kid Care was mentioned in the debate (providing health care for children just over medicaid level, as was teacher pay raises over the next four years to get to the south east average funded by a two percent increase on the casino tax. Eaves also discussed cutting the grocery tax in half and offsetting it with increasing the tobacco tax I am not sure what debate you listened to Lamda, all the above was discussed by Eaves AGamma627

Author

AGamm627

Date

2007-09-22T13:20:06-06:00
More stories by this author
Support our reporting -- Follow the MFP.