Hinds County Circuit Court Judge Tomie Green filed a motion (PDF, 211 KB) with the Mississippi Supreme Court objecting to the court's decision on her call for sanctions against former Mayor Dale Danks, who is an attorney for Mayor Frank Melton yesterday.
On March 14, Judge Green renewed her call for sanctions against Danks for his allegation that she committed larceny by withdrawing an order from the circuit clerk and replacing it with a similar order the following morning. The Attorney General's Office has joined Green in her call for sanctions.
On April 16, the Supreme Court returned the matter to circuit court for an evidentiary hearing. The court directed a judge other than Green to hold a hearing and report the results within 30 days.
Now, in a motion dated May 1, Green has protested that the court's decision was "unprecedented and unnecessary."
"(T)he trial court does not anticipate the submission of anything other than the offensive language used by Defendant Melton's attorneys in their applications and responses that are already before the Supreme Court," Green wrote (emphasis in original). "There is no new cause of action, disciplinary proceeding, or any new facts that warrant pitting this court and the attorneys in conflict before the trial judge's colleagues on the circuit bench of Hinds County or in any other court other than this Honorable Court."
Green points out that all Danks' "offensive language" appears in motions he filed with the Supreme Court. She quotes the passage from Danks' March 6 motion that contains his accusation: "Judge Green's actions are further evidence of her bias and serves as an additional basis for her recusal in the matter. Indeed, her actions are a clear violation of Mississippi Law. Mississippi Code Annotated Section 97-9-3, which states that tampering with records of the court is larceny subject to penalty of up to five years in prison."
Green argues, as she has in previous motions, that "it is a well-recognized principle that courts have the authority to reconsider or withdraw their interlocutory orders at any time" and that "the trial court's exercise of its rightful authority cannot be equated with theft or fraud."
Green reminds the court that it has exclusive authority over disciplining attorneys, and she asks for the same treatment the court extended to other judges, citing Justice Jess Dickerson, Judge Marcus Gordon and Judge Winston Kidd.
Previous Comments
ID

91995

Comment

I will only comment on one thing. If you are going to CITE to a SITTING Supreme Court Justice, MAKE SURE you spell his name correctly in the motion. It's spelled "Dickinson."

Author

LawClerk

Date

2007-05-02T15:50:36-06:00
ID

91996

Comment

she never will learn, will she?

Author

Kingfish

Date

2007-05-02T16:19:20-06:00
ID

91997

Comment

She'll never learn, meaning don't challenge lawyers and depend on the Supreme Court for any sort of discipline?

Author

Ironghost

Date

2007-05-02T18:57:22-06:00
ID

91998

Comment

I never noticed the mistake on the supremes. I have to admit I have lost respect for them lately. Not for their power, but for the way they wield it. Apparently a mayor or ex-mayor of Jackson is a powerthing to be in Mississippi! (Who knew) At least no one called him Dickerman! I think they are trying to sidestep this one completely. And I guess I don't blame them. Bush Sr. used to always talk about 'let it go through the process". I suppose that is because a lot of the questions and concerns will be completely different after the process works through. Danno

Author

Danno

Date

2007-05-02T20:01:09-06:00
ID

91999

Comment

No. she hasn't learned to keep her damned mouth shut. She was quoted in a JFP story last year accusing Smith of racism. So surprise, they punted the case to a trial court judge, which is the case in many bar complaints. She can't have it both ways, accuse them of bias and racism then whine when they decide to assign this case to another judge. Its called hypocrisy.

Author

Kingfish

Date

2007-05-02T20:53:49-06:00
ID

92000

Comment

King, you're acting like she's wining that they recused her from the case, but she's not. She's complaining that the Supreme Court is treating her unfairly compared with other judges and failing to hold Danks to the same standard that they've held other attorneys. You can accept or reject that, but it's not about re-assigning the case, at least not ostensibly. I'm a little confused by what you're writing. Is it that she accused the Supreme Court of bias and racism? Or Danks et al.? And when did she accuse Smith of racism? Can you please say which interview it was or post a link?

Author

Brian C Johnson

Date

2007-05-02T21:11:50-06:00
ID

92001

Comment

It was your interview with Faye Peterson last year when she criticized Smith. The JFP quoted Green and Donna and I got into an argument whether Green should not have made those comments. My point is she accused the Chief Justice of surprise, racism or bias, so surprise, the Supreme Court punted the case to a trial court. I don't have that big of a problem with it as the Supreme Court will review the case eventually anyway.

Author

Kingfish

Date

2007-05-02T21:20:28-06:00
ID

92002

Comment

Circuit Court Judge Tomie Green said this move could be an intentional way to discredit Peterson's office. "Anybody that would deny this has had their heads stuck in the sink," Green said. "Hinds County has never had a black D.A., and it certainly has never had a black woman D.A., and people don't understand that and don't accept that. That Wood Street case (which won no convictions) got blown out of proportion in the press, but that next week she successfully tried a capital kidnapping murder and attempted murder and aggravated assault and got convictions, and the papers didn't even carry it." Green added that Smith's decision could be an election-year ploy. "Next year is Smith's election year, and this year the senior judge has opposition and the governor has his own election next year, so call it what you may, but I certainly would have not allowed the sheriff and Frank Melton to set the priorities for the judiciary in Hinds County," Green said.

Author

Kingfish

Date

2007-05-02T21:23:48-06:00
ID

92003

Comment

Author

Kingfish

Date

2007-05-02T21:25:14-06:00
ID

92004

Comment

Judge Green shouldn't be silent as the MSC put the fix in! That is the problem w/ Mississippi in the majority. The majority is in power, and they already know they are not going to do anything about Danks. But, if it was a black attorney doing the same to a white judge something would have been done on the fast track.

Author

Roc

Date

2007-05-03T07:45:48-06:00
ID

92005

Comment

Go Judge Green Go! Don't stop make them show the fix is in!

Author

Roc

Date

2007-05-03T07:46:34-06:00
ID

92006

Comment

So, kingfish, I guess only Swan Yerger can only speak his mind? I'm sure you can go through old newspapers and the times he's spoken to groups in town and find plenty of fodder from the ilk of his sort in the judiciary. So, when a black woman judge does it - you get upset.

Author

pikersam

Date

2007-05-03T08:11:21-06:00
ID

92007

Comment

I have no problem with a judge speaking his mind Pike. I have a problem when a judge accuses a court of bias, makes comments about defendants appearing before her before she adjudicates their case (cookie jar comment), and disagrees with a court publicly then complains when they give the case to another court when she has attacked them or its members. I've taken Yerger to task in writing before for some of his comments during a campaign. roc, why don't you go read the canon of judicial ethics. You honestly do not know what you are talking about. There is no fix. The judge won't keep her mouth shut. If you are a judge, you forfeit some of your free speech rights just like you do when you are in the military or are given security clearances.

Author

Kingfish

Date

2007-05-03T08:17:46-06:00
ID

92008

Comment

I can understand your aggravation, Kingfish - and have the same feeling about the attorney's blatent, in-your-face, accusations against the Judge that were merely for media play. Ethics work both ways and since the MSSC didn't seem to mind the attorney screaming false felony charges against the judge, I guess they don't mind the judge screaming either.

Author

JenniferGriffin

Date

2007-05-03T13:02:24-06:00
More like this story
More stories by this author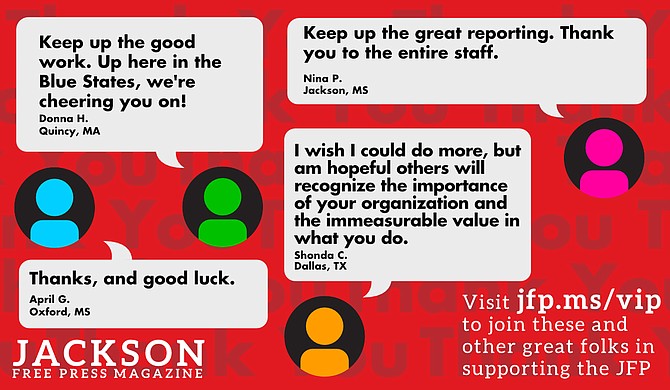 Thanks to all our new JFP VIPs!
COVID-19 has closed down the main sources of the JFP's revenue -- concerts, festivals, fundraisers, restaurants and bars. If everyone reading this article gives $5 or more, we should be able to continue publishing through the crisis. Please pay what you can to keep us reporting and publishing.