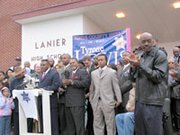 Photo: Jackson Police Commander Tyrone Lewis, left, declaring his entry into the 2007 Hinds County sheriff's race. Melton political operative Bob Hickingbottom is on the right.
Under heavy clouds and intermittent drizzle, Jackson Police Commander Tyrone Lewis declared his intention to run for Hinds County Sheriff at a brief press conference in front of Lanier High School Thursday.
"My campaign will be one of honesty and integrity," Lewis said, standing before a small gathering of his family and supporters. "After 23 and 1/2 years with the Jackson Police Department, and five years in my current capacity as commander of the Jackson Police Training Academy, along with numerous years of experience and academic preparation, I am prepared to become the next sheriff of Hinds County."
Lewis said his platform would be "centered on reducing crime and saving the taxpayers valuable dollars," though he offered few specifics. "The first (thing) I would do is get a better working relationship with the board of supervisors. … And involve every chief of police in Hinds County. Everybody has a seat at the table when it comes to me."
Lewis is running against long-serving incumbent Sheriff Malcolm McMillin in an election voters won't decide until Aug. 7. There was early controversy in the campaign when Jackson Mayor Frank Melton accused McMillin of trying to orchestrate a deal whereby he would retire mid-term and choose Lewis as his replacement. McMillin immediately called that accusation false, firing back in The Clarion-Ledger: "He (Melton) is a liar. His statement is a lie. I made no deal concerning that with anyone. I intend to get elected, and I intend to serve out my term."
Melton Chief of Staff Marcus Ward was present at Lewis' announcement, as was Melton political operative Bob Hickingbottom. Hickingbottom claimed that he had no formal role in the campaign, but he did help organize supporters before the event, and he prompted the crowd to clap after some of Lewis' statements.
Lewis stressed his local roots, pointing out that he had graduated from Lanier and that his family is from Hinds County. He also stressed his considerable experience with the Jackson Police Department. Lewis joined the police force in 1983 and worked his way up through the ranks, serving as a beat officer, a crime prevention officer, a shift sergeant, an acting precinct commander in precinct 3, commander of a team that targeted street-level crime, and an instructor at the training academy, Lewis said. Currently, he is director of the training academy, and he serves as the city's spokesman.
Councilman Kenneth Stokes, who also attended the announcement, said that he endorsed Lewis over McMillin in the race. "The Lewis family are great people. … It's not that McMillin hasn't done an OK job. I'm saying that his crime-fighting methods were good in the 1980s, '90s. You need a young go-getter like Tyrone Lewis if we're going to make this city and county safer. You need a young energetic man like Tyrone Lewis," Stokes said.
Previous Comments
ID

90645

Comment

McMillin is going to wipe the floor with him.

Author

AGamm627

Date

2007-01-04T20:19:25-06:00
ID

90646

Comment

My story's all grown up now. *snif* Anyway, If Melton's really into depopulating Hinds, this is his best shot. Because I tell you Mr Lewis, with the City of Jackson and JPD in the shape they are now I wouldn't take credit for anything. We certainly don't need one of Frank's boys in as Sherrif.

Author

Ironghost

Date

2007-01-04T20:25:56-06:00
ID

90647

Comment

ROTFLOMA!!!! I'd like to link to my post yesterday in the original "Lewis thread" begun by Ironghost a couple of weeks ago. Well, Tyrone is announcing tomorrow according to the Ledge. I wonder if Hickinbottom will be inspecting a public works project (cause the city has SO many of those going on) near by? I suspect that a bulk of his money will come from the NJam regulars. Also, look for some "strange bedfellow" relationships to develop as Melton haters cross the aisle to support Lewis. Or at least that is what they are counting on. And, vice versa. Pike LOL!!! I'm a nobody, and I know them better than they know themselves! What a joke! Our local blogsphere rocks! Makes us smarter than the average bear! How much did it cost us to pay for Hickinbottom and his temp firm to have him out there? Pretty appalling that Marcus Ward would be there too.

Author

pikersam

Date

2007-01-04T20:34:01-06:00
ID

90648

Comment

I'd think that political operations on the city dime would be against state law. But then Melton and Stokes wouldn't have control of Jackson if they didn't. Otherwise, Pike, it looks like you win the Fortunetelling Award. :)

Author

Ironghost

Date

2007-01-04T20:38:15-06:00
ID

90649

Comment

Well, I suspect the Melton camp has just found a way to lose much more of his Northeast Jackson support that he has left—by going after McMillin. And trust me: This will get ugly. It seems that Melton has decide that McMillin is an enemy of his now, too. (The list seems to grow every day.) And I don't say that as McMillin's biggest fan. I think he's more flawed than people give him credit for—but filling his seat with a mouthpiece for Melton sure ain't the answer. Boy, could I wish we could crawl into a time machine and try this thang again. My conscience is clear—we did what we could to warn people—but man, being right about Melton is small consolation when you look at what he is putting the city through.

Author

DonnaLadd

Date

2007-01-04T20:39:29-06:00
ID

90650

Comment

Good one, Pike. You called it. ;-) Viva la blogosphere.

Author

DonnaLadd

Date

2007-01-04T20:40:37-06:00
ID

90651

Comment

I may be wrong about the NJam money because this will cut deeper into the NEJax vote as you mention. But, what are the hardcore, big money folks who supported Melton going to do? I'd be curious how much was spent in the last sheriff's election. But, why would a commander want support from a man who has publicly said he is behind all kinds of political dirty tricks? Ethically is doesn't add up. When do the first campaign finance reports come out? Who's Doug Anderson for?

Author

pikersam

Date

2007-01-04T22:17:52-06:00
ID

90652

Comment

I'm sure we can get those records. Hang tight. Meantime, one wonders if N-JAM understands that in this game of political chess, the Mill Street Posse has pulled out in front. I suspect they're beginning to realize it, and that's why their loudmouths are so quiet on this front. There's a certain little citizens' coalition that must be stewing in its well-heeled juices about now. All this would be funny if weren't so not-funny.

Author

DonnaLadd

Date

2007-01-04T22:33:21-06:00
ID

90653

Comment

IMHO anything or anyone Higginbottom touches is contaminated. His hours ought to be meticulously compared to public appearances for political purposes and to crew call-outs at public works. Both should reveal what he really does.

Author

ChrisCavanaugh

Date

2007-01-05T09:22:59-06:00
ID

90654

Comment

Ironghost, you hit the nail on the head, Tyrone is one of Frank's boys. Tyrone couldn't get my vote for two reasons, FM and Stokes. If they are behind him he's automatically looses my vote.

Author

maad

Date

2007-01-05T11:12:13-06:00
ID

90655

Comment

Is anyone challenging Doug Anderson? He has to be the worst elected official in the metro.(Besides Franky Baby Of Course)

Author

jd

Date

2007-01-05T16:18:27-06:00
ID

90656

Comment

One thing here. This is a County election, not a Jackson election. I don't see the folks in Byram, Flowood, Clinton, Raymond etc. wanting a Jackson cop as Sheriff. Sheriff Mac is pretty popular in those parts and those folks vote.

Author

JLYerg

Date

2007-01-06T12:27:49-06:00
ID

90657

Comment

It's going to come down to Jackson Inner City vs Everyone else in the end. I think North Jackson would swing away from Frankie's Guy, given the crime rate.

Author

Ironghost

Date

2007-01-06T13:41:59-06:00
ID

90658

Comment

I'm curious to see if Com. Lewis thinks the crime stats were manipulated under Johnson and that is why a percentage of the crime stats have gone up. I'm ready for him to reveal a big in depth investigation he's done to root out corruption in the department. Or is he the guy who taught some of the beat police to sell security systems on the side to crime victims as they are writing up the report? Morning radio hasn't done anything to change that perception for the NEJax folks who firmly believe that they were manipulated. With Lewis in the race, the time is now to challenge him and those who spread this myth. He must answer for Jackson's crime problems before he can sell himself to the folks outside the city limits while ensuring they will be safer with him as Sheriff. However, if they are both running as Democrats there should be a run off, and that may doom McMillian. If he cannot get the conservative vote to the polls then he risks losing primarily on race. Sad, but true. If there isn't a primary then it's wide open.

Author

pikersam

Date

2007-01-06T14:55:27-06:00
ID

90659

Comment

This is why we have open primaries! :D Republicans would be more than happy to help out Sherriff Mac, at least they should be.

Author

Ironghost

Date

2007-01-06T15:44:21-06:00
ID

90660

Comment

I don't even want to think about a Melton/Lewis State. This is very scary. Melton now considers McMillin an enemy so he is out to knock him out of the box. He is like a two year old who must have his way at all times or you must stand in line for your punishment. This is going to be interesting. Does anyone know aobut Robert Johnson's new position with the City? All of the players are getting in position for a "takeover." WOOOOOOOOOHHHHHH

Author

justjess

Date

2007-01-08T12:44:04-06:00
ID

90661

Comment

only in jackson can a convicted felon be your campaign manager in a run for county sheriff

Author

jd

Date

2007-01-08T13:00:21-06:00
ID

90662

Comment

I expect the Jackson white-wingers to support Lewis because I expect the election to be a referendum on Melton, but what folks don't realize is that Melton got a lot of moderate support from people who found him charming in the day and thought "Hey, where's the harm?" Crime will not be a factor because the white wing has never been concerned about crime itself; just racial integration, for which crime is nothing but a thinly-veiled code word. So I expect the weird N-JAM/Mill Street coalition to survive through the DA/sheriff elections, but I don't think there are enough votes there to beat McMillin. There might--might--be enough votes there to beat Peterson, depending primarily on how the charges go next Spring and what else Melton does between now and August. Cheers, TH

Author

Tom Head

Date

2007-01-08T14:13:09-06:00
ID

90663

Comment

Hell Tom... As long as the someone who's running hates "thugs" they'll vote for them. Even if they are an anti-gun democrat. I suspect all Lewis has to do is use frankie's playbook and he's in.

Author

Cliff Cargill

Date

2007-01-08T17:43:05-06:00
ID

90664

Comment

All you have to do is point to the crime rate in their backyards, and put Melton's name on it. Lewis won't stand a chance. Also; Mac's the incumbent. When has a multi-term incumbent lost in Mississippi? Johnson hamstrung himself, so we won't go there. :)

Author

Ironghost

Date

2007-01-08T21:58:48-06:00
ID

90665

Comment

I hope you're right Ironghost. It's just frankie's supporters have so much emotionally invested in the meltdown government that they just can't admit they were wrong, even if it hurts them in the end.

Author

Cliff Cargill

Date

2007-01-09T09:26:59-06:00
ID

90666

Comment

Ah, See... Voting for Mac isn't admitting you were wrong about Melton. It's saying "I prefer someone who will do the job, and irritates the Hinds County Board of Supervisors into supporting him." Voting for Lewis is a vote for more of Melton's inaction and old-boy cronyism in office. Lewis has no proven record, except one tainted by association with failure.

Author

Ironghost

Date

2007-01-09T09:53:23-06:00
ID

90667

Comment

I hope you're right.

Author

Cliff Cargill

Date

2007-01-09T10:03:14-06:00
ID

90668

Comment

I think the big question to watch at this point is whether Lewis will be his own man, which includes criticizing the mayor for breaking the law, and addressing how the condition of JPD right now will affect the sheriff's department going forward. If he won't address those kinds of issues, he's not the man for the job. And on that point, I'm starting to smell a serious conflict of interest between him staying in his current position while running for sheriff. I believe strongly that the only responsible thing for him to do is step down as city police spokesman while he is running for sheriff.

Author

DonnaLadd

Date

2007-01-09T12:39:31-06:00
ID

90669

Comment

Good point Donna.

Author

Cliff Cargill

Date

2007-01-09T13:29:56-06:00
ID

90670

Comment

Good point Donna. He is using his official COJ Crown Vic to take him to his campaign stops - churches, neighborhood meetings, etc. He also has his own body guard in the form of a fellow sworn officer go with him. Apparently he sidelines as a court expert on some cases - I guess getting his $$$ private consulting/court expert fee...while on COJ police time. Would be really interesting to see if you guys could follow him around a while, see how the COJ is paying some of his expenses, including travel in the form of a city vehicle. On another note...isn't there a city policy prohibiting city officials from campaigning - not just on city time, but campaigning - like you may have to report that or something. While I noted Hickinbottom in the press conference, back and center is also Stephanie Parker-Weaver, and somewhere on the side is the Mayor's Chief of Staff.

Author

JenniferGriffin

Date

2007-01-09T14:20:10-06:00
ID

90671

Comment

Our eyes are open, JPF. And y'all keep helping us out with info.

Author

DonnaLadd

Date

2007-01-09T14:30:38-06:00
ID

90672

Comment

JPF, Brian said he didn't see SPW at the event. Are you sure? Brian also said he pulled up to that event in a private SUV. It seems as if he is trying to keep the campaign separate—but that doesn't alleviate the concern that he could say things, or withhold things, as city spokesman that helps his campaign. I think that part is a serious concern—added to the fact that he is representing a mayor who is under indictment after being arrested by the sheriff that Lewis is running against. I really think he has no choice but to step down as city spokesman. I see no other way.

Author

DonnaLadd

Date

2007-01-09T14:32:29-06:00
ID

90673

Comment

Yes, SPW was at the event...saw it on the TV station video of the announcement, I think it was WAPT, but it could have been WLBT. Was on the back row near the banner...center. I haven't checked the TV stations websites to see if the video is still there...might be. I'll check, too. But it was her...believe she was wearing a hat.

Author

JenniferGriffin

Date

2007-01-09T15:39:59-06:00
ID

90674

Comment

I'm not as technically capable as some others...go to WLBT's website and click on news... in the search engine type in Lewis for Sheriff...third story down is the video story...watch the clip and you will see her...with the hat on.

Author

JenniferGriffin

Date

2007-01-09T15:46:50-06:00
ID

90675

Comment

Thanks, JPF. We're on it. Good tip. So that's three major Melton staffers in attendance during working hours. Hmmmm.

Author

DonnaLadd

Date

2007-01-09T16:10:37-06:00
ID

90676

Comment

You're right, JFP. We just watched it, and it's definite Stephanie Parker-Weaver. No question. Also, if others care to watch the video and see if you identify other folks from the Melton administration that we might not recognize, we're all ears. BTW, who is the that white guy who is standing behind Lewis? He looks familiar, but I'm not placing him.

Author

DonnaLadd

Date

2007-01-09T16:19:35-06:00
More like this story
More stories by this author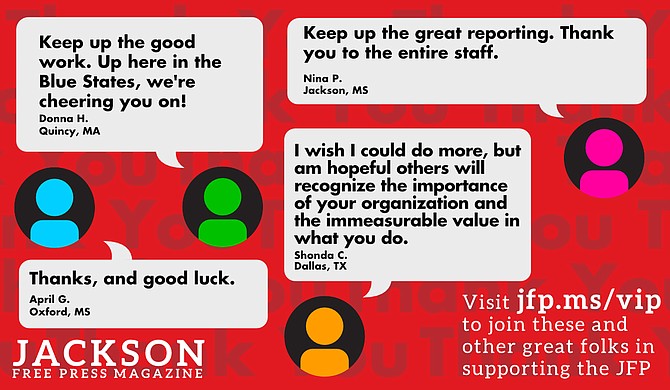 Thanks to all our new JFP VIPs!
COVID-19 has closed down the main sources of the JFP's revenue -- concerts, festivals, fundraisers, restaurants and bars. If everyone reading this article gives $5 or more, we should be able to continue publishing through the crisis. Please pay what you can to keep us reporting and publishing.