There wasn't much run-around, as there can be with some celebrity personalities. Setting up the time to interview Mississippi's son David Banner was a fairly easy process. Truthfully, it wasn't frustrating at all. Willie Nash, Banner's assistant, apologized that even though Banner was in Jackson, he'd just gotten in and regretfully wouldn't be able to meet the day we planned face-to-face, and we set up a time for the phone interview. And at 3 p.m., on the dot, David Banner was on the phone ready to answer any question I had.
"Don't rush, baby" he said, "Take your time. This is your interview." While Banner has made a national name for himself, he still has that homeboy charm—apologizing when he cursed—and hasn't gotten so accustomed to the celebrity lifestyle that things don't excite him anymore. During the interview, he took a break to tell me about the new truck he'd just gotten back from having it customized. "They're gone be hating me on the streets for this one," he exclaimed like a 16-year-old who'd just gotten his first ride. Nah, David, they won't be hating you. Your fans will always love you.
You're in a movie coming out this month, "Black Snake Moan." Tell me about your character.
My character's name is Tehronne. He's a hustler in the town, but the girl in the movie (Rae, played by Christina Ricci) is like a nympho, and people take advantage of her. My character kind of takes advantage of her, too, but he doesn't allow people around him to do anything to her. Most of the relationship between them was cut out of the movie. You know how the editing process goes. That part will be on the outtakes of the DVD. But I stayed alive during the entire movie. The character even had an opportunity to evolve. And, they got a shot of the Mississippi tattoo on my back.
Tell me what it was like to work on a movie set with veterans of the movie industry.
Samuel L. Jackson? Christina Ricci?
It was a blessing. Sam was actually my acting coach. I learned more about life from Sam than I did about movies. The things he taught me you can turn to … use for more than just acting.
As a matter of fact, I'm working on my third movie—"This Christmas"—starring Chris Brown, Mekhi Phifer. It's about family and what happens when all the kids come home for Christmas and bring all their problems and pleasures. The closest thing I've seen to it in a while is "Soul Food."
About those life lessons that Samuel Jackson taught you. What's one of them?
Everything that you do in life, you gotta approach with the same intensity and seriousness as you do every other opportunity. Sam studies for a movie the same way a lawyer does for a case. He didn't know how to play the guitar before he started "Black Snake Moan"; he actually knows how to play now. Nobody played for him. That was him. I've got to do everything—the thespian thing—the same way I did rap. So, I'm a student of the acting game now.
I'm writing my movie about Mississippi now, too. Hopefully, somebody like Craig Brewer will help me out on the writing side. It's crazy because of the friendships I've been able to acquire over time. Hopefully, I can bring it all together with the things I do so that those same people will think I'm worthy of their assistance.
What does a movie about Mississippi written by David Banner look like?
Struggles and hardships. People always show the negative side, but they never show the history that made that happen. There's a lot of love, family ties here. You know, regardless, you won't let your enemies starve. We gone eat! You might whoop their ass, but you won't let 'em starve. That's just the way we do here. It's because of that family vibe that Mississippi has always had. Why we act the way we act. Instead of just showing what other people are always showing, I want to show how (things) got that way.
So you think a lot of people just dump on the state without really connecting the dots … without paying attention to why things are the way they are?
Yeah. I didn't really have that example before I left Mississippi. You'd just always hear about all the people from Mississippi who don't ever come back … not even to visit their grandparents. I don't worry about them, though. That's not my business. I can't be concerned about why they do or don't do the things they do. They may have valid reasons. I may not be right, but I can only go on my current level of understanding. I'm just trying to put up markers and stakes and be a center for dialogue.
Some people turn their noses up at rappers and other folks who try to cross entertainment genres. Some people say you can't have it all … just stick to what you're doing well. What's your response to those folks?
I'm good. I'm damn good. I'm not good because I'm the best actor, but because I'm the best student. If there's something they see about David Banner they don't like or that needs improving, tell me what it is so I can do better. I know I'm not the greatest and that I have a lot of work to do. That's one of the first things Sam told me when we started working on the movie. "You've got a lot of work to do." I know that, and I'm ready to learn.
Speaking of which … you've got a new album coming out this year, and I read somewhere that you said it's going to be the best ever …
It's going to be one of the greatest rap albums ever. The reason is that I don't have to rush an album anymore. My money doesn't come solely from the rap game anymore. I've got the "Crooked Ship" coming out on Cartoon Network. A new group, the Sweet Tea Mobsters.
Sweet Tea Mobsters? What kind of group is that?
You'll just have to wait and see.
Oh, OK. Keep going…
I'm doing beats for Chris Brown, Snoop Dogg, Lil' Wayne. Opportunities have moved to another level for me. I'm able to sit back, and I don't have to rush records. I'm sitting out, expanding my career. I think my fans respect that.
I'm constantly on MySpace with my fans—hit me up, my MySpace site—learning what they want from me. It's been amazing that people who come to my aid. Snoop Dogg, UGK, Akon. And it's been amazing to have the opportunity be able to represent both Mississippi and the South in a way that can really change the whole industry and how music is being done.
I'm becoming a physical specimen, too. I've been pumping iron, baby. The ladies are going to love it.
I'm sure they will. What do the fans want from you?
That old rugged David Banner who's not caring what the critics think, who's in the van, head busting, party music, representing the streets and the gutter David Banner.
That sounds hard to balance.
It's like McDonald's. It's a business. I'm a give my people what they ask for. Without them, I wouldn't have three houses, three or four nice cars. How dare they get me to this point, and I turn my backs on them? That's how come I don't understand when people get confused when they stop selling albums.
I'm still going to move forward. I was just talking to my mentor the other day, and she was saying, it's no problem with you going back, but you gotta move forward, too.
How do you navigate both? That's the part that sounds hard to me.
Pray and ask God to not make me numb. A lot of rappers and entertainers get numb, and they can't feel nothing no more because their spirit is (gone). I listen. I'm smart enough to listen to the people who count. I'm not an egomaniac; I listen to my homies.
It's like gumbo. If you don't eat pork, you just take it out of the gumbo. It's still gonna taste good. You have to take time to expose people to new stuff and let them move at their own pace. Just as I grow, my fans grow. Other artists are moving, too. The blessed thing is, I'm a producer, and I can kind of help navigate other people, too.
Before we wrap it up, I want you to fill in these blanks for me. I still feel guilty about _____.
Leaving my 12th grade date at the prom.
When I'm gone, I'd like people to remember ___ about me.
That I was a man, and I stood as a man.
Something I wish more people knew about me is _____.
I'm a semester away from completing my master's degree in business and education.
If I weren't an entertainer, I'd be a _____.
I don't even know. I try not to think about stuff like that. The way I see it, I think you're dissing God if he's blessed you to be living your dream, and you're spending your time thinking about what you would have been or could have been. … I'm happy right where I am.
More like this story
More stories by this author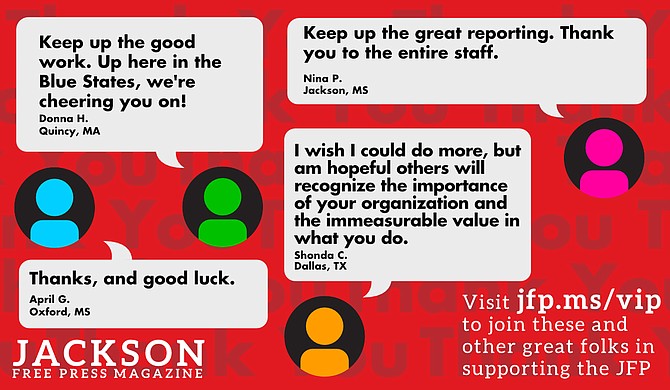 Thanks to all our new JFP VIPs!
COVID-19 has closed down the main sources of the JFP's revenue -- concerts, festivals, fundraisers, restaurants and bars. If everyone reading this article gives $5 or more, we should be able to continue publishing through the crisis. Please pay what you can to keep us reporting and publishing.