During a brainstorm session, a thought popped into my mind: I wonder what kind of questions the folks on our blog would ask about love and sex and whatever else if given the opportunity to air it all out, with Valentine's Day coming up and all. We even came up with a couple sample questions. Does jumping up and down really work? What are the skene glands? I didn't have many expectations about where the conversation would go, but I did anticipate a couple of key Web site personalities getting in on the conversation, and they did.
The conversation took just a few main angles: Why don't men apologize? Are men really from Mars and women from Venus? Are social constructs based on gender ultimately detrimental to society?
According to "Philip," there are about 1.625 billion—the number of males who are of prime reproductive age—varying reasons men don't apologize. It's as simple as that, he believes, and he was quick to point out the fact that there is "no shortage of women who are slow to apologize for wrongdoing." (The classic pointing-fingers approach to debate lives and breathes.) But then the poster made an observation that isn't gender specific at all: Some folks just like to play power games. A firm warning followed this insightful assertion: Stay the hell away from these types—they tend to be narcissistic!
But for those who don't like to apologize, "Ray" makes it plain that admitting mistakes has its benefits. "Women like it when you cry or apologize," he says. "A real or good woman always rewards the man for this."
Listening to common complaints from women, however, it doesn't seem that most men have received this memo. Even if they have, "Jess" highlights this behavior as a problem, citing that some women use apologies as a prelude to sex, or worse, they use their vaginas as weapons of emotional destruction. Ouch.
What does this all mean? Maybe we should just remember what "Tom Head" brought to our bloggers' attention. Gloria Steinem's proclamation: "Men are from Earth; women are from Earth. Deal with it."
For more, see the Love Riddles thread at the JFP Forums.
Previous Comments
ID

84846

Comment

My vagina is NOT a weapon of emotional destruction. I pity one who is emotionally dependent on my vagina though. I mean, it honestly only cares about itself. Actually, mine is angry with me about a waxing incident. We are not on speaking terms.

Author

emilyb

Date

2007-02-07T17:45:56-06:00
ID

84847

Comment

I think you meant to post this on the "you know" thread. Funny, funny though. Maybe this "love riddle" isn't as hard as we make it; my penis only cares about itself too! ;-)

Author

pikersam

Date

2007-02-07T17:53:14-06:00
ID

84848

Comment

Well, that is sexist! You can spell out vagina but not penis here! What's up with that?

Author

pikersam

Date

2007-02-07T17:55:20-06:00
ID

84849

Comment

pussy or penis?

Author

emilyb

Date

2007-02-07T18:00:11-06:00
ID

84850

Comment

p**** or p****? emilyb LOL!!!

Author

pikersam

Date

2007-02-07T18:55:51-06:00
ID

84851

Comment

Oh yes, both our genders are from Earth - we just look at the planet from different angles, kind of like looking at a sculpture. Just one slight quibble though. While my assertion that there are 1.625 billion reasons men don't apologize being as "simple as that" is probably a fair representation of my beliefs (given that each and every man - indeed every human being - is at least slightly different), I was trying to be gender-neutral from the start. Hence, I said that refusal to apologize has nothing to do with gender. Therefore, I did not intend to finger-pointing back at women. Otherwise, this is a pretty good summary of that post, Natalie.

Author

Philip

Date

2007-02-07T19:20:04-06:00
ID

84852

Comment

Natalie! You reprinted my favorite Steinem quote--this rocks! ;o) Cheers, TH

Author

Tom Head

Date

2007-02-09T04:40:15-06:00
ID

84853

Comment

Fellows Valentines day is only 2 days away. We didn't pick or construct the day but if you're smart you won't ignore it. I hear it's the perfect time to show your wife, girlfriend, daughters and female friends "how deep is your love" and that "love has truly been good to you." Since "love is in need of love today" I suggest Valentimes Day is a good time or day "to send your love in right away as hate is going around and breaking many hearts." In fact, I suggest you sing her A House is Not A Home or So Amazing by Luther Vandross. Don't worry that you can't sing. I'm hearing we don't do lots of things as well as we think we do.

Author

Ray Carter

Date

2007-02-12T12:34:53-06:00
ID

84854

Comment

And girls, remember this: flowers and candy are nice, but flowers die and candy gets eaten and gives you indigestion. The most important thing is that your man shows you that he loves you every single day. That is long lasting, real love.

Author

Lady Havoc

Date

2007-02-12T12:46:25-06:00
ID

84855

Comment

Speaking of Love Riddles, the rapper Ludacras gave a shout out to Oprah as he thanked folks for his Grammy last night, proving once again there is a thin line and it's growing thinner between Love and Hate. Either way you get notice and attention. A frown is just a smile turned upside down. Smiling or frowning faces sometime tell lies.

Author

Ray Carter

Date

2007-02-12T12:47:07-06:00
ID

84856

Comment

So nice, Lady! And the church said "Ladies,what about us - the guys"? This love thing is such a strong power or emotion that earlier I tried to post something that weren't nice or serious, and the Almighty or the Goddess of Love snatched it out of the thin air and refused to let it post. I will never disrespect love again for I Believe in the Power of Love.

Author

Ray Carter

Date

2007-02-12T12:53:16-06:00
ID

84857

Comment

Love is the most wonderful thing in the world. I am the luckiest woman, because I have a wonderful man to share it with. I'm still as giddy over him now as I was almost 10 years ago: even after two children!

Author

Lady Havoc

Date

2007-02-12T14:30:52-06:00
More like this story
More stories by this author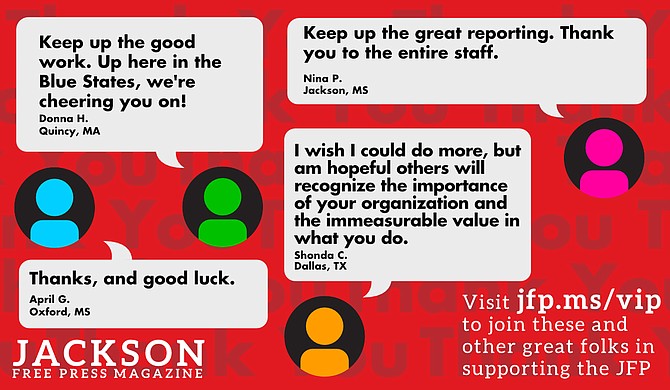 Thanks to all our new JFP VIPs!
COVID-19 has closed down the main sources of the JFP's revenue -- concerts, festivals, fundraisers, restaurants and bars. If everyone reading this article gives $5 or more, we should be able to continue publishing through the crisis. Please pay what you can to keep us reporting and publishing.