DA Motion (PDF 64 KB)
A decision by Judge Joe Webster to exclude Aug. 26 events from the Upper Level may keep out intriguing testimony described in a prosecution motion filed April 12, though Webster left open the possibility that such evidence might be introduced in rebuttal.
The motion, signed by Senior Assistant DA Stanley Alexander, said that Josh Foster, a nurse, and Derrick Malone, a paramedic, were prepared to testify about Melton's behavior after Upper Level manager Tonarri Moore was allegedly beaten while in handcuffs by Melton's associates following Moore's arrest the same night as the Ridgeway incident. Moore was allegedly arrested for refusing to desist in photographing Melton and police officers inside the club. Moore attorney Sharon Gipson said he was arrested for resisting arrest, disorderly conduct and abusive language.
According to the DA's motion, Malone would testify that when Melton accompanied Moore in the ambulance taking him to Central Mississippi Medical Center, Malone "smelled the aroma of alcohol." Because of the cramped quarters, Malone could not be certain where the smell originated, but he "observed that on the night in question Defendant Melton's speech was slurred." The motion goes on to describe how Melton refused to stop talking to Moore even as he was being treated for injuries. Melton threatened Moore's attorney, the motion states, after she asked him to stop talking to Moore, saying, "she did not want to mess with him because his attorneys would deal with her." The motion goes on to describe how Melton "retrieved an extra stethoscope from the ambulance, attached it to his head, and then placed the other end to the chest of the patient and stated, 'Nope, he doesn't have a heart.'"
Moore confirmed to the Jackson Free Press Sunday at an ACLU barbecue at the Upper Level that Melton certainly seemed intoxicated. "Oh yeah, every body knows he was drunk. (The smell) was all in there with us," he said.
Foster is prepared to testify that Melton refused to stop talking to Moore once they arrived at the hospital, the motion states. Moore told Foster that he did not want to speak to Melton, but "Melton then side-stepped Mr. Foster and continued to speak with the patient." When Foster called his supervisor, Melton relented and went across the hall to the nurse's station, according to the motion. "While Defendant Melton was across the hall," the motion states, "Mr. Foster heard Defendant Melton state that, 'I am the Mayor of Jackson and by tomorrow I will own this hospital.'"
Former Mayor Dale Danks, who serves as Melton's attorney, did not return calls for comment. He did comment to The Clarion-Ledger: "The newspaper certainly is not a place to be making assertions less than a week before the trial. This appears to me to be another attempt to try this case in the newspaper in lieu of where it belongs."
He then added: "Common sense would tell me that if anyone had alcohol on his breath it would be more probable that the manager of a bar commonly known as the Upper Level would be a better candidate to have alcohol on his breath than Mayor Melton."
Melton told The Clarion-Ledger that "he had not been drinking on the night in question, saying he is on a combination of heart medications that prevents him from drinking alcoholic beverages." Melton went on to speculate that the "only reason someone could have smelled alcohol on him was because earlier in the evening he attended a sporting event and threw out some beer bottles as he was leaving."
He went on to state that the allegations were "ridiculous" and false: "I didn't get a stethoscope and check his chest and say he didn't have a heart. That's absolutely incorrect ... where the hell would I get a stethoscope from?"
On Feb. 6, Danks submitted Melton's medical records as part of a motion attempting to verify that Melton had double-bypass surgery in Texas in January. Those records, which were signed by Dr. William Turner, who was Melton's surgeon, list Melton's "ongoing tobacco abuse" and "history of alcohol abuse in the past."
Last April, Melton was visibly intoxicated when JFP Editor-in-Chief Donna Ladd went to his home and then rode along on the Mobile Command Center for several hours on a police raid. His breath smelled strongly of liquor at his home before leaving on the raid, and he fumbled with his gun shoulder holster several times when trying to fasten it and his bulletproof vest in his bedroom.
Police Chief Shirlene Anderson and Assistant Chief Roy Sandifer, as well as Melton's bodyguards, were at the house and then along on the raid. After a visit to Pops Around the Corner, Anderson joked to the entourage that no one had better be bringing alcohol back on the bus. And outside The Birdland nightclub, Melton joked to the manager on duty that he could not have a drink before the chief was along that night.
Previous Comments
ID

81154

Comment

This is not a surprise but a shame. There have been other stories told by police officers regarding the stopping of cars on Hwy 80 and FM being drunk at the road blocks. Also, FM came to an accident scene so drunk that the officer's had to put him back into the car and take him home. When does it all stop? This man thinks because he is mayor he has a license to do whatever the hell he pleases. He has broken more laws during his tenure than most repeated criminals. What are we waiting on to happen next----murder by the mayor!

Author

maad

Date

2007-04-19T12:23:03-06:00
ID

81155

Comment

hiccup... Good hiccup point hiccup maadd! hiccup

Author

pikersam

Date

2007-04-19T12:30:04-06:00
ID

81156

Comment

One of the most disturbing things, when you think about it, is all the people who seem to enable Melton to do dangerous things while very possibly under the influence of alcohol. I was certainly struck by that last year. And the police chief seems to be the Chief Enabler, followed closely by his detective-bodyguards.

Author

DonnaLadd

Date

2007-04-19T12:43:23-06:00
ID

81157

Comment

The most startling assertion in this is that Frank is handling firearms while intoxicated. I am a serious gun rights proponent, but no one should be handling firearms while drinking. I already had serious doubts about FM's gunhadling skills as well as the safety of his choices in holsters. There is also the problem of his "bodyguards" carrying submachine guns apparently without reason--most responsible U.S. law enforcement and military units have moved away from pistol caliber carbines because of serious public safety concerns from overpenetration. Also, I have yet to read a nationally known LE SWAT trainer who advocates police use of fully automatic weapons. How much training do these "bodyguards" have? And a drunk FM damn sure should'nt be around this hardware. Frankie, don't _play_ with the _cool_ guns. -Chad

Author

Chad Moorer

Date

2007-04-19T13:03:25-06:00
ID

81158

Comment

Agreed, Chad. You can see why I became such a proponent of seeing the guns taken off him

Author

DonnaLadd

Date

2007-04-19T13:07:27-06:00
ID

81159

Comment

Melton went on to speculate that the "only reason someone could have smelled alcohol on him was because earlier in the evening he attended a sporting event and threw out some beer bottles as he was leaving." I'm calling BS on that. I've thrown out a few beer cans before, but never have I wreaked that much alcohol. I would think he'd gone home to take a shower anc changed clothes if all that beer got on him like that. That's what I would've done.

Author

golden eagle

Date

2007-04-19T13:40:34-06:00
ID

81160

Comment

Well, I can say that on last April's raid, it was his breath, and he smelled of liquor. It wasn't beer. It wasn't hard to know because he kept getting up in my face to tell me stuff.

Author

DonnaLadd

Date

2007-04-19T13:48:45-06:00
ID

81161

Comment

They can get the testimony in there. Ask if him if was intoxicated that night and then call them in to rebut.

Author

Kingfish

Date

2007-04-19T15:48:20-06:00
ID

81162

Comment

OK, does anyone else see the stupidity of arresting Tonarri Moore for "refusing to desist in photographing Melton and police officers inside the club"? Since when can anyone enter my property and tell me I can't take pictures if I want. How absurd. As far as Melton being drunk, I thought he seemed wasted several times in the clips the news showed when he first took office. Of course, I wasn't riding in the "party bus" with him and his thugs, but I bet he was wasted like I thought. Lets hope he goes down hard this time. It would be a shame and a disgrace to the state if he gets off on this.

Author

kdbstlrfan1

Date

2007-04-19T18:21:52-06:00
ID

81163

Comment

And if he gets off, that will just embolden him even more to do whatever he wants. Which means we may not have even seen the worst of his antics.

Author

golden eagle

Date

2007-04-19T18:28:48-06:00
ID

81164

Comment

I talked to someone a while back who said he saw the mayor in an eating establishment, and he appeared intoxicated then He said that he kept going around asking people what they're doing with their lives or something like that. Kinda like, "Whatchoo gonna do with your liiiiiiiiiife?" I don't think he was close enough to smell him, though. Whatever the outcome, I just hope he gets some help.

Author

LatashaWillis

Date

2007-04-19T19:40:13-06:00
ID

81165

Comment

Join Frank's Jackson Chapter of the Super Adventure Club

Author

Kingfish

Date

2007-04-19T22:50:00-06:00
ID

81166

Comment

Nice to know that Frank isn't just drunk on power. He's just drunk period.

Author

golden eagle

Date

2007-04-20T07:52:46-06:00
ID

81167

Comment

Well, one of Melton's favorite liquor stores just got robbed.

Author

pikersam

Date

2007-04-20T12:35:24-06:00
ID

81168

Comment

Is this a book, "The town that elected the local drunk"?

Author

Roc

Date

2007-04-20T14:37:24-06:00
ID

81169

Comment

It seems to go bad to worse with the fm reign. Everyone knows fm is a drunk who kept it hidden from the voters before the election.It is just as unlawful for Franks bodyguards to assist him in breaking the law while they are on duty.They are on duty being paid by the citizens of Jackson and should continue to uphold the law.They have trashed the mobile command bus,they have tried to get the new swat command bus but so far no luck getting that new toy.I hope the court system sees this for what it is a man broke into someone's home. I see Dale Danks has turned this into a soap opra.I guess Dale can't get his money from the city one way he will get it another.

Author

GRNY1

Date

2007-04-22T13:38:33-06:00
More stories by this author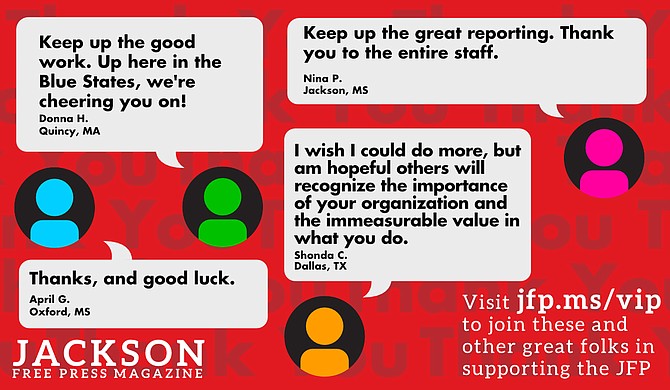 Thanks to all our new JFP VIPs!
COVID-19 has closed down the main sources of the JFP's revenue -- concerts, festivals, fundraisers, restaurants and bars. If everyone reading this article gives $5 or more, we should be able to continue publishing through the crisis. Please pay what you can to keep us reporting and publishing.