Read JFP's Melton Blog/Archive here.
Attorneys for the defense filed yet more motions in the upcoming felony trial of Mayor Frank Melton and detectives Michael Recio and Marcus Wright.
In a motion dated April 11, attorneys for Wright and Recio filed a motion to dismiss their indictments based on Mississippi Statute Section 99-3-28. This law states that before various public officials including law enforcement officers can be charged with committing a crime while in the performance of their duties, they must have a probable cause hearing.
This argument may face an uphill battle, however, because the attorney general has issued an opinion stating that 99-3-28 does not cover grand jury indictments, presumably because grand jury hearings afford sufficient due process in and of themselves. In the motion, defense attorneys note that AG opinions are not legally binding. Robert Smith and Winston Thomas III signed as defense attorneys.
In another motion filed April 11, those same attorneys ask the court to exclude testimony regarding the defendants' actions at the Upper Level nightclub. Witnesses have put Melton, Recio and Wright at the Upper Level the same night that the duplex at 1305 Ridgeway Street was demolished. During their visit to the Upper Level, officers arrested Tonari Moore when he refused to stop photographing them inside the club, witnesses say. When Moore was taken outside, young members of Melton's entourage allegedly exited the Mobile Command Center and beat and kicked Moore while he was in handcuffs.
In this motion, Smith and Thomas argue that testimony about the Upper Level should be excluded because "there is no evidence that a crime was committed by the Defendants" there. Discussing actions by Wright and Recio at the Upper Level would be "irrelevant and prejudicial" to the Ridgeway case, the defense attorneys write. They conclude by arguing that "the introduction of any activities involving the Upper Level nightclub would only confuse the jury ..."
Judge Joe Webster will hear these and other motions at a hearing scheduled for April 13.
See the motions here (PDF, 111 KB).
Previous Comments
ID

127095

Comment

99-3-28 reads in part: Except as provided in subsection (2) of this section, before an arrest warrant shall be issued against any ... sworn law enforcement officer within this state as defined in Section 45-6-3 for a criminal act, whether misdemeanor or felony, which is alleged to have occurred while the ... law enforcement officer was in the performance of official duties, a probable cause hearing shall be held before a circuit court judge. The purpose of the hearing shall be to determine if adequate probable cause exists for the issuance of a warrant. All parties testifying in these proceedings shall do so under oath. The accused shall have the right to enter an appearance at the hearing, represented by legal counsel at his own expense, to hear the accusations and evidence against him; he may present evidence or testify in his own behalf. I think this argument all boils down to the Arrest Warrant, and whether one was issued before he was indicted (most likely not). I think that the defense needs to be very careful about the "performance of official duties" clause... Because if THEY were, then surely Melton was... and then, well.... Melton won't be able to take a plea of a misdemeanor and say he wasn't acting in his "official capacity."

Author

LawClerk

Date

2007-04-12T13:08:00-06:00
ID

127096

Comment

That night should be taken in its totality. From the first Ridgeway Street visit to the call to WLBT at 9:15 PM stating that Melton was en route to the hospital because he had cut both hands to the Upper Level then their return to Ridgeway. The behavior of Melton on camera a few days later when asked about Ridgeway Street is also part of the picture. In order to provide a clear picture of events, the whole rampage must be shown, IMHO.

Author

ChrisCavanaugh

Date

2007-04-12T22:00:59-06:00
ID

127097

Comment

Does this sound familiar. These attorneys must be complete idiots. Remember just a few days ago when the Mendenhall Police Chief tried to calim the same thing. If the lawyers were worth anything at all, they would have made this motion months ago. As far as the evnts of the day being included. I feel that all events leading to and any events afterward that are connected should be included. Just my opinion.

Author

kdbstlrfan1

Date

2007-04-13T07:13:48-06:00
ID

127098

Comment

that police chief.........saw the picture of him. underage girls were sleeping with THAT?

Author

Kingfish

Date

2007-04-13T07:23:31-06:00
ID

127099

Comment

I'm a few minutes behind; but full of more info for you guys on the Mendenhall Police Chief. Here is one the story from the Clarion Ledger. (first story in group) Doesn't surprise me they don't even put the two together. Judge considers call for hearing A circuit judge will decide later this month whether Mendenhall Police Chief James Sullivan, charged with having sex with a teen, should receive a probable-cause hearing. More... Sullivan, 49, was arrested March 28 for allegedly having sex with a 14-year-old girl on four occasions. He has denied the allegations. His attorney, Jeffery Reynolds, is asking for the arrest warrant to be voided because law enforcement officers are entitled to a probable-cause hearing before an arrest for crimes allegedly committed while they are on duty. The attorney general's office argues Sullivan was out of town or not on police business when the alleged incidents occurred. So, I hope Judge Webster understands that if he sets a precedent today, that a scumbag, two-bit child rapist (don't even try to go consensual on me!!!) will get to go free until something further is done. And yes I think Law Clerk is on to something. The mayor is going to have say he was doing this in his official capacity and that Recio and Wright were on duty. They were in a City vehicle and are now trying to use this State law to throw out the warrant. I sure hope Judge Webster thinks long and hard about what he is going to do. Is the JFP fighting the subpoena?

Author

pikersam

Date

2007-04-13T08:20:30-06:00
ID

127100

Comment

look at a pic of that chief. It had to be non consensual. ugh.

Author

Kingfish

Date

2007-04-13T08:28:54-06:00
ID

127101

Comment

Oh, and to add to my previous comment the "Misdemeanors in office" clause of the MS Constitution will come into play.

Author

LawClerk

Date

2007-04-13T08:30:33-06:00
ID

127102

Comment

...and pickersam, this is a "must have," even if the person is caught in the act of committing the crime? An example is: The mayor walks into an office and kills a person: There are lots of witnesses. I'm asking if the egregiousness of the crime has anyathing to do with a "probable cause." hearing?

Author

justjess

Date

2007-04-13T08:44:59-06:00
ID

127103

Comment

In the CL story, at the tope of the article is a picture of a black male. Under the picture in small font is the name, Johnson. Who is Johnson? This is screwed up!

Author

justjess

Date

2007-04-13T08:58:40-06:00
ID

127104

Comment

Exactly, justjess! At what point does the crime override any need for a probable cause hearing? I sure hope the cops that got involved with Tawana Sandifer before she was murdered didn't get a hearing!

Author

pikersam

Date

2007-04-13T09:09:32-06:00
ID

127105

Comment

Yeah, I think the paper put the wrong picture up. The Chief in question is some fat, older white guy. His picture is bad too!

Author

pikersam

Date

2007-04-13T09:11:09-06:00
More stories by this author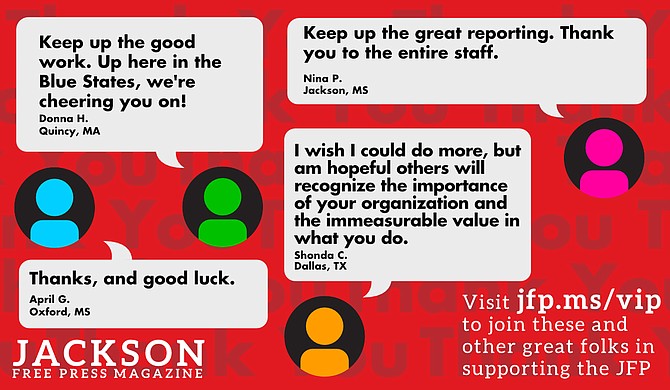 Thanks to all our new JFP VIPs!
COVID-19 has closed down the main sources of the JFP's revenue -- concerts, festivals, fundraisers, restaurants and bars. If everyone reading this article gives $5 or more, we should be able to continue publishing through the crisis. Please pay what you can to keep us reporting and publishing.