In a press conference at 4:30 p.m. today, City Council members each offered statements in response to grand jury indictments against Mayor Frank Melton and JPD Detectives Michael Recio and Marcus Wright.
Council President Ben Allen said it would no longer be necessary for council to investigate the mayor because of the indictments. No vote was taken on the matter.
"Our city will proceed as it needs to," Allen said. "The will city will not collapse. ... The city is bigger than any council member, bigger than the mayor. ... Your city will survive this."
Councilwoman Margaret Barrett-Simon said she was satisfied with the indictments brought against Melton and no longer thought a council investigation was necessary. "I am satisfied that with these indictments, this matter will be fully investigated. ... There's a lot in our history that we can't be proud of, and the cause was random lawlesness. ... By dealing with this now, we ensure that in the future, we will never have to deal with this again."
"This is a sad occassion," Councilman Charles Tillman said, "but I want to assure the public that this is one councilman who continue to work for the best interests of the city. ... This city has been under the direction of the City Council more than the mayor for a long time."
Councilmen Frank Bluntson and Kenneth Stokes remained militant in their support of Melton. "We have set a record: an investigation gets completed, and an indictment goets brought within 24 hours," Bluntson said. "It's something quite new."
"I think Melton should not plea bargain," Stoke said. "He should fight, fight, fight. I think it's shocking when you have drugs in a community that you indict the mayor who's trying to get the drugs out. ... I want to say right now that I will not get into the mayor's race, but I will have a say on who does run. And it won't be the people who are grandstanding on this."
"We will triumph," Councilman Leslie McLemore said. "We will overcome. ... Crime is brought on by poverty, and we have a poor city. I think we as a council and a city need to address that issue, and that will allow us to address crime."
"We have strong leadership on the council," Councilman Marshand Crisler, "and this will not set us back. ... Public safety is issue No. 1. I hope and trust that we will all rally around our chief of police."
At the conclusion of the conference, Allen lashed out at the media. "Half the distractions are from questions about matters that need to take care of themselves. It's fun to some people, but it's not fun for us. We're exhausted."
Stokes then asked City Attorney Sarah O'Reilly-Evans to confirm that Melton remains mayor. "The mayor is still the mayor right?" he asked.
"The mayor is still the head of the executive branch, and City Council is still the head of the legislative branch," Evans said.
"When President Clinton was indicted (sic), he was still president," Bluntson commented.
by Brian Johnson
Previous Comments
ID

123812

Comment

Well, this press conference shouldn't leave anyone with any warm and fuzzy's! This is horrible. You got the Melton talking points, you got digs at other council members, a chastising of the press again and some stage show as to who is mayor! Who ever said the sky was falling? The only problem Jackson has is a corrupt mayor who is holding the City hostage. If you guys will not call for the mayor to resign, then a good lot of you need to take it to the house in 09'. What is good about a lame duck mayor? What are Kenny, Blunston and Tillman protecting? What ever it is y'all better remember they just put Bill Campbell away in a Fed PMITA prison. I'm not saying anything; but, the sheer blind loyalty from Bluntson, Tillman and Stokes should raise serious eyebrows! Since Councilman Tillman has informed us that the City Council has been running the City for awhile now, I hope y'all take the public interest at hand and appoint a police officer to accompany Mayor Melton to ensure that he doesn't violate terms of his bond that may endanger the safety of Jacksonians or any children.

Author

pikersam

Date

2006-09-15T18:53:10-06:00
ID

123813

Comment

WHY DOES IT HAVE TO BE BLIND LOYALTY? CAB YOU NOT ACCEPT THAT THEY SIMPLY DISAGREE WITH YOU. THE MAYOR STILL HAS SUPPORTERS. JUST BECAUSE YOU FEEL YOU ARE RIGHT DOESNT MEAN THEY EVERYONE ELSE WHO DISAGREES IS WRONG! WHY WOULD THEY BE PROTECTING ANYTHING?

Author

trusip

Date

2006-09-15T19:44:12-06:00
ID

123814

Comment

Well, it looks like this is starting to gain national attention. The AP article (a very short one) is on the San Diego Union-Tribune Web site. Oh, boy.

Author

LatashaWillis

Date

2006-09-15T19:49:06-06:00
ID

123815

Comment

Trusip, stop shouting. Check the cap locks key, my friend.

Author

Brian C Johnson

Date

2006-09-15T20:06:46-06:00
ID

123816

Comment

There's a danger now of Melton becoming a scapegoat--the sacrifice onto which all the city's sins will be heaped, destroyed and forgotten. Let's not ignore that a web of men and women in government enabled Melton over the past year. He couldn't have done it without them. Theirs may have been intentional collusion or simply sloppy governance, but they carry part of the blame for creating Melton. Where, for instance, was DHS when Melton took the transient boy home with him on the night of the Homeless Roundup? Or why didn't the Attorney General speak out louder against the mayor posing as a police officer, searching people's homes and thereby running the risk of violating citizens' Fourth Amendment rights--and putting the city at great civil liability? Why was City Council not citing and decrying Melton's abuses each week? (The JFP certainly was.) Melton may be guilty of actual crimes, but city officials are guilty of the sin of omission. I'm not arguing that they be fined or removed from office, but they need to acknowledge their failures and renew their commitment to live up to a higher standard of government. Which is the main reason many of us hoped the City Council would go ahead and hold open investigations: To show Jackson that this can be a new, open and transparent city government that won't tolerate abuses of power. One hopes the Council understands how dearly that message needs to be heard now. I hope they'll refuse to sit back and simply do nothing while the scapegoat is led away.

Author

Brent Cox

Date

2006-09-15T21:24:21-06:00
ID

123817

Comment

Tursip, I never said they were wrong nor do I ever want to thwart someone's opinion. But, it is of my opinion that something is not right about the way those three support Melton. You did say he still has supporters. Good, he needs a few people praying for him right now. When you support someone who disregards the rights of a citizen, commit crimes that are illegal in the USA, and trample the rights given to us by the constitution then you must be blind!

Author

pikersam

Date

2006-09-15T22:31:01-06:00
ID

123818

Comment

When you support someone who disregards the rights of a citizen, commit crimes that are illegal in the USA, and trample the rights given to us by the constitution then you must be blind! I think there is a general lack of understanding or knowledge as to what rights we have because it is not something most folks get an explanation of on a regular basis. It may be time for a brief civics lesson somewhere on this site and in the paper on the Bill of Rights and things like that. If there is, it needs to be easy to understand. Who could do this for us? For now, I'll stick a link here: http://en.wikipedia.org/wiki/United_States_Bill_of_Rights Also, the amendment of the day, the Fourth Amendment: The right of the people to be secure in their persons, houses, papers, and effects, against unreasonable searches and seizures, shall not be violated, and no Warrants shall issue, but upon probable cause, supported by Oath or affirmation, and particularly describing the place to be searched, and the persons or things to be seized.

Author

LatashaWillis

Date

2006-09-16T00:06:29-06:00
ID

123819

Comment

Also, the Bill of Rights still works for Melton despite what he's being accused of. The Sixth Amendment: In all criminal prosecutions, the accused shall enjoy the right to a speedy and public trial, by an impartial jury of the State and district wherein the crime shall have been committed, which district shall have been previously ascertained by law, and to be informed of the nature and cause of the accusation; to be confronted with the witnesses against him; to have compulsory process for obtaining witnesses in his favor, and to have the Assistance of Counsel for his defense. See? Melton has to obey the law, and his accusers have to obey the law. I'd try to go further, but I'm tired. :-)

Author

LatashaWillis

Date

2006-09-16T00:13:53-06:00
ID

123820

Comment

Yes, those who want to detract from Melton's situation keep pointing at the speed with which this has gone forth and at drugs in the city. Neither of these points have a thing to do with the situation at hand. I see the rapid progress of the investigation, indictment, and arrest as an acknowledgement of the gravity of the whole situation. Evidentally many are incapable of grasping the fact that this is the Capital of Mississippi! He is the Mayor of our Capital City! There are only 50 of these cities in the whole world! Yes, this does elevate the situation over many other crimes and it does warrant its being expedited. My best method of discerning statements by those who seek to distract us is: consider the source and consider that source's motives.

Author

ChrisCavanaugh

Date

2006-09-16T03:29:32-06:00
ID

123821

Comment

Excellent post, Chris!

Author

Kacy

Date

2006-09-16T11:12:53-06:00
ID

123822

Comment

Excellent post Brent. There is going to be fallout from this irrespective of Mr. Melton's fate.

Author

Brian C Johnson

Date

2006-09-16T12:16:13-06:00
ID

123823

Comment

i find so much of what danks said amazing.notably it was mcmillan who said on thursday that he had sufficient information to proceed with the arrests and did not need a grand jury indictment to act,, but decided to hand it to the DA for her to decide which charges to present to the grand jury. so,,, lets say that mcmillan had gone ahead and made the arrests on thursday without an indictment- does anybody believe that danks and company would have hurled shit directly at the sheriff and said what he did was silly and politically motivated?

Author

chimneyville

Date

2006-09-16T13:48:22-06:00
ID

123824

Comment

and, serious people know that you move quick because melton until yeterday had the ability to deploy any officer or equipment of jpd to do what he felt like.does anybody know which judge set bail?was it gowan?hell, the terms of melton's bail is about as rough as any sentence that could be meted out:no toys no boys no booze

Author

chimneyville

Date

2006-09-16T13:52:50-06:00
ID

123825

Comment

as for the recent post about s. p. weaver talking about "juror nullification" she may need to be reminded of the statutes prohibiting obstruction of justice and jury tampering

Author

chimneyville

Date

2006-09-16T13:55:06-06:00
ID

123826

Comment

Heck chimneyville, I hope that Melton and his "clique" try some monkey business with this case. That way we could take out several bad eggs that Jackson has rotting in it's fridge!

Author

pikersam

Date

2006-09-16T16:58:28-06:00
ID

123827

Comment

I went to morning prayer at church today, and we prayed really, really hard (and loud) for Jackson. I won't go into detail as to what the prayer was, but I want to encourage others who believe in prayer to do the same, and if you have been praying already, pray harder. This is a volatile moment in the history of this city. The citizens are experiencing everything from denial to anger to insecurity. We need strength, peace, and hope. Also, we definitely need to pray for those who call themselves spiritual leaders and continue to turn a blind eye to what should be done. This reminds me of the song "Eyes on the Prize": The only thing we did wrong, Stayed in the wilderness a day too long. Keep your eyes on the prize, Hold on, hold on. But the one thing we did right, Was the day we started to fight. Keep your eyes on the prize, Hold on, hold on. Hold on, hold on, hold on, hold on, Keep your eyes on the prize, Hold on, hold on.

Author

LatashaWillis

Date

2006-09-16T20:01:20-06:00
ID

123828

Comment

Oh yeah, speaking of spiritual stuff... This thread I found on topix.com caught my eye this week, and I find the scriptural interpretations of a few of the posters quite intriguing since they are on different sides of the fence. First, the one by "Fay Smith": It is obvious this man is bi-polar. Why did the people of Jackson elect him. Did they not see the signs before he was elected? Whatever spirit you allow to have authority over your city is the spirit that will reign. Then, there's "david-c": Please look deep within your heart, do not rush to judgment. We need Frank Melton, this State needs Frank Melton. Decisions made in a rash of passion often hurt us. many have decided their opinions, but they have only one side of the story. I implore you to look deep within Mayor Meltons intentions. I am certain you will have the scales dropped from your eyes and You will envision a Capitol City that is no longer last in everything, but among the top of it's class. Stand up for your Mayor, and instead of attacking him, join with him, after all this is your home to. And finally, there's "I Concur": I rebuke the demon(s)that is within Frank Melton in the name of Jesus. I hope he prays and ask the Lord our Father in Heaven for forgivness. (emphasis added) I suggest that you all go read all of the posts for that thread. I've coined a term for it: polarized passion.

Author

LatashaWillis

Date

2006-09-16T22:43:04-06:00
ID

123829

Comment

"At the conclusion of the conference, Allen lashed out at the media. "Half the distractions are from questions about matters that need to take care of themselves. It's fun to some people, but it's not fun for us. We're exhausted."--brian Toughen up, Brian. Telling the public and the media that the Council members are tired, after what was, understandably, a rough week, is hardly "lashing out". As your editor likes to say, "play this one straight" and don't try to slant your reporting, okay?

Author

charlotte

Date

2006-09-17T22:08:44-06:00
ID

123830

Comment

Charlotte, The media is here to ask questions so that the people can know whats going on. Sorry, but Ben can't decide what questions are asked and if they are too tough. He won the office, he has to take the heat.

Author

Melishia

Date

2006-09-18T10:07:50-06:00
ID

123831

Comment

Charlotte, If you been there and heard his tone, I think you would agree that the description was fair. The part that was "lashing out" was when he accused the media of asking "distracting questions." This is the second or third time Allen has made comments along these lines--essentially that the media need to stop stirring things up and focusing on the ongoing scandal. Under the circumstances, I would call that silly, and it does not make my reporting slanted to say so.

Author

Brian C Johnson

Date

2006-09-18T10:23:40-06:00
ID

123832

Comment

Oh, and he implied that this is "fun" for the media. Is that not lashing out?

Author

Brian C Johnson

Date

2006-09-18T10:24:33-06:00
ID

123833

Comment

Trusip, Kenny Stokes graduated from Law School, now not passing the MS Bar was another issue; so, Kenny knows better: Bluntson was cut a deal after the sad but true story surfaced from The Youth Detention Center - just to jog your memory, this case involved troubled youth who were locked up and were sexually abused by those responsible for their safety and care: Now, Mr. Tillman is an aging man (84) with severe signs and symptoms of - well I won't go there. My point is this: Should we be arguing the ovious? This is the reason that Melton got in office in the first place. Wake up! We are not just simply talking about opinions- We are talking about things that can be evidenced. This is one of the reasons that slavery for Blacks lasted so long: There were always someone willing to listen and believe that the opressor would set you free. Think About It!

Author

justjess

Date

2006-09-18T14:08:54-06:00
ID

123834

Comment

And Kenny graduated from the most diverse law school the country has: about 40% black, about 30% white, and about 30% hispanic/latin or other. Passing the bar is not necessarily a good test of your sense or sensibilities. It's just as much a reflection of test taking skills as the mastery of law. Studies have shown that kids who have never been to law school at all with good test-taking skills can guess and get just as many correct answers on the multistate portion of the bar as persons who have finished law school. However, he likely still knows better. He needs to repack or re-up his arsenal. Things aren't looking too good on his behalf right now. As the great Willie Brown would advise, if you going to bullshit them, get you some good bullshit. Something that makes sense and you can be proud of.

Author

Ray Carter

Date

2006-09-18T14:33:37-06:00
ID

123835

Comment

Thanks Ray!

Author

justjess

Date

2006-09-18T14:45:04-06:00
ID

123836

Comment

I wouldn't even judge Stokes on whether he passed the Bar or not in terms of his knowing what the right thing to do is. To me his law school background and credentials are irrelevant. He is a four-term plus councilman first elected in 1989, and as one of the elder members of the council he knows the rules backwards and forwards. When you look back at many of the decisions he has made as a council person (when he acts like one) on balance he is fairminded and generally tries to consider how the laws of the City might impact the "little guy". So for him to advance the notion that the mayor should be supported in spite of him performing clearly illegal acts, violating people's civil liberties and ignoring rulings from the A.G. goes against what a self-professed "man of the people" like him should be advocating and should send a message to Ward 3 that it may be time for a change in the next election cycle. And while he claims not to support clique politics, he is quite comfortable in the little "pro-Melton" bloc that he has formed with Tillman and Bluntson.

Author

Jeff Lucas

Date

2006-09-18T15:32:18-06:00
ID

123837

Comment

ahem, if I may, sounds like Mr. Stokes may be in line for mayor? I don't know [email protected]# about Jackson government, just know y'all deserve some smart people who aren't beholden. who care about the city and not their clique or whatever. I bet there are some people like that, quite a few. time for a change maybe . give peace a chance.

Author

sunshine

Date

2006-09-18T20:37:25-06:00
More like this story
More stories by this author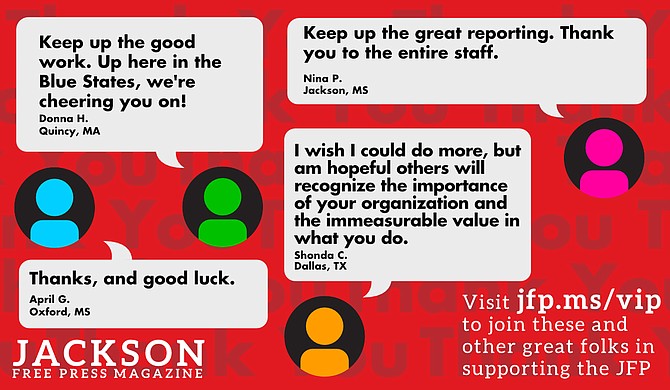 Thanks to all our new JFP VIPs!
COVID-19 has closed down the main sources of the JFP's revenue -- concerts, festivals, fundraisers, restaurants and bars. If everyone reading this article gives $5 or more, we should be able to continue publishing through the crisis. Please pay what you can to keep us reporting and publishing.