Below is a PDF of Melton attorneys' motion to the Mississippi Supreme Court to remove Judge Tomie Green from presiding over the settled weapons trial:
download here (PDF, 3MB)
In the motion, Dale Danks argues that Green inappropriately restricted the scope of defense attorney Paul Luckett's voir dire questions to potential jurors. Danks's complaints include the fact that Green limited questioning to five minutes per juror, did not allow questions about the Ridgeway incident and did not allow questions about whether or not jurors believe that Melton always carries a gun. The motion mentions several times that the prosecution did not object to these questions, which were cut off by Green. Danks also recounts how Green chastised Luckett in front of jurors as he continued to ask questions she had forbidden. Danks' motion asserts that Green should be removed because she abused her discretion.
Defense lawyers have already filed at least two motions demanding that D.A. Faye Peterson be removed from the case.
This story originally referred to the recusal in terms of the Ridgeway trial. Danks' motion does include this language: "Due to the trial court's actions, the Defendant also requests this Court to remove the trial court judge from all matters involving this Defendant, and either appoint another trial judge or remand it to the Senior Judge for Hinds County for re-appointment." However, it is likely that Melton's attorneys would have to file a separate pleading to have Green removed from that case. The motion was originally filed with regard to the weapons case against Melton.
That aside, Danks' motion fails to follow standard procedure for requesting a judge to recuse herself. Danks filed a motion with the Mississippi Supreme Court requesting a writ of mandamus, which is an order from a superior court to a lesser court. However, Rule 1.15 of the Uniform Circuit Court Rules, "Motions for Recusal of Judges," sets out the procedure for requesting a judge to recuse, and it is clear that the motion must first be filed with the trial judge herself. She then has 30 days to rule on the motion. Rule 48B of the Mississippi Rules of Appellate Procedure, "Proceedings on Motion for Disqualification of Trial Judge," states that if the trial judge rules against the motion for recusal, or if she fails to rule on it within 30 days, then the filing party may, within 14 days, file for review by the Supreme Court.
Presumably, Danks requested a writ of mandamus because the weapons trial would have been over by the time Green ruled on his motion to recuse. If Melton had been found guilty of a felony, he would have automatically lost his public office, regardless of appeals. We cannot say how the Supreme Court will regard Danks' extraordinary motion.
Within hours of Danks' motion, Melton reached a plea deal (PDF, 650 K) with prosecutors, which brought his weapons trial to a close. Melton pled guilty to two misdemeanors and no contest to a felony reduced to a misdemeanor.
Previous Comments
ID

124605

Comment

Danks also recounts how Green chastised Luckett in front of jurors as he continued to ask questions she had forbidden. That's a funny sentence. How dare the judge remind him to stop doing what she had already told him not to do. Isn't that what judges do?

Author

DonnaLadd

Date

2006-11-19T20:29:12-06:00
ID

124606

Comment

How dare an African-American female judge "chastise" Luckett for asking "questions she had forbidden." Waaaaaaa!!!!!

Author

pikersam

Date

2006-11-20T11:23:49-06:00
ID

124607

Comment

Bad, bad grrl.

Author

DonnaLadd

Date

2006-11-20T11:27:16-06:00
ID

124608

Comment

When you read their pdf. it seems like they wanted to ask questions that had nothing to do with carrying a gun on campus/church; and to basically get these people to say they "loved Frank." I can't see what their problem is. They seem to be reaching. Also, when you read the document, you will see the major concern for the Melton team is not that he will be found guilty and may serve time etc... It that he will lose his seat as Mayor! They mention it at least 4 times without concern to jail time!

Author

pikersam

Date

2006-11-20T11:43:43-06:00
ID

124609

Comment

Well, perhaps that explains why The Clarion-Ledger seems to see whether or not Melton had to leave office as the only determining outcome. Melton's lawyers may be telling them that. That's plain weird. It sounds like the judge was going to limit the defense, as she should have, to whether or not he had the gun in the school. Under the circumstances, that's the only thing that mattered. If he did, he was guilty. If he didn't, he wasn't guilty. That explains why they added Recio at the last minute—because he represented their only possible defense. I suspect the same will be true in the next trial. The only thing that will matter is whether or not the prosecution proves he did the things he's accused of. If he did, there is no "crime-fighting" excuse under the law. With due lack of respect to The Clarion-Ledger, there seems to be little reason for the prosecution to settle those cases. However, you can see why Melton should step forward and plead (which might keep him out of jail, if also out of office) before putting the city through all this again. The ball is squarely in his court. He created this mess.

Author

DonnaLadd

Date

2006-11-20T11:49:30-06:00
ID

124610

Comment

Do you all realize that your JFP Watermark obscures the documents. This is what it looks like under Xpdf. Whats the point of watermarking public docs?

Author

Niles Hooper

Date

2006-11-20T22:01:46-06:00
ID

124611

Comment

Niles, is it really too complicated for you to open PDFs in Adobe Reader? You asserted earlier that we were "copyrighting" public documents, which is absurd. All the watermark says is that we are the ones who made the PDF. That's it. The point is that we have had documents stolen and reposted on other sites. That may not matter to you, but as the person who makes these PDFs, one page at a time, it tends to annoy me.

Author

Brian C Johnson

Date

2006-11-21T11:17:56-06:00
ID

124612

Comment

It is also done so that other media cannot "steal" documents that our reporters get from their sources and then try to pretend that they are doing independent reporting. Not that that has happened in the past. And, no, there is not a copyright problem with doing this, I assure you.

Author

DonnaLadd

Date

2006-11-21T11:27:46-06:00
ID

124613

Comment

Bump. This story has been corrected and expanded. Most interesting is the fact that Danks appears not to have followed set procedure for requesting a judge to recuse herself.

Author

Brian C Johnson

Date

2006-11-21T17:15:24-06:00
ID

124614

Comment

So, basically this was a PR stunt to let people think that Melton got a raw deal from the Judge in the weapons case. With the gag order in place, Melton's team had no way of getting word out whether it was a victory or a defeat unless they fabricated this motion. We know anything like this will get to the press and that plants more seeds of doubt in the public when you spin that the Judge didn't allow you to question the witnesses. This is especially true when the Clarion Ledger takes the whole case out of context and twists it into a packaged ball with glaring bias.

Author

pikersam

Date

2006-11-21T17:31:40-06:00
ID

124615

Comment

While we're making so much hay about The Clarion-Ledger's corrections policy (or lack of one?), I want to give props here to Brian for correcting an error in interpretation he made in a prominent way, as it should be done. Most importantly, sheers to our citizen-legal-analysts out there who made sure that Brian understood the intricacies of this motion. The JFP wouldn't be the same without all you citizen journalists who help us every single day. Cheers!

Author

DonnaLadd

Date

2006-11-22T16:47:36-06:00
More stories by this author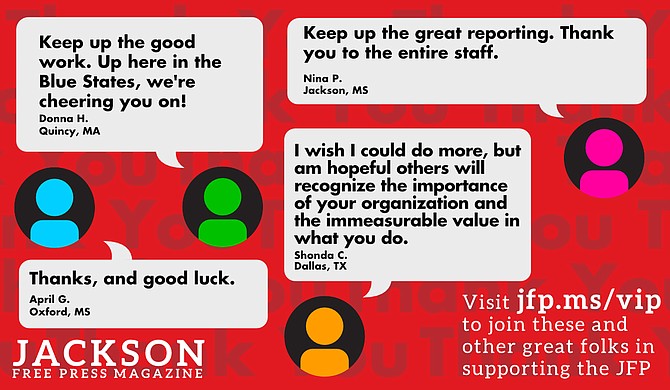 Thanks to all our new JFP VIPs!
COVID-19 has closed down the main sources of the JFP's revenue -- concerts, festivals, fundraisers, restaurants and bars. If everyone reading this article gives $5 or more, we should be able to continue publishing through the crisis. Please pay what you can to keep us reporting and publishing.