"I want to go to court with you," Melton told The Clarion-Ledger on Friday. "I really want to get you in court bad. You don't know how bad."
It appears likely that Melton will get that opportunity to meet The Clarion-Ledger in court. He says that he is still interested in settling his suit with Goliath, but he will not release the documents sought by the paper. Essentially, Melton has agreed to compromise as long as he doesn't have to change his position.
Earlier, Melton apologized for the denied requests, which related to letters JPD Police Chief Shirlene Anderson allegedly signed confirming that JPD Detectives Marcus Wright and Michael Recio are law enforcement officers. Such letters are required before the officers are allowed to bring their firearms on board commercial flights.
The requests were denied on the basis of the "security" exemption in the Public Records Act. This exemption is tailored to protecting vital security information. For instance, this exemption covers details related to the security system installed in City Hall. It is very hard to see how releasing a letter that merely confirms Wright's and Recio's status as law enforcement officers compromises their security.
Melton attorney Dale Danks himself stated that the city's denials "were without merit." Even if some material in the documents was protected under state law, Danks said that information could be blacked out and the remaining information could be released.
Another rejected request was for confirmation that Wright and Recio have completed required TSA training on carrying firearms on a plane. This request was denied on the basis of the "personnel" exemption, that this training is part of their personnel files.
That is a distortion of the personnel exemption. Public officials have a right to privacy. For instance, their tax returns are explicitly protected by law. But the position of the city, that the public has no right to know whether or not Wright and Recio, and their boss Melton, are following the law, is absurd. The people of Jackson have good reason to wander whether Melton and his entourage have bothered to meet their TSA obligations. This is not a mayor who frets over due process.
There is gathering evidence of a power struggle between Danks and City Attorney Sara O'Reilly Evans. Danks seems to recognize that the city's position is untenable, and that if the matter does come to trial, the city is likely to lose.
He offers good advice to the administration: "There needs to be some sort of truce and confidence building and trust between the media and the administration so that other issues can be addressed," (Danks) said.
If the city did not clamp down on all information, the media would not have to file so many information requests. By fighting over the release of relatively banal paperwork, the city gives the impression that it has something to hide.
Evans takes a very different view from Danks. But Evans stood by the denial of the requests, citing sensitive personnel and security matters as reasons for withholding the documents. She said she would see if alternate documents were available.
In her comments to WJTV last week, Evans said the media made too many requests. She also said that The Clarion-Ledger sued the city as a "knee-jerk" reaction, and not because of a problem with the flow of documents. She vowed to fight the law suit in court.
Does this split explain Melton's shifting position on these requests? Did he listen to Danks on Wednesday and Evans on Friday? JPD Chief Shirlene Anderson is the one who signed the denials for the letters she wrote for Wright and Recio. Presumably, she cleared this response with the legal department, with Evans. But isn't Danks supposed to be in charge of public records now?
It is futile to put Danks in charge of open records, because he has no authority beyond Melton's charisma. Danks has no formal authority over public records at all. Why then would Anderson go to him?
Making Danks an informal records czar will not solve the city's problems with public records, especially as long as the city attorney's office continues to sneer at public records requests.
Just before Danks announced the proposed settlement between The Clarion-Ledger and the city, Evans told WJTV that she looked forward to going before a judge. She said she would lay out the paper trail on how the city has answered requests.
In that same interview, she said one request filed by The Clarion-Ledger was filled on May 17, though the paper reported that the request was only filled on June 1, and then to WJTV. The city has ignored at least 12 public records requests from the Jackson Free Press, some of which are more than nine months outstanding. These requests would not be addessed by either the proposed settlement or the law suit between The Clarion-Ledger and the city.
It is hard to imagine that the city's paper trail will impress a judge. Danks said records requests from media outlets are lost, ignored or not filled "purposely or otherwise" by City Hall.
Melton has argued that all he has to do is demonstrate that The Clarion-Ledger is not a credible newspaper. This argument has no basis in the Public Records Act.
Melton is eager to go before a judge to argue his case. "I really want to get you in court bad. You don't know how bad."
Those words will only look sillier with time.
Previous Comments
ID

172464

Comment

Step into the schitzophrenia that is the Melton administration's response to public records. On Wendesday, Melton apologized. On Friday, he all but double-dog dared Goliath to take him to court. Be careful what you wish for. ...

Author

Brian C Johnson

Date

2006-06-10T14:55:28-06:00
ID

172465

Comment

Updated.

Author

Brian C Johnson

Date

2006-06-11T00:22:07-06:00
ID

172466

Comment

It would not surprise me if Melton, Danks, Evans, and Anderson wound up suing each other. This unstable alliance is a disaster waiting to happen. Melton raked Danks over the coals when he was mayor. Evans was not top dog under Danks administration. Danks was unable to comeback as mayor, so it appears that he is living out his dream through Melton. Anderson is just quietly get her high salary each month while Melton hides behind her, but lets the ultimate blame fall on her. We (COJ) have already been in the national media spotlight too much because od Melton. This Battle of Armegedon certainly will not get us any positive recognition.

Author

lance

Date

2006-06-11T05:35:36-06:00
ID

172467

Comment

I recall the TSA saying that they did not have any info on Melton, Recio, or Wright having anything on their files that would substantiate their claims that they are allowed to carry weapons on board of commercial flights. If Ander did give them a letter stating that they were allowed to do this, she should not hide behind that weak excuse of this being a "security issue". She has learned from the best about how to sidestep issues and give vague answers. IMO Cedric Morgan should be more assertive that the city already has a system in place to deal with open records. They always have. Melton just has so many secrets that he will go to any lenght to keep the media/public in the dark. This courtcase should be more fun than a barrel of monkeys.

Author

lance

Date

2006-06-11T05:41:50-06:00
ID

172468

Comment

Sarah got her start out of law school working for Danks. She later moved to the City Attorney's office and retired from there after Johnson became Mayor. When she became City Attorney Danks was all over the place. This a great soap opera.

Author

pneville

Date

2006-06-11T09:42:52-06:00
ID

172469

Comment

soap opera is right. or opera. I can see a 5-part aria with the different players chiming in their musical parts.

Author

Izzy

Date

2006-06-11T10:05:25-06:00
ID

172470

Comment

Yep, the Melton mess on Broadway. That could happen. I just wish people would have seen this coming. Sigh.

Author

ladd

Date

2006-06-11T10:53:44-06:00
ID

172471

Comment

"He offers good advice to the administration: "There needs to be some sort of truce and confidence building and trust between the media and the administration so that other issues can be addressed," (Danks) said." I agree with Brian this is good advice; but, in no way does the media or the public need a "truce" with the City. They are obligated to provide this information and if Melton get's a "truce" then that mean the public loses. I think their version of a "truce" is "We'll give you this; but you don't get that information."

Author

pikersam

Date

2006-06-11T11:12:57-06:00
ID

172472

Comment

Agreed, pike. This ain't about no damn trace. The city is trying to use language to make it look like they are no more guilty than anyone else in this mess. This is the city's mess to clean up. If the city in the administration are not up to the task, they should step aside. And The Clarion-Ledger ought not be playing into their framing of this with talks of a "settlement." They know damn well that the city isn't going to comply under some settlement -- they can't exactly provide documents that don't exist. It is good, though, to see the bright spotlight from all our directions on the Melton, Anderson, etc., who have built a house of false cards about his qualifications to play Barney Fyfe (that's a reference to an e-mail that's been going around). I am the most offended by all the lying this administration does. Is there a moral center anywhere in City Hall? And don't even try to tell me it's Dale Danks. I'd rather you sell me a bridge.

Author

ladd

Date

2006-06-11T11:26:27-06:00
ID

172473

Comment

I'd rather you sell me a bridge. Ladd Or a couple of lakes! ;-)

Author

pikersam

Date

2006-06-11T11:35:27-06:00
ID

172474

Comment

Touche, Pike. ;-) No, I certainly don't want to be sold a couple of lakes. That plan is very scary, especially with the herd mentality that supports it, sees dollar signs, and only looks at "research" that supports it. (Kind of like the folks who won't even consider the vast evidence of global warming because the solutions supposedly would hurt their pocketbooks. But I digress.)

Author

ladd

Date

2006-06-11T11:41:08-06:00
ID

172475

Comment

yeah, or the ones who said electric cars had no future, just so the oil companies might hold on to their market edge for another 15 yrs.

Author

Izzy

Date

2006-06-11T18:07:12-06:00
More stories by this author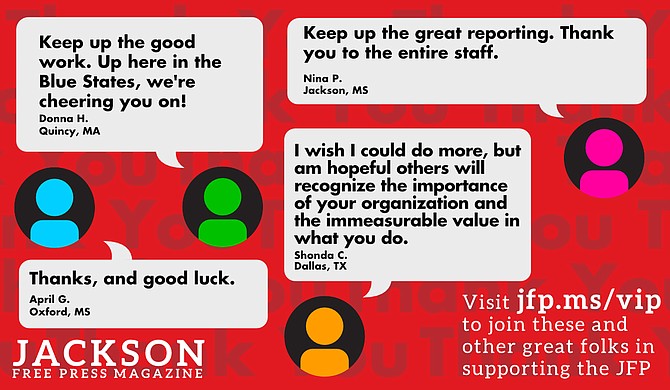 Thanks to all our new JFP VIPs!
COVID-19 has closed down the main sources of the JFP's revenue -- concerts, festivals, fundraisers, restaurants and bars. If everyone reading this article gives $5 or more, we should be able to continue publishing through the crisis. Please pay what you can to keep us reporting and publishing.