Mississippi is for lovers, but even the greatest love stories sometimes hit a snag. As of 2001, Mississippi had an annual divorce rate of 5.4 percent, according to the U.S. Census Bureau. That rate was surpassed by only six other states. Despite the fact that we're the buckle on the Bible belt, we get divorced and in engage in infidelity at a higher rate than California or New York. In fact, a survey conducted by the Barna Group in 2001 found that 29 percent of Baptists are divorced, a percentage that is higher than for any other denomination. Even atheists and agnostics have lower divorce rates. This raises a beguiling question. Are the 58 percent of our population who are Baptists to blame for our high divorce rate?
Brian Brewer is a pastor at Northminster Baptist Church in Jackson. He has a Ph.D. from Drew University and has been a senior pastor for five years. He has extensive experience counseling couples, both before they are married and when they hit hard times. His other qualification for offering advice is that he has been married for 12 years and has two girls.
"I see the people at the extremes," Brewer says. "I see people who are preparing to get married, and they cannot see any faults at all in their partner. And then I see people at the other extreme, where all they can see are faults in their partner. In pre-marital counseling I have to talk a lot about marriage, because they're thinking about a wedding. As their relationship matures, these gooey feelings that they have deep inside are going to ease, but love is that dedication they have to one another, even as they discover their partner's peccadilloes. I require at least three sittings before I will perform a wedding."
"I feel very passionate about working with couples because it can release such powerful energy into the world," Gloria Howard Martin says. She is a licensed marriage and family therapist with a Ph.D. in social work from Tulane. She works exclusively with couples at The Shepherd's Staff in Flowood. Although The Shepherd's Staff is non-denominational, Howard Martin is a devout Baptist. She has also been married for over 36 years.
"When couples are truly at home with each other and can show who they really are, both the positive and the negative, they then have a great basis for pursuing whatever their gifts and callings are," Martin continues. "People can pursue this when they're alone, but there is such a joy in relationships. We are created out of love, and most of us seek deep and meaningful relationships. When we have made a life-long commitment, it is the ultimate in human development. Marriage is the most excruciating but most wonderful crucible for bringing forth our full potential."
Yet, despite the potential of marriage, many people throughout the nation and Mississippi choose to end their own marriage in divorce. "Something happens in the course of a marriage for some people," Brewer says. "The couple that's engaged, all they can do is think about the other person. What you find in couples who are having troubles is that they start to take that back. They start to think more about their own needs."
"People get distracted and stop having fun together," Martin adds. "We are so busy, and couples with children can get so caught up in those activities that they neglect their relationship. I call this benign neglect. Couples have so many genuinely important things demanding their attention that it can be easy for people to sleepwalk into having problems."
"People need to schedule dates together, because the calendar can dominate our lives," Brewer agrees. "The first time I heard someone say that, I thought it was silly. Who wants to be so scheduled in life? However, if you don't do that, then something else is always going to come up. You need to be creative throughout the marriage. You haven't graduated from dating once you've gotten married. That dating and romance need to continue."
Neither Martin nor Brewer have the golden key to divorce rates in Mississippi, though Martin suggests an intriguing sociological possibility. "We value marriage here," she says. "One reason for our higher divorce rate might be that more people get married here, while people in New York City might be likelier to live with each other rather than get married. As a consequence, when people split up here, it's recorded as a divorce."
Brewer sees little infidelity in his counseling of couples, possibly because couples are reticent to confess sexual misdeeds to their pastor. "There is something that developmental psychologists say takes place in the seventh year of marriage," he says. "It's almost akin to a mid-life crisis, where people stop and evaluate their marriage. So that's sometimes where you see the affairs take place."
Martin says that even infidelity does not present an insurmountable obstacle to a long marriage. "With help, hard work and painful honesty, many couples get through it," she says. "Frustration and anger can turn people away from their relationship. Distance grows, cracks start to appear, and then they turn to someone else. It can be so painful that people need help to get through it from what I like to call a marriage-friendly therapist. It is important to learn the messages that the affair holds. What needs were not being met?"
As for why Baptists have the highest divorce rate, Brewer says that faith might make some complacent. "I think that probably one of the major reasons is that people use their faith as a security blanket," he says. "They think that if they both believe in God, then they have nothing to worry about. … Unfortunately, people sometimes think that if they're both Christians, then God will take care of the work of marriage for them."
Martin places the blame on the influence of the mass media, though this does not explain why Baptists in particular divorce so often. "There may be, among all people of faith whatever their denomination, naiveté about the influence of the world," she says. "There is evil and temptation in the world. If we think we're immune because we have faith, we're putting ourselves at risk. We have to keep our eyes open. In our society, all the images are of attraction, not long-term love. I love those romantic movies about falling in love, but the movie always ends once the couple gets married. Hollywood is obsessed with falling in love, but as for real life, which includes the hard work that makes a relationship truly rewarding, it shows little interest. My husband I say that marriage itself is the most romantic story."
Despite the Baptist enigma, both Brewer and Howard Martin see a healthy relationship with God as essential to a successful marriage. "I think we have to recognize that our faith as a couple is not simply an individual thing," Brewer says. "One of the most intimate things a couple can do is pray with one another. It is a powerful thing, as you share your hearts together with God. … God is love, and we can only love one another because of the love of God. The feelings that we have for each other are God's blessings to us. The feelings we have also have to be within the way God wants us to live, but those feelings are gifts from God. We should celebrate them."
"Love God and love each other," Martin adds. "When you're faltering in love, turn to each other. Work and play it out together. Don't be afraid to ask for help. … Sometimes people get stuck in these entrenched patterns and have trouble moving beyond them. A therapist can help couples take a step back from their habits and help them renew their relationship, or maybe even build something better than they ever had before."
As for Valentine's Day, both Martin and Brewer will spend the day with loved ones. "My wife and I will see if we can have a quiet dinner somewhere, and then we'll go back home to enjoy our kids," Brewer says.
"Valentine's is actually my husband's birthday," Martin says, "so we're both taking off work and spending the whole day together."
Previous Comments
ID

79276

Comment

ROFL!!!!

Author

Heather

Date

2006-02-21T16:10:42-06:00
More stories by this author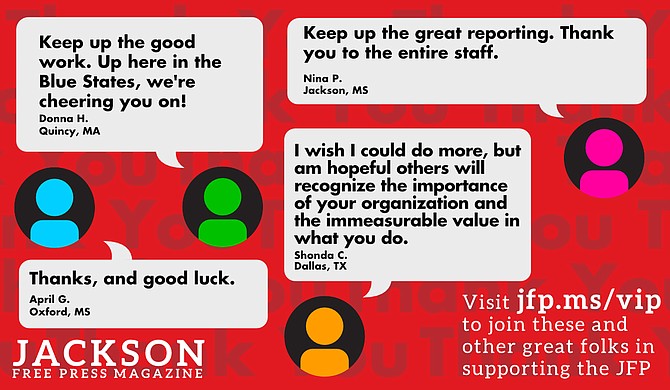 Thanks to all our new JFP VIPs!
COVID-19 has closed down the main sources of the JFP's revenue -- concerts, festivals, fundraisers, restaurants and bars. If everyone reading this article gives $5 or more, we should be able to continue publishing through the crisis. Please pay what you can to keep us reporting and publishing.