The holiday season can be chaotic. In some cases, it turns into a popularity contest: Who gets the most thoughtful gift? Who gets the stock gifts? Who only gets well wishes? Whose party do you attend, and how long do you stay at this one before you head to the one you've been anticipating since this time last year?
If you're sick of all that, consider celebrating Kwanzaa this year to balance out all the hoopla. Half of you right now are probably asking yourself, "But isn't that for black people?" Read on, and see what you think.
Dr. Maulan Kargena, a black studies professor at California State University Long Beach, created Kwanzaa in 1966 at the time of the Black Freedom Movement. (If you asked that question earlier about the holiday being for black people, don't let this unnerve you … please. Keep reading.) The holiday, which lasts from Dec. 26 until Jan. 1, holds family, community and culture as its central tenets, and does not ascribe to any one particular religious background.
Kwanzaa gets its name from the Swahili matunda ya kwanza, which translates as "first fruits." The only reason the holiday ends with two "a"s as opposed to the native spelling is because the celebration is a week long, and the founder wanted there to be continuity between the number of letters in the holiday's name and the number of days it's celebrated. Traced back as far as ancient Egypt, First-fruits celebrations have five fundamental activities: ingathering, reverence, commemoration, recommitment and celebration. Kargenga sought to reaffirm the relational bonds of folks who commune regularly, revere the creator, commemorate the past and honor its people to learn from it, recommit to high cultural ideals and celebrate all things good—ordinary and extraordinary—in family, community and society. The principles that ensure these precepts are observed as Kwanzaa's seven principles: unity, self-determination, collective work and responsibility, collective economics, purpose, creativity and faith.
Since the holiday is a relatively simple one, few things are required, and a little creativity is key. You'll need a table draped with either a red, black or green tablecloth. The colors represent the blood shed by African ancestors, skin color of African descendants and Africa's land, respectively. On the table, place a mat for the centerpiece: a seven-candle kinara with three red candles on the left, three green ones on the right and a black one in the middle. You'll also need a basket or bowl with fruits and vegetables, (in particular an ear of corn for each child in the family, or one for society's children,) and gifts (most suitable are books, other educational resources and handmade crafts). Add artwork and cultural symbols to the table to enrich the beauty of the display.
As each day passes, light a candle in the kinara, beginning with the black candle on the first day, and then alternate lighting red and green ones from the outer-most candles. Each day you light a new candle, observe the next Kwanzaa principle.
On the final day of Kwanzaa, the first day of the new year, imani, or faith, is the focus. On this day, take time for personal reflection. During the final meditation, Kwanzaa observers are encouraged to consider three questions: Who am I? Am I really who I say I am? Am I all I ought to be?
Kwanzaa has roots in African culture, but this certainly does not mean that one has to be of African descent to celebrate it. The ideals and principles Kwanzaa upholds are human worldwide, not just African. Regardless of whether you have African ancestry, however, I urge you to acknowledge the contributions African Americans and other people of color have made and continue to make to our society when celebrating this cultural holiday.
Above all, Kwanzaa is about community, and no part of the human community can live fully when isolated from each other.
The Seven Principles of Kwanzaa and their Swahili names
Day One: Umoja (oo-MOH-jah) or unity
Foundation for success of any kind is unity among family, community, the nation and the world.
Day Two: Kujichagulia (koo-jee-chah-goo-LEEah) or self-determination
Responsibility for self ensures a destiny in which one can be personally proud
Day Three: Ujima (oo-JEE-mah) or collective work and responsibility
Collective work among communities to build up and maintain community
Day Four: Ujamaa (oo-jah-MAH) or collective economics
Building and patronizing stores and other businesses of the community
Day Five: Nia (NEE-ah) or purpose
Restoring a people's traditional greatness, honoring ancestors who have fulfilled their destinies and descendants who will
Day Six: Kuumba (koo-OOM-bah) or creativity
Creativity and imagination are key to advancing one's community and leaving it better for those who come after us
Day Seven: Imani (ee-MAH-nee) or faith
Belief in people—families, the community and its leaders—and further the sanctity of the struggles of African Americans in this country
If your holiday gatherings are anything like the ones I'm accustomed to, you eat. A lot. And while I'm not really one for soul food, I do believe in eating black eyed peas at the beginning of the year—for good luck, of course. Black-eyed peas are one of the many dishes you can make to grub on during Kwanzaa, as a side dish or the entrée. If they're the entrée, I suggest you eat them with broccoli cornbread. Never heard of it? It's a little bit Southern, a little bit unexpected, and the perfect thing to bring folks around the table for a little more together time.
Broccoli Cornbread
1 large onion, chopped
1 10 oz. frozen, chopped broccoli (thawed and drained)
1 box Jiffy cornbread mix
3 eggs slightly beaten
2 cups grated cheddar cheese
1 stick melted margarine
1. Preheat oven to 400 degrees.
2. Melt margarine in 8x8 inch dish.
3. Mix all other ingredients and pour into dish.
4. Bake about 20 minutes or until set.
Previous Comments
ID

90296

Comment

shameless bump

Author

emilyb

Date

2006-12-21T02:05:48-06:00
ID

90297

Comment

Beautiful article. (Trivia: I share a birthday with Dr. Kargena.) One of the things I've heard pointed out many times is that Kwanzaa is a cultural holiday, not a religious holiday, so e.g. it can be celebrated alongside Christmas, Hanukkah, and so forth without syncretism. Everyone I know who celebrates Kwanzaa also celebrates Christmas, as far as I know. Cheers, TH

Author

Tom Head

Date

2006-12-21T02:46:12-06:00
ID

90298

Comment

By the way, I share Natalie's endorsement of Jiffy cornbread mix. It's a little sweet--seriously, you can cook it up as muffins and you've got yourself a dessert--but for stuff like this, it's perfect. My grandmother used it all the time. Cheers, TH

Author

Tom Head

Date

2006-12-21T02:48:07-06:00
ID

90299

Comment

Thank you, Natalie. I had made Kwanzaa decorations and started hanging them in front of the house. I haven't done this year because those things are SHOT! Also, I used to have a dog named Imani. :-)

Author

LatashaWillis

Date

2006-12-26T23:08:27-06:00
ID

90300

Comment

My family celebrates Kwanzaa. It is such a special occasion and I must admit that the teaching of the Seven Principles to our young has been great. The food is spicy and enjoyable.

Author

justjess

Date

2006-12-27T12:20:46-06:00
ID

90301

Comment

I have been celebrating Kwanzaa since my eyes saw this world. When I was younger my family did not recognize Christmas in anyway. We ONLY celebrated Kwanzaa. It's a little difficult now to only celebrate Kwanzaa because personally in my family, my sisters have gotten into Christmas and I can't very well keep my son from family gatherings because I don't celebrate as they do. I have issues with Christmas, the commercialism of it all. However, as I have grown older I have come to realize that the spirit that reigns in the air around this time of year....whether you are a follower of Christ or not is undeniable. It's so different. People let their year long guards down and become more connected. That's why I have accepted Christmas somewhat into my life. When I had my child, it became important to me that he is aware of both holidays as to be inclined enough on both to make a decision for himself once he has a family. I don't do the church service. I don't do the regular Christmas carol thing.....I am not really sure what Christmas traditions usually include. But I do give my child a small token each of the seven days of Kwanzaa to explain, celebrate and enhance his involvement in Kwanzaa, culture, heritage, stregnth and pride. For example on Umoja - we focus on unity....Kujichakalia, we concentrate on self determination. It may be a notebook. It could be pencils. It could be an article from a magazine or a story book that I've retyped and framed for my child to memorize that will assist him in some fashion. Kwanzaa is not a religion thing and most do celebrate both. However, it is very much a black thing. It was created to offer black a pride that was so lacking when we were taught to be christians.

Author

Queen601

Date

2006-12-28T17:00:52-06:00
ID

90302

Comment

Oh yeah and the last day...Imani (Faith) is the BIG day. It's the day that's most compared to Christmas. That was the day when my family would gather and do what most people did on Christmas. That's when the children got their big gifts. THe ones that they really wanted. And for a child the Kwanzaa experience is amazing. I recommend going the full monte when celebrating Kwanzaa. Each day you should greet your family with Habaragani (spelling :-( ) which means what's happening and the answer is whatever that principle of the day is....so that day all day the child is reminded about that principle. ALL day long there's a conversation going about Unity or Collective work and responsibility or Purpose or whatever..... The sense of pride that I was able to gain from being raised on this holiday is unable to be measured.

Author

Queen601

Date

2006-12-28T17:08:01-06:00
ID

90303

Comment

Queen, it sounds like you have had some great experiences growing up. I didn't even know what Kwanzaa was until high school, and I learned about it on TV and in a club at school.

Author

LatashaWillis

Date

2006-12-28T19:21:55-06:00
More stories by this author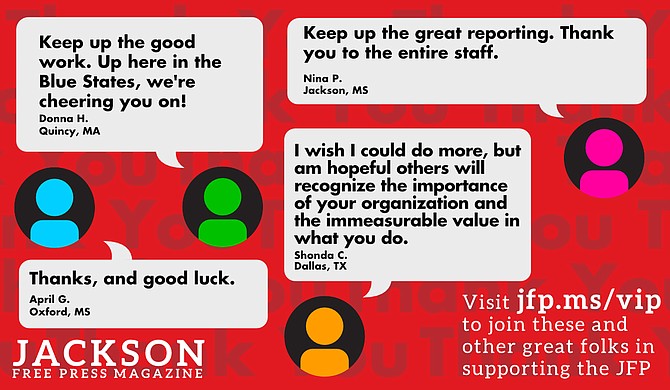 Thanks to all our new JFP VIPs!
COVID-19 has closed down the main sources of the JFP's revenue -- concerts, festivals, fundraisers, restaurants and bars. If everyone reading this article gives $5 or more, we should be able to continue publishing through the crisis. Please pay what you can to keep us reporting and publishing.