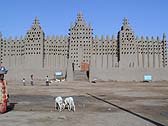 For many people, the land of Timbuktu is a mythological one. They've heard the city's name, but don't realize it's an actual city—an actual society. Timbuktu, less than 10 miles from the Niger River, was established in the 10th century and served as a major port in the country Mali in West Africa.
The International Museum of Muslim Cultures celebrated a grand re-opening on Nov. 28 in their new home in the Mississippi Arts Pavilion premiering "The Legacy of Timbuktu: Wonders of the Written Word." The exhibition gives a wealth of information about this former spiritual and intellectual hub of Mali during the 15th and 16th centuries.
Inside the doors of the museum, a replica—made by engineering students at Mississippi State University—of the Great Mosque of Djenne, a city outside Timbuktu, greets you. The city's first Muslim ruler, Koy Konboro, ordered the destruction of his palace so the mosque could be built in its place. How builders managed to make clay, brick and mud look so glorious is hard to comprehend. Perhaps that's the intricacy of simplicity.
After an introduction to Timbuktu by video, you step into the land of Timbuktu. Upon entering the first module of the exhibition, museum visitors enter a simulated tent made of camel skin. The tent is filled with things you would find in a typical Malian tent: authentic rugs, pillows, tea sets, traditional men's and women's garb, swords and more. The intricate artistry on large leather bread bags is as pleasing to the eye as the ornamented headdress of tent dwellers.
At another kiosk are books written by travelers and explorers who visited Timbuktu centuries ago and documented their travels to this advanced society. One of the most fascinating accounts is that of Ibn Batuta, a traveler from North Africa. In the 14th century, the explorer wrote in his manuscripts about the people of Timbuktu, "Travelers have no more reason to fear brigands, thieves or attackers than settled people do." He went on to name other things he liked about the city, such as their tolerance of other religions. Batuta noted things he didn't like about the city as well including the freedoms women were afforded in Timbuktu. Women's Lib aside, he called the city "a kind of heaven on earth."
Then there's the Sankore Mosque and University of Timbuktu module, where you'll find rare, ancient manuscripts about conflict resolution, governance, social structures and more. The delicate pages of hand-bound books filled with Arabic writing beg you to read them, even if you can't read the language. Seeing the efforts of such hard work is impressive, but even more impressive is the fact that just as much time and care is taken in Timbuktu's contemporary society to make and preserve knowledge.
While Timbuktu remained sub-Saharan Africa's major Islamic center, the eventual demise of Timbuktu as a literary and cultural powerhouse seemed inevitable. First, the Moroccans, who wanted to control the area's economy by taking over the gold trade, invaded the city repeatedly, eventually even invading the schools and robbing the people of Timbuktu of that resource, too. The next big invasion followed in the 19th century when Europeans found their way to Mali, and French colonizers assumed power. With this, the notorious West African slave trade continued under French control with a "black market" slave trade that did not end until 1848. There are actual records of this in the exhibit. Authentic bills of sale for men, women, boys and girls lie inside the plexiglass; and books and journal entries written by Muslim slaves brought to America, even to Mississippi, lie beside them.
You won't leave on a sad note, though. As you turn the corner and head toward the exhibit's end, you'll find an interactive musical component. Believe it or not, Mississippi blues has Muslim roots. Listen for links between the blues and the Muslim athaan—call to prayer. When you're finished, pick up one of the drums or other instruments and see what music you can make, creating your own distinctive blend of two seemingly unrelated worlds.
The Timbuktu exhibit is not what you would expect to see in an art museum, but it is a must-see. History and culture have never met quite like this, and it'd be a shame if you didn't make an opportunity for yourself to be one of the first in the country to see it come together.
The Timbuktu exhibit runs through December 2007. The International Museum of Muslim Cultures is located at 201 E. Pascagoula St. Call 601-960-0440 for more information about the exhibit and museum hours.
More like this story
More stories by this author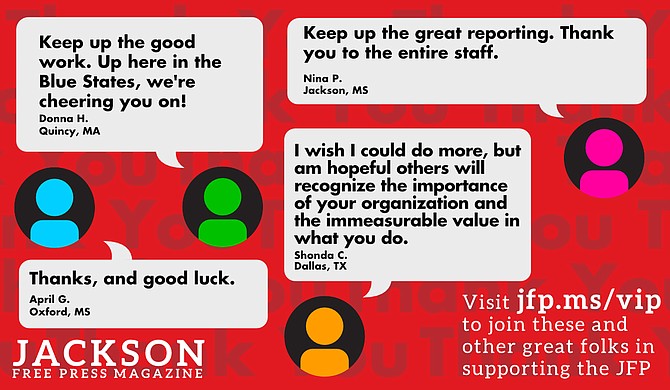 Thanks to all our new JFP VIPs!
COVID-19 has closed down the main sources of the JFP's revenue -- concerts, festivals, fundraisers, restaurants and bars. If everyone reading this article gives $5 or more, we should be able to continue publishing through the crisis. Please pay what you can to keep us reporting and publishing.