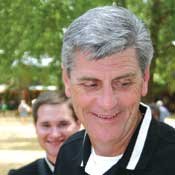 Lt. Gov. Phil Bryant won the Mississippi governor's seat last night, even as the group he co-chairs, Personhood Mississippi, lost its anti-abortion bid in the state.
Stories this photo appears in:
Politics
What a night in Mississippi! With national eyes on us, the biggest news of the night is that the state voted about 40-60 against the Personhood Initiative. Predictably, Phil Bryant ...
The state redistricting process will likely see fireworks in the coming days. On Tuesday, the Mississippi Senate Elections Committee killed a redistricting map approved by the House of Representatives.
Capitol
The Northeast Mississippi Daily Journal reports that Lt. Gov. Phil Bryant wants the voters to decide whether the state should require Voter ID
Senate Republicans chose to kill a political effort yesterday that they've been championing for years because they were unwilling to offer early voting to Mississippi residents.
Millions from the American Recovery and Reinvestment Act will go toward Mississippi's struggling public education system, according to WXVT 15 in the Delta.