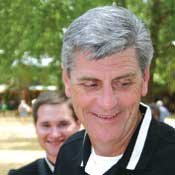 Senate Republicans chose to kill a political effort yesterday that they've been championing for years because they were unwilling to offer early voting to Mississippi residents.
The deadline for committees to consider bills originating in the opposite chamber was March 2, and Republicans like Sen. Merle Flowers, R-Southaven, and Lt. Gov. Phil Bryant stood against the passage of HB 1533, a bill mandating voters carry state-issued voter ID to the polling place.
"Nobody wants photo Voter ID more than I do," Bryant said in a statement yesterday. "I will continue to fight for photo Voter ID to ensure fair and free elections in Mississippi. It was part of my campaign as lieutenant governor and has been the cornerstone in my legislative agenda for the past two years. However I am not willing to back down from my Republican conservative principles and accept early voting and other provisions that compromise fair elections."
The bill passed the House last month after a spirited battle largely between black Democrats and conservative whites, who had amended the bill to specify the voter ID be photo-based after it left the House elections committee.
Supporters for increased voter turn-out loaded the early House version with law changes that extended registration time (even same day registration), returned suffrage to people convicted of certain non-violent crimes, including writing bad checks and adherence to motor-voting laws, which allow motorists to register to vote at the same place they get their drivers license.
Mississippi NAACP President Derrick Johnson said the House bill was an experiment to discover Senate Republicans' true motivation in pursuing voter ID.
"This is proof that Republicans are less concerned about voter ID and more concerned with having a political issue they can use for elections," said Johnson, adding that Republicans would have adopted the bill if were serious about addressing voter ID and less concerned with disenfranchising voters.
Johnson also challenged Bryant to prove that early voting creates voter fraud, calling the lieutenant governor's argument "outrageous."
The Senate Appropriations committee also killed a House bill creating a pilot sex education program in the state. House Bill 234 died in the Senate Appropriations Committee, chaired by Sen. Alan Nunnelee, R-Tupelo. It had already survived the Senate Education Committee, chaired by Sen. Videt Carmichael, also a Republican, of Meridian.
Felicia Brown-Williams, spokesperson for Mississippi Planned Parenthood, said the fact that the bill survived the House and one Senate committee proved the state and its legislators were growing, albeit slowly, to recognize the seriousness of teen pregnancy in the state. A report by the Centers for Disease Control ranks Mississippi with the highest teen pregnancy rate in the nation.
"I hate that the bill died, but this is not the end of comprehensive sex education in Mississippi," Brown-Williams said. "You can be assured of that."
Previous Comments
ID

144346

Comment

While I am glad that the voter ID bill was defeated, however, I am embarrassed as a Mississippian that the Republicans choose to find ways to prevent this state's voters from having other options. There is absolutely nothing wrong with early voting. Look at how many people participated in early voting in places like Florida and North Carolina during the presidential election. I hadn't heard of any organized attempts of voter fraud in either state. Imagine if early voting wasn't available there. How long would those lines have been on Election Day? Again, what is with the Republicans' (state and national) obsession about voter fraud? That's a rhetorical question and the reasons why are numerous, but the fact is that voter fraud is extremely rare and those who are caught are often found before any voting takes place. There might be more people who get struck by lightning than there are those who actually commit voter fraud. Despite their best efforts to keep people from voting, the GOP was soundly defeated in November. I wish that this state's leaders will stop thinking that we're stupid and bring us out of the dark ages by being agents of positive change, rather than continuing to pander to people's fears and make them fear modern times.

Author

golden eagle

Date

2009-03-04T21:13:55-06:00
ID

144352

Comment

Some version of it will pass one day.

Author

Jeff Lucas

Date

2009-03-05T07:11:07-06:00
ID

144392

Comment

As to the Republicans' obsession about voter fraud -- well, I guess that's what people who steal elections worry about.

Author

chaffeur

Date

2009-03-05T17:05:04-06:00
More stories by this author
Support our reporting -- Follow the MFP.