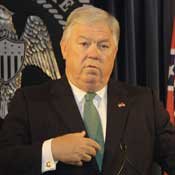 Barbour is calling a special legislative session to discuss economic development projects.
Stories this photo appears in:
Gov. Haley Barbour is calling a special session of the legislature Friday to approve one or two large economic development projects.
Person of the Day
"To the Freedom Riders yourselves, our state does celebrate and thank you for your courage, your commitment, your suffering and your sacrifices of 50 years ago. We apologize to you ...
Gov. Haley Barbour warned the state yesterday that the typically languid waters of the Mississippi River could crest the middle of next month at 53.5 feet in Vicksburg, 10.5 feet ...
In an exclusive interview with the Jackson Free Press, Mississippi Gov. Haley Barbour has broken with the Republican Party's tough-on-crime stance to press state legislators for an end to the ...
Education
A showdown may be gearing up between the Mississippi House of Representatives and Gov. Haley Barbour on the use of $65 million in federal funds for public education this year.
Capitol
Mississippi NAACP President Derrick Johnson is asking Gov. Haley Barbour to condemn the Mississippi Sons of Confederate Veterans' push to create a commemorative license plate for Confederate General and the ...
Talk
Every year, the JFP staff revisits the big newsmakers of the year to recap the "most intriguing" Jacksonians to make the news. Some are heroes; others are, let's face it, ...
Oil Spill
Mississippi Gov. Haley Barbour shifted his support for a $20 billion escrow fund that BP agreed to set up to compensate Gulf State victims filing claims for losses due to ...