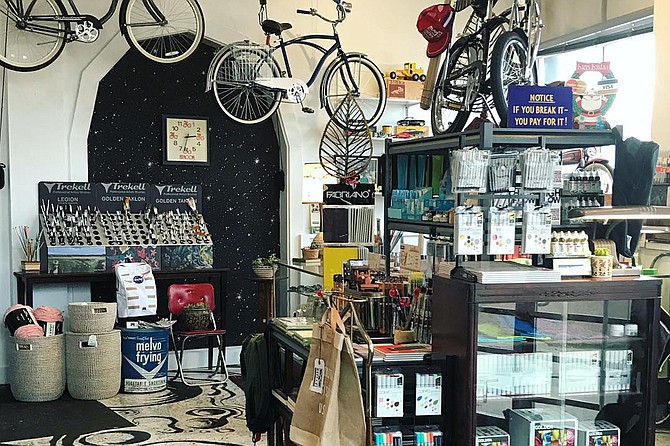 Jackson natives Nicole Wyatt Jenkins and Jason Jenkins opened Beacon (3030 N. State St.), which they describe as a "consciously curated, quality goods and creative supply shop," on Dec. 7 last year. The shop occupies the ground floor of the former Fondren Art Gallery location.
"The Beacon is a modern general store with items for creative spaces and plenty more," Nicole told the Jackson Free Press. "When we say 'consciously curated goods,' we mean that we're very intentional about our offerings and making sure we know where it came from and who made it, as well as making sure the people who made it are fairly paid for their work. The products we sell are artisan-made, locally crafted, small-batch offerings."
Beacon offers soy candles, cutting boards, porcelain cups, jewelry, bicycles, vintage goods, home decor, skin-care products such as moisturizer, skin oil, balms and beard oil, and fine art supplies such as fountain pens, paints, brushes, canvases and notepads.
The business also carries food items such as pancake mix from MsPatticakes in Jackson; kombucha, kimchi, sauerkraut and fermented mustard from Sweet & Sauer; "Crop to Pop" popcorn from Six Mile Farms in Tribbett, Miss.; Delta Blues Rice from Ruleville, Miss.; and chocolates from Xocolatl Small Batch Chocolate in Atlanta.
Beacon occupies the front half of the space, while the back houses the Jenkins' art studio and gallery, Unbound Studios. Jason, a multi-media artist, is planning to host his first art show in the studio within the next four months, which will be titled "Tales of the Lost Astro Trooper." Nicole is a fiber artist who focuses on weaving, macrame, embroidering, crochet, wall hangings and plant hangers.
"We felt this was something we could do to fill a need in community," she said. "We were tired of ordering our art supplies off the Internet, and we knew that many local artists felt the same. We wanted to be able to connect the makers to their community through locally made art supplies and traded goods. We also plan to start using the Unbound gallery space for workshops to teach art classes."
Beacon's normal hours are Wednesday through Saturday from noon to 7 p.m., and Sundays from noon to 5 p.m. For the week of Valentine's Day, the store will be open every day and will offer specials on chocolates, food items and gift sets. For more information, call 601-919-7477, visit unboundstudios.org or find the shop on Instagram at @beaconsupply.
La Brioche Opens in Museum Cafe
The Mississippi Museum of Art announced on Feb. 8 that La Brioche Patisserie would take over the Museum Cafe, which reopened on Dec. 9 last year following renovations at the museum and the departure of Executive Chef Nick Wallace. The original location of the family-owned, French-style bakery opened in the Fondren Corner building in 2013 and will remain open.
"The museum approached us just before Christmas last year and told us our bakery would make a refreshing addition," Patrik Lazzari, who co-owns La Brioche alongside wife Cristina Lazzari and pastry chef Alejandra Mamud, told the Jackson Free Press. "The museum and the Art Garden there are peaceful, beautiful places that will suit us well, and this will also let us branch out and offer savory items we normally only do for catering thanks to having a larger location."
La Brioche will open for lunch at the Mississippi Museum of Art (380 S. Lamar St.) on Friday, Feb. 16, and begin serving breakfast on Saturday, Feb. 17. The breakfast menu will include ham and cheese croissants, mini souffles, bacon and egg brioche, yogurt parfait and more. For lunch, La Brioche will have a turkey and brie sandwiches, muffalettas, prosciutto and mozzarella sandwiches, turkey and provolone wraps, and hummus and eggplant wraps, as well as salads such as kale and salmon, spinach and beet, and arugula and prosciutto.
The cafe will also sell desserts such as petit fours, macarons, cheesecake bites, cookies, cream puffs, gelato, sorbet and more. The museum location will also feature gourmet espresso and coffee throughout the day and will be open late for special museum events. La Brioche will also handle all catering for breakfast and lunch events at the Museum of Art.
"We've always wanted to be downtown and be part of its growth, so it was great news when the museum reached out to us about this," Cristina said. "A lot of what we do at La Brioche is artistic work with sugar and chocolate, and we also now have a venue where we can be open later and host events that combine music, pastries and art."
La Brioche's museum location will be open Tuesday through Saturday from 8 a.m. to 3 p.m. The breakfast menu will be available from 8 a.m. to 11 a.m., and lunch will be from 11 a.m. to 2 p.m. The museum doors will open to the public at 8 a.m. to accommodate La Brioche's breakfast service, but the galleries will still remain closed until 10 a.m.
For more information, call 601-960-1515 or visit msmuseumart.org.
Crunch Fitness Coming to Ridgeland
Crunch Fitness (2000 E. County Line Road, Suite A, Ridgeland), a national fitness-gym brand with 145 locations nationwide, will open one of its first Mississippi locations in the Jackson metro area by early April. The company will also be opening gyms in D'Iberville and Long Beach, Miss.
The 32,000-square-foot facility will offer cardio, free weights, an indoor turf track for sprinting, punching bags, high-intensity interval training, group cycling and fitness classes, personal and small group training, a relaxation zone with tanning and hydro massage facilities, and more.
Crunch is also partnering with dotFIT, a supplement and nutrition-product provider, to offer nutrition planning and supplement services. Crunch will have personal trainers on staff that will help visitors create individualized fitness plans that encompass nutrition, supplements and physical training.
"We're excited to bring the Crunch brand to Mississippi because it brings fun to fitness," General Manager Chris McWilliams told the Jackson Free Press. "We're going to have exciting and fun classes we don't have around here now, like our combative and interval-training zones. Those are going to feature punching bags, battle ropes, tire flips, sled pulls, monkey bars and more."
Crunch Fitness will be open Monday through Friday from 4:30 a.m. to 10 p.m., and Saturdays and Sundays from 7 a.m. to 8 p.m. Visitors will be able to choose from four membership options for $9.95, $19.95, $29.95 and $49.95, with the upper membership levels allowing visitors to bring one guest per visit for free. All levels above the base option will also give members access to Crunch gyms around the country.
For more information, call 601-360-8080 or visit crunch.com/locations/ridgeland.
More like this story