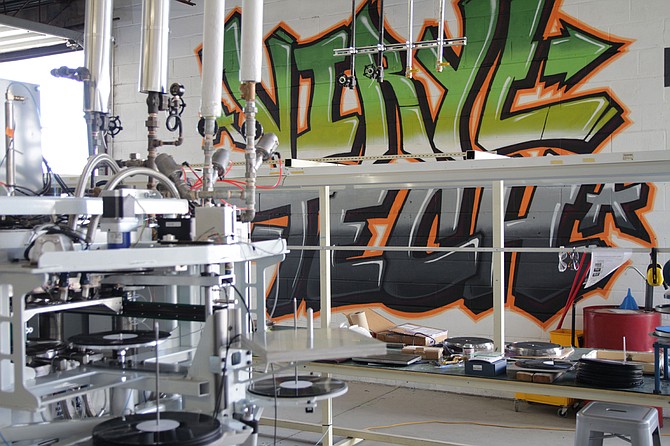 Vinyl is back. At least, that's been the experience for Jackson singer-songwriter Jason Daniels, frontman of the Jason Daniels Band. In November 2015, he decided to invest in a vinyl re-release of his 2013 debut, "Dashboard Visions and Rearview Reflections," purchasing 1,000 LP copies.
"As far as a medium for distributing music digitally, the CD is kind of dead," he says. "It's nothing but a fancy business card. With all the streaming services such as Spotify and all the others, there's no reason to buy music unless you are serious about the audio quality of the music. Vinyl LPs provide an experience that's unique from the other mediums."
That has also been the consensus that consumers have gleaned from the media for the past few years. In December 2016, The Washington Post even published an article titled, "Vinyl surpasses digital sales in some music markets. Time to ask Santa for a turntable?"
However, that title tells only a sliver of the story. The Post article states that there was industry growth overall last year, and in Britain, vinyl record sales beat digital downloads over one week in 2016, but the vinyl revival isn't necessarily as expansive as some may think.
The Recording Industry Association of America's 2016 midyear report says that in the U.S., all physical-format music values were down 14 percent from the first half of 2015. Within that, vinyl sales in the U.S. only accounted for about 6.2 percent of all recorded music revenue in the first half of 2016—down 6 percent from the previous year. An uptick is not a takeover.
At the same time, these kinds of revenue-tracking systems only show a portion of what's happening in the music industry—as the RIAA website states, it "represent(s) some of the most iconic record labels ... behind today's most popular artists." The numbers don't always reflect the world of independent artists like Daniels.
Hand Drawn v. 'Digital Hangover'
Dustin Blocker, the chief creative officer of Hand Drawn Records and Hand Drawn Pressing in Dallas, Texas, is a big believer in vinyl records and the impact they can have on emerging artists. Blocker, who is an independent musician himself, started the label arm of the business about five years ago, and his business partner, Chief Operations Officer Alex Cushing, joined in 2014.
"We identified vinyl as kind of working with the ethos of the company, Hand Drawn Records, and also of course a huge need in the market, and something we were excited about," Blocker says. "So we got into the game actually as brokers in 2014, just to simplify the ordering process for musicians. That's how we learned the best mastering houses, the best print people, and of course, the process of pressing vinyl records."
In early 2016, the team at Hand Drawn decided to put a greater focus on vinyl, purchasing a space in Addison, Texas, to house its own record-pressing plant, Hand Drawn Pressing, which officially opened in the first week of January 2017. There are about 25 active pressing plants in the U.S., and many of those use older or refurbished pressing machines. Hand Drawn, on the other hand, is an early adopter of a new design called the Warm Tone record press from Viryl Technologies in Toronto.
"There's a couple big (differences), and most of it is on the 'brains' itself," Blocker says. "It essentially has an operating system that was built just for the press, but it's a microchip versus old valves. The way that you make a really great record is going to be the temperature of the steam and the cooling water that (also) has an instant coolant, as well as the pressure that pushes down on the mold to make the record. If anything in those three pieces goes awry, you get a lot of defects, and the reject rate is somewhere typically, in the older presses now, about 30 to 40 percent, whereas this one is about 1 percent."
That has a huge effect on the turnaround time for orders, the uptime for the machine and the waste of materials, he says. While Blocker wouldn't speak on the cost of purchasing two presses from Viryl Technologies, he says the Canadian tech startup partnered with Hand Drawn to make sure the label had the proper infrastructure in place to make its plant successful.
Blocker says that he sees a few reasons why some consumers are investing in vinyl again, but one of the biggest factors is "digital hangover."
"Everything's so fast and easy and cheap," he says. "A friend of mind in a different label actually said, 'People don't even want to buy your mp3s. They just want to rent 'em.' So, you can't make any money (on downloads) as an independent artist for sure."
For consumers, he says, there is the perceived improvement of sound quality on vinyl, but perhaps more importantly, there's the human nature of wanting to physically own something that they care about.
For artists, the benefit of selling a vinyl record is more pragmatic: They can actually get enough money from sales to make it to the next town, he says. Even if an independent artist a limited run of LPs for around $6 to $8 per copy, Blocker says he or she can sell that copy for $15 or $20 without anyone balking at the price.
"Yes, it's cheaper to buy a CD, but 0 percent of zero is zero," he says. "If you can't sell a CD and have to give it away, you essentially just poured that money you paid for CDs down the drain. With a record, I always like this one that somebody told me, as well: 'Has anybody every handed you a 12-inch LP, and you just thought it was free?' It happens with CDs and download cards, but there's something about that 12-inch where you go, 'This is worth money. I have to purchase this or put it back.'"
Finding Value in Vinyl
Daniels says that in his experience, people who appreciate vinyl records actively seek out and purchase music in that format, which isn't necessarily the case for those who stream or download "Dashboard Visions and Rearview Reflections," often finding it by chance through an algorithm-based playlist.
"If somebody buys your LP, they value your music," he says. "... If people download or stream your music, it's passive. There's no investment there."
Despite the higher cost of the LP, though, Daniels says he has never seen a concertgoer react negatively to the increased price since those who want it for free can essentially get it for free elsewhere. "If they're willing to buy your record, they are already willing to pay for vinyl," he says.
While vinyl will be a priority for him on his eventual follow-up album, he says that making the jump to a vinyl-only release isn't possible for an independent artist in the modern music industry.
"I'm not Taylor Swift," Daniels says. "I'm fighting hard for exposure, so you know, I can't say my new album is not going to be on Spotify or any of that. Basically, for an independent artist, recorded music is a vehicle to hopefully put some butts in seats at your shows. People used to go on tour to promote their albums, and while that's valid—having a new album is a strong way to promote yourself and to get press and airplay because it's something new—ultimately, recording is that you're just putting songs out there. Hopefully, people like it and come to your shows.
"You know, I really hope vinyl continues to grow," he says. "...Vinyl is a true listening experience, and you won't get it from any streaming site or digital download."
More stories by this author
Support our reporting -- Follow the MFP.