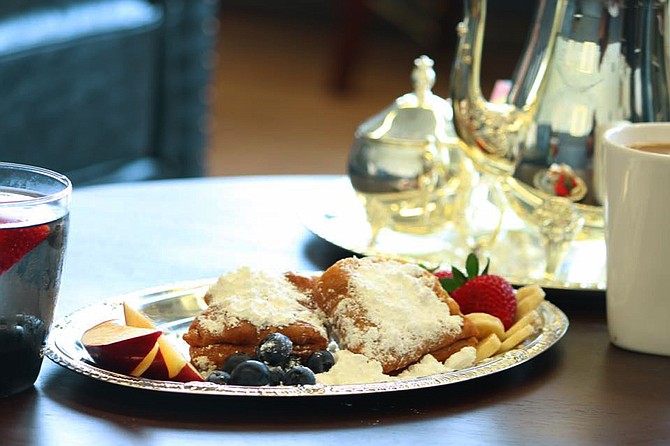 New Orleans native C.J. "Beignet" Black grew up eating beignets at the famous Cafe Du Monde in New Orleans' French Quarter and dreamed of starting a restaurant when he grew up.
His original idea was to bring Cafe du Monde to Jackson, but that plan didn't pan out. He spent years developing his own recipe for beignets, which he calls his "24-karat glaze," and opened Better Beignets out of his home in Jackson in summer 2016. Black has so far focused on making beignets in his home kitchen and delivering them to businesses and organizations such as the Mississippi Development Authority and college campuses such as Millsaps College and Belhaven University or making them onsite at events such as Fondren's First Thursday.
Originally, Black and his business partners, Sean Joseph, Laura Jean Kerr and Emerson Brundick, planned to open a storefront for Better Beignets inside the former location of La Finestra in downtown Jackson, but now the plan is for Better Beignets to launch as a food truck.
"We hope to be up and running with a custom bus by April (or May of) this year," Black said. "This way, we'll be able to stay mobile and distribute our product all around the metro."
Better Beignets offers standard beignets in addition to special variations such as chocolate, Nutella, strawberry and what Black calls the "Game Changer," a breakfast sausage sandwiched between two beignets as buns. Better Beignets has also partnered with Mississippi Cold Drip to provide coffee.
For more information or to make an order, call 504-210-5337, email [email protected] or find Better Beignets on Facebook.
Barrelhouse Opens
Jackson Realtor Marty Clapton opened his new bar and grill, Barrelhouse (3009 N. State St.), in Fondren this week inside a 5,000-square-foot space that once held Castle House Antiques. Clapton has brought in Andrew Kehoe, formerly of Fondren Public, as general manager and Stephen Kruger, formerly of Babalu Tapas & Tacos and Table 100, as executive chef.
Barrelhouse's menu features dishes such as tuna nachos with Ahi tuna, avocado, seaweed salad, sesame seeds, wonton chips, Hawaiian sauce and a spicy aioli; and beef, pork or chicken meatballs with a choice of tomato sauce, parmesan cream sauce or pecan-basil pesto sauce. The bar has draft beers, wine, and bourbon- and whiskey-based cocktails.
The restaurant also has a covered outdoor patio, a central stage for music performances on weekends and a bar made from reclaimed Mississippi Delta cypress wood.
Barrelhouse is open Monday through Friday from 4 p.m. to midnight, and Saturdays from 11:30 a.m. to midnight. The kitchen closes at 10 p.m. each night while the bar stays open until at least midnight. For more information, call 769-216-3167 or visit barrelhousems.com.
New Big Apple Inn at Metrocenter Mall
Today, Feb. 28, Metrocenter Mall became the home of a new location for Jackson's famous Big Apple Inn with the soft opening of a third location inside the mall's food court. The original location opened on Farish Street in 1939, and the second opened on North State Street in 2004.
The opening of the new Big Apple Inn, together with new locations for Stamps Superburger and several other local restaurants, is one element of the mall's "Support Jackson. Shop Jackson. Metrocenter." campaign. The campaign is focused on transforming the mall from a once-a-month shopping destination to a provider of goods and services that neighborhoods need regularly.
Geno Lee, the fourth-generation owner of Big Apple Inn, hopes that the opening of the new restaurant will go a long way towards revitalizing the Metrocenter.
"I worked my first job at the Metrocenter more than 30 years ago and want to help bring business back there," Lee said. "We're (one of) the oldest restaurants in Jackson, so there's always been a big buzz whenever we open up somewhere."
Lee plans to keep every part of Big Apple Inn's menu intact at the new location, with his goal being to make the restaurant's signature items readily available to people in the area. Metrocenter plans to host a grand-opening event for all of the restaurants after they have opened.
The Metrocenter Big Apple Inn is open Tuesday through Saturday from 11 a.m. to 7 p.m. For more information, call the main Big Apple Inn location at 601-354-4549 or find the restaurant on Facebook.