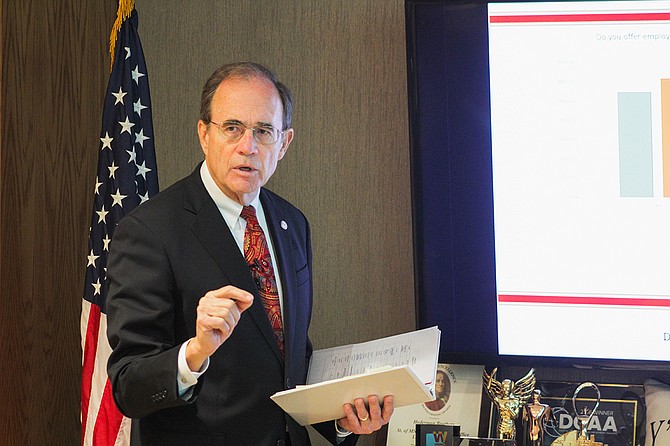 JACKSON — Mississippi's businesses are ready to expand but most cannot because they cannot find educated employees to help make it happen, a new survey of 1,800 business owners in the state shows. Secretary of State Delbert Hosemann conducted the nine-question survey on business needs, employee qualifications and business barriers in November, finding that about 75 percent of them found it moderately to significantly difficult to assemble an educated workforce.
"It's as clear as the nose on your face that Mississippi businesses, thousands of them, would expand today if they had the workforce to do so," Hosemann said. Nearly half of the businesses that responded to the survey said they would expand if they had an educated workforce.
The survey also found that more than 50 percent of Mississippi's limited-liability companies and corporations require employees to have at least a high-school diploma or GED, meaning that 50 percent of Mississippi companies require a two-year, four-year or master's degree—a national trend that has now come to Mississippi, Hosemann said. He wants more state programs that integrate junior-college coursework into high schools such as the ones in Gulfport and Vicksburg allowing students to get a high school and a community college diploma simultaneously.
Businesses estimated that half the time, they can only find qualified employees in zero to three months, and it takes between three months to a year or longer to fill positions about 50 percent of the time.
"This particular one is troubling," Hosemann said of the hiring time. "That again is indicative is that we have to have technically skilled employees."
More than 70 percent of businesses said new hires must be at least somewhat to very technically skilled to work for them. About 55 percent of businesses offer educational incentives, on-the-job training or tuition support.
Business owners identified "community support" as the second most important thing to them far above infrastructure, tax incentives, consumer and competitor information, transportation, insurance, and other concerns.
"You hear a lot of discussion about this," Hosemann said. "'Oh, it must be tax incentives,' 'Oh it had to be this,' 'It had to be that.' No. It's whether or not your community wants you to be there."
Infrastructure ranked seventh out of the 14 options for what business owners considered important. Hosemann pointed out that infrastructure is expected to be a benchmark of the 2018 Mississippi legislative session. State and local government incentives did not even make it into the top 10 in this part of the survey, with 3 percent of the vote. State tax structure was also on the bottom, barely amassing 5 percent.
However, things may change in Mississippi, considering the new tax incentives expected to come along with the GOP's tax overhaul, including reducing the corporate tax rate from 35 percent to 20 percent. Hosemann said that this year his office created more than 22,000 new LLCs in Mississippi, mainly small businesses, but he expects more soon.
"I anticipate with the federal tax structure changing that we will have a boom in that, and we are prepared for that," he said.
Hosemann also said that now that his office is digitized, it is "uniquely positioned" to take advantage of the federal tax change, so long as he gets the educated workforce necessary to help businesses along.
The survey also shows that Mississippi businesses see serious room for improvement in helping businesses get started in the state. More than 70 percent of those surveyed said that they did not get any help from a local chamber of commerce, an economic-development entity, local government, or a community college or university when they began their endeavors.
"Most Mississippi businesses didn't receive help from anybody," Hosemann said.
Email city reporter Ko Bragg at [email protected].
Support our reporting -- Follow the MFP.