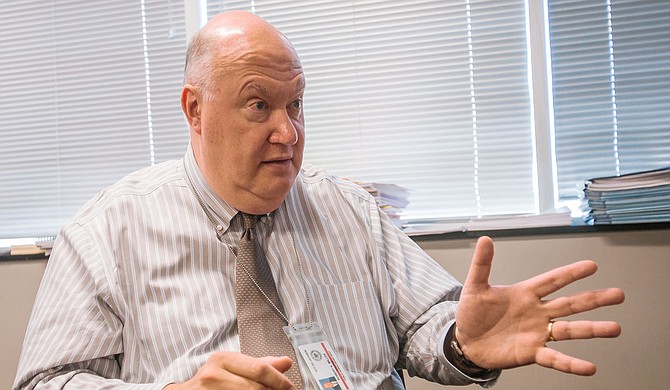 JACKSON — The City of Jackson has been going through a long, public and drawn-out break-up with the West Rankin Utility Authority since WRUA received a permit to create its own wastewater treatment, pulling out of an agreement to use the Jackson's Savanna Street Wastewater Treatment Plant.
In 2015, the City filed an appeal that has since gone all the way to the Mississippi Supreme Court to try to get that permit blocked. But, under the advisement of the new public works director, Bob Miller, the Jackson City Council voted Dec. 19 to voluntarily dismiss the appeal to the Mississippi Supreme Court in an effort to show good faith and get its Rankin client back before its suburban counterpart constructs a new facility and turns its back on Jackson for good.
To borrow from imagery in the 1980s romantic comedy "Say Anything," the City is essentially standing outside the WRUA's window with a boombox, hoping everyone can make amends that would ideally involve WRUA dropping its 2015 lawsuit against the City and continuing to use the Savanna Street plant.
Two Lawsuits, and a Decree
The Mississippi Environmental Quality Permit Board issued a permit to WRUA on April 14, 2015, allowing it to discharge treated wastewater into the Pearl River, disconnect from Savanna Street and build its own treatment facility.
After the City called a hearing for reconsideration in September 2015, the permit board affirmed that WRUA could continue with its permit. At WRUA's request, the case ultimately transferred to Rankin County where the permit was upheld on January 19, 2017.
The City's Mississippi Supreme Court appeal, dated Aug. 9, 2017, alleges that WRUA's new permit allowing it to dump into the Pearl River itself would cause degradation of the water and that its new treatment plant to make that possible would be less than 1 percent different than the costs to continue using the Savanna Street facility. The City also points to the socioeconomic impacts its citizens would face if WRUA pulls out of the regional agreement. In earlier court documents, the City argued that parts of Madison County that send its water to Savanna Street could also feel a negative economic impact.
In response, WRUA points to the consent decree the City of Jackson entered with the Environmental Protection Agency in November 2012 for the Savanna Street plant and others to come into compliance with the Clean Water Act. WRUA began the process to obtain a permit as early as 2011 and said in its response to the Supreme Court appeal that it "clearly demonstrated why it should not be required to stay connected to the failing Savanna Street plant where the cost for compliance with a federal consent decree remains unknown."
Notably, WRUA filed a separate lawsuit in May 2015 for breach of contract by the City of Jackson, claiming that it over-charged West Rankin for sludge removal. WRUA also seeks a judgment that its allocation should "only be a minor portion of the costs" because the sludge problems "predate the authority more than 20 years." WRUA declares in the court documents that it is "neither responsible for nor obligated to pay for costs associated with remedying the City's years of sludge mismanagement..." WRUA also disputes "costs the City has charged and is attempting to charge" to remove the sludge the consent decree requires.
WRUA says it pays for routine wastewater treatment associated with sludge, but rejects costs to correct the city's mismanagement. West Rankin says it performed its own independent audit and claimed it would have paid a smaller baseline payment "if the City had followed reasonable and prudent management practices."
What's Next?
At the Dec. 19 Jackson City Council meeting, Public Works Director Bob Miller recommended "unequivocally" they drop the Supreme Court lawsuit to provide "good faith action that provides basis for new discussions with the West Rankin Utility Authority to retain them as a customer," he wrote in a briefing memo to the council. "Continuing to oppose the WRUA's (permit) will continue to antagonize them...," Miller wrote.
In an interview after the meeting, Miller said that since coming to Jackson, he assessed that it would be in everyone's best interest for the City to improve a deteriorating relationship as a service provider rather than litigate.
"They are on a track to leave, and what I want to do is, as a business service provider, to make sure that we provide them with a good choice," Miller said. "I want to provide them with a different relationship and more reliable service and more predictable pricing."
Both Miller and the WRUA's lawyer, Keith Turner, confirm that neither entity has had formal discussions with one another of late. Turner said it would be up to the board to decide if it will continue with the new plant and that it will likely discuss it at the next WRUA board meeting on Jan. 8. The City still must an official dismissal. Turner says he is not sure if having a new public works director in place with the intention to remedy the situation outside court will change the board's mind, but said that he likes Miller's track record so far.
"As a citizen of Jackson," Turner said. "I'm glad to see Mr. Miller's actions in a lot of different areas. I think he's doing a great job."
Email city reporter Ko Bragg at [email protected].
Support our reporting -- Follow the MFP.