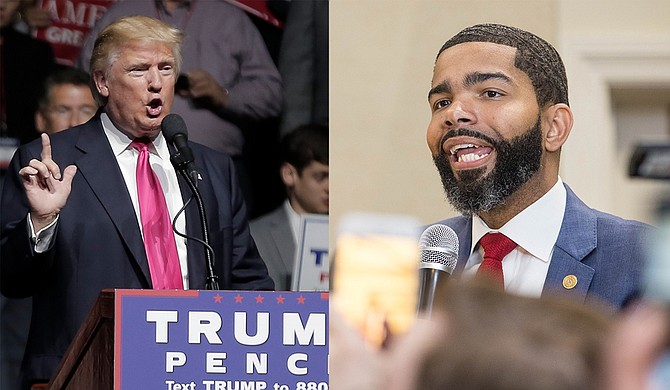 JACKSON — President Donald Trump is not scheduled to speak during the opening ceremony of the Museum of Mississippi History and the Mississippi Civil Rights Museum this Saturday. He will instead offer his remarks at a private event inside the museum to civil-rights veterans, museum patrons, elected officials and "a representative small group" of the media, a White House spokesperson confirmed. Trump will be the first person to tour the museums on its official opening day.
The president will touch down Saturday morning at the Jackson-Wiley Evers International Airport and greet press before heading to the two museums downtown. Though he is not slated to do any press interviews, the White House confirmed he will offer remarks after a brief tour at a closed ceremony less than an hour before the public event begins.
The president is scheduled to tour the museum for approximately 17 minutes before remarks from the governor and the president begin at their private event.
The public ceremony, however, is slated to begin at 11:10 a.m., with Gov. Phil Bryant giving remarks. Former Gov. William Winter will introduce Myrlie Evers, Medgar Evers' widow who told The New York Times this week about Trump, "I hope in his coming there will be an opportunity for him to learn something. ... If God gives me the breath and the strength, I will address his attendance when I stand to speak."
Govs. Bryant and Haley Barbour are scheduled to hold the doors as Evers and students enter the museums. Other speakers include Lt. Gov. Tate Reeves and Speaker Philip Gunn, Reuben Anderson, Kellogg Foundation President and CEO La June Montgomery Tabron; Katie Blount, director of the Mississippi Department of Archives and History; Congressman Gregg Harper and U.S. Sen. Roger Wicker.
Outside the official opening program, some officials are gearing up to make a statement about the president's visit through their absence. Earlier this week, U.S. Reps. Bennie G. Thompson, D-Miss., and John Lewis, D-Ga., issued a joint statement expressing their decision not to attend the two museums opening because of President Trump.
"President Trump's attendance and his hurtful policies are an insult to the people portrayed in this civil rights museum," the statement read.
Mayor Chokwe Antar Lumumba told the Jackson Free Press in his office Friday morning that he will boycott the opening to which he had been invited to attend, but without a speaking role, which is part of the reason the mayor will not attend.
"There's people who are going to go who have an opportunity to say words," Lumumba told the Jackson Free Press. "Seeing that I would not have the opportunity, I did not want to give the appearance that I was complicit with his actions to date."
To honor civil-rights heroes and the museum opening from a distance, Mayor Lumumba will host a joint press conference at the Smith Robertson Museum at 9 a.m. on Saturday alongside Rep. Thompson, civil-rights veterans, and Derrick Johnson, the national president of the NAACP, who is from Jackson.
"The opening of the Mississippi Civil Rights Museum, the nation's only state-sponsored civil rights museum also marks the recognition of 200 years of struggle in the state of Mississippi," the statement reads. "So, it is only befitting that on this day of celebration to pay tribute to the sacrifices made for equality and civil rights and address the contradiction of President Trump's attendance at the opening celebration."
The mayor said that he was not "casting judgement" on anyone who chooses to attend the opening, nor is this a boycott of the museum itself. Lumumba is rejecting being part of a "photo op" with President Trump because "(Trump) doesn't demonstrate a commitment to uplifting human rights, civil rights, and women's rights," he told the Jackson Free Press. Mayor Lumumba said, however, that he is not opposed to a meaningful conversation with him in the future.
"I'm not even a person who's against meeting with Donald Trump," Lumumba said in the interview. "You know first and foremost, the responsibility I have as mayor, if I have the opportunity to have a discussion to raise the issues of citizens I will do that. But I'm not going to be a part of a photo op, and that's just a principled stance of mine."
Email city reporter Ko Bragg at [email protected].
Like independent media outlets around the world, the Jackson Free Press works hard to produce important content on a limited budget. We'd love your help! Become a JFP VIP member today and/or donate to our journalism fund. Thanks for considering a JFP VIP membership or one-time support.