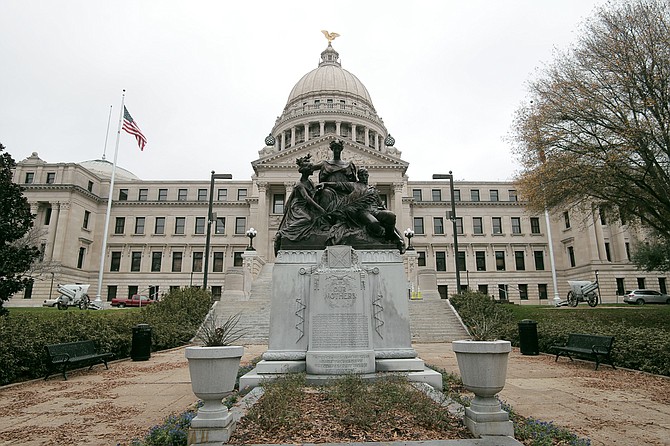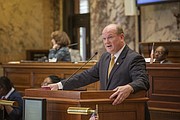 Success in a legislative session means different things to different people. As legislators, we arrive in Jackson each year determined to advance issues that are important to our constituents and the state. Debating the merits of these bills and their passage into law are not always one in the same. Sometimes it is important to just start the conversation. Once the conversation gets started, good policy can result in the years following. This was the case with charter schools, school consolidation, appointed superintendents, criminal-justice reform, and the Lonnie Smith Act, which I authored to strengthen our child-abuse laws.
In each of the past four legislative sessions, we have sent more than 300 bills to the governor's office for signature. This session, approximately only 189 survived, and we still have unfinished business to address in a special session.
Despite those that are saying that this session was a "waste" or "ineffective," I ask them to consider the following:
Republicans made a promise to trim state government and lower taxpayers' debt burden in fiscal-year 2018, and we kept this promise.
With revenue not meeting projections, which led to reductions in agency spending, we still managed to prioritize the funding of public education and public safety. This year's budget includes $20 million for a School Recognition Program, which honors teachers for raising student achievement. It also includes money to fund a new school for our state troopers.
We increased penalties for people who commit crimes against police, firefighters and emergency responders.
We made it easier for domestic-violence victims to get divorces.
Several bills that were the result of years of debate and compromise between the House and Senate passed this session. Here are some examples.
Campaign Finance Reform
Senate Bill 2689 was a compromise of legislation that brought the Senate's tougher restrictions on spending and additional provisions for transparency together with the House's stronger enforcement component from the Ethics Commission.
We sent multiple good bills to the House, many that my Senate colleagues passed unanimously but the House decided not to discuss and killed for whatever reason. The "BP Bill" and "Gang Bill" both suffered similar fates this session.
BP Bill
This bill was an important step in keeping BP dollars on the Coast and establishing a process for the distribution of these funds. We have known since the end of session last year that this issue would come before us, and the Senate worked diligently to put forth an acceptable piece of legislation. It passed the Senate unanimously and had the full support of Gov. Phil Bryant and Lt. Gov. Tate Reeves. Due to the House's inaction, we are once again without a definitive process about how these funds should be used and allocated. On the plus side, $9.5 million of the $109 million currently sitting in the state's account was allocated to projects on the Gulf Coast that will improve Keesler Air Force Base and the Mississippi Oyster Restoration Project and establish a National Center of Excellence for Diabetes and Obesity Research.
Gang Bill
We desperately tried to work across the aisle to arrive at legislation that addresses a significant problem in the state of Mississippi: gang recruiting that is damaging our state's youth. From Jackson County to DeSoto County, prosecutors and investigators are dealing with this problem. This legislation was supposed to give them a tool to aid in this work. Yet it died in the last hours of the session in the House.
Despite these setbacks, we did come together in the end as a legislative body to pass some important measures and continued the dialogue on others.
Medicaid Reform
As Medicaid Committee chair, I was proud to introduce and see a significant reform bill go to the governor for his signature. The Medicaid and Human Services Transparency Act, also known as the Act to Restore Hope, Opportunity and Prosperity for Everyone, is a clear victory for those who have been fighting to end Medicaid fraud. It protects this important program for those who are truly eligible by giving state employees new tools to eliminate fraud. It also saves Mississippi—and federal—taxpayers millions a year by verifying the right people are getting services, and the wrong people are not gaming the system. Much credit goes to my colleagues Sens. Josh Harkins, R-Flowood, and Rita Parks, R-Corinth, as well as the members of the Senate Medicaid Committee.
Education Funding
The "Early Learning Collaborative (ELC) Act of 2013," a bill I co-sponsored, marked the first time the State had allocated funding for pre-K education. We now are seeing the benefits of this investment. As a result, the business community and other key stakeholders are now coming to the table with private dollars to the tune of $1.6 million, a 200 percent increase over 2015. Of the 18 school district programs participating, each met all 10 benchmarks for high-quality pre-K programs.
Mississippi Adequate Education Program
The Senate did not bring up the placeholder legislation for the proposed EdBuild recommendations. Neither did the House. While no action was taken during the regular session, I am glad that we have started the conversation about the actual workings of the MAEP formula, including its pluses and minuses. For too long, MAEP has been used as a political football, particularly between districts themselves and between the legislature and status quo. In the end, it is our children, the exact ones we have an obligation to educate, that get hurt. During this whole process, I have advocated for all the children in all of the school districts in my Senate district, and I will continue to do so until this issue is finalized.
Economic Development
A key economic development bill for Mississippi's largest employer, Ingalls Shipyard, passed to aid the "Shipyard of the Future" project with a third installment of $45 million, part of a $200 million investment to retain and grow the 11,000 jobs centered in Jackson County, and an economic driver of the whole state.
In the final analysis, the true measurement of "success" will come from: 1. our actions in the forthcoming special session; 2. building upon the above-mentioned successes; 3. capitalizing on the conversations mentioned herein; 4. in addition to department funding requests, bringing key outstanding issues to future agendas; 5. and continuing our commitment to developing good policy by discussing complex issues our state faces.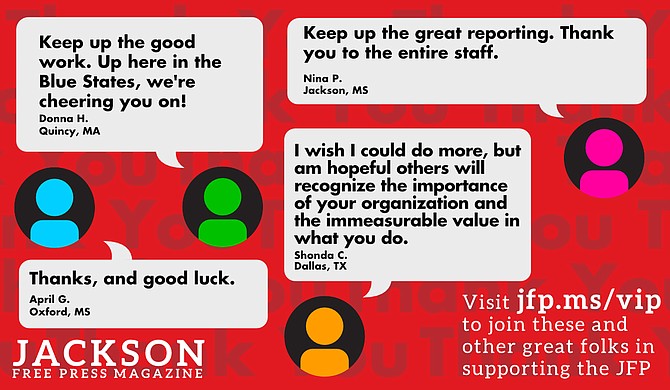 Thanks to all our new JFP VIPs!
COVID-19 has closed down the main sources of the JFP's revenue -- concerts, festivals, fundraisers, restaurants and bars. If everyone reading this article gives $5 or more, we should be able to continue publishing through the crisis. Please pay what you can to keep us reporting and publishing.