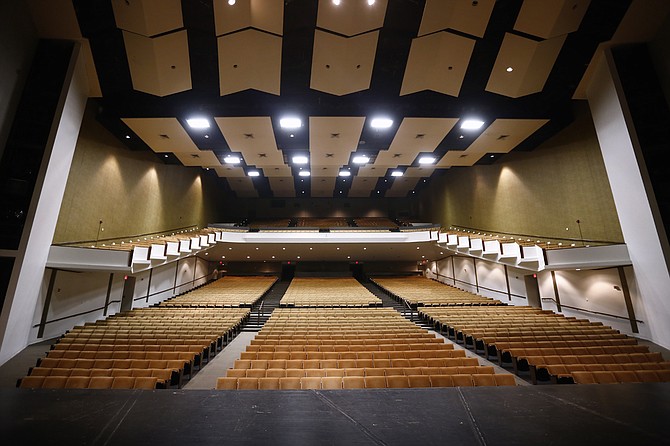 Business is booming at Thalia Mara Hall (255 E Pascagoula St., 601-960-1537), with the venue selling out shows like never before. Michael Raff, deputy director of the Department of Human and Cultural Services for the City of Jackson and manager of Thalia Mara Hall, said the venue's revenues have tripled during the last fiscal year, going from an average of $75,000 to more than $178,000.
A number of factors are at play with Thalia Mara's recent surge in business, including a recent large-scale renovation in which Friends of Thalia Mara Hall, a nonprofit group made up of citizens and businesses wishing to restore Thalia Mara Hall to its former glory, contributed $1.5 million to the project. The organization then approached the city council, which agreed to contribute an additional $1 million.
Since then, the City has given another $3 million to Thalia Mara through a loan purchase, which it has 10 years to pay. The number of sold-out shows, including the Blue Man Group's performance on March 3, has greatly increased since the renovations.
The theater also hosts the International Ballet Competition that comes to Jackson every four years. The University of Southern Mississippi, which analyzes the economic impact the competition has on the city, reported that the most recent IBC in 2014 brought $13 million into Jackson.
Thalia Mara has no plans to slow down, Raff said, with future events planned out all the way to 2020. The venue also signed a contract with Chicago-based Innovation Arts and Entertainment for both an upcoming Broadway series and a series of five shows called Jackson Live.
The City of Jackson owns the theater, and all revenue it generates goes toward the city's general fund.
UMMC/MedeAnalytics Partnership
The Mississippi Division of Medicaid has joined forces with national health-care data analysis vendor MedeAnalytics and the University of Mississippi Medical Center's electronic medical-records system, Epic, to become the first agency of its kind in the nation to exchange patient medical data with a health system in real time. The exchange of information will allow caregivers at UMMC to quickly review a patient's medical history to make better-informed treatment decisions.
MedeAnalytics is contributing the Enterprise Master Patient Index, a service that allows easy management of patient records that contain critical information such as medications, allergies and previous diagnoses. Epic and almost any electronic patient-record program can use an EMPI to access Medicaid data.
MedeAnalytics laid the groundwork for the data exchange in 2014 by studying more than a decade of medical records from 2.3 million Mississippi Medicaid beneficiaries. MedeAnalytics' work on the integration of the clinical data with a health system's electronic patient records is part of a three-year, $10 million contract between MedeAnalytics and Mississippi's Medicaid division. MedeAnalytics expects to receive about 3,500 clinical inquiries per day from UMMC and in response will send the corresponding clinical summaries for Medicaid beneficiaries.
Innovate Mississippi Startup Weekend
Innovate Mississippi, a nonprofit organization that seeks to drive innovation and technology-based economic development in the state, is hosting its next annual Startup Weekend from April 29 to May 1 at Coalesce, a cooperative working space (109 N. State St.). The first Startup Weekend took place in 2011.
Innovate Mississippi has partnered with Coalesce and Baker Donelson Law Firm for this year's event, which will emphasize the education sector and new technologies, apps and concepts that can benefit education institutions and programs.
Startup Weekends are 54-hour events that bring together aspiring entrepreneurs, programmers, developers, graphic artists and other business-minded individuals for a weekend of company creation. The event begins with entrepreneurs grouping together to pitch their business proposals, after which the group votes on the most promising 10 to 15 ideas. It divides into small teams and spends the rest of the weekend focusing on a single business idea and developing a proof of concept and a demo or finished product for it.
Innovate Mississippi mentors, which include local lawyers, successful entrepreneurs with their own companies, Jackson marketing experts and CEOs, then help fine-tune each idea into a "working company" with potential profits. The process involves figuring out a target market, identifying problems and how the company will solve them, giving advice on how to manufacture product, getting a website started and working out how to market the product. A panel of professionals then evaluates each team's startup and their chances of real-world success.
The event concludes with an awards ceremony where the top three teams, who are judged based on factors such as how quickly they could hypothetically market their product and how much they could make in a certain period of time, receive prizes from local service providers and sponsors.
Each participating team will also continue to consult with the entrepreneurial development team at Innovate Mississippi in developing their business plans, a service that Innovate Mississippi offers free of charge for as long as the company lasts, whenever it is needed.
With this Startup Weekend's emphasis on education-based ideas, Innovate Mississippi especially encourages K-12 educators, collegiate and university faculty, collegiate students majoring in education and school administrators to participate. A special prize category will be added for the best idea in education, though Innovate Mississippi has not announced what that will be, yet.
For information on volunteer and sponsorship opportunities, call Tasha Bibb, entrepreneurial development manager at Innovate Mississippi, at 601-960-3610 or email her at [email protected] Visit www.innovate.ms for event information and to purchase tickets, which include all meals for the weekend. Follow all Startup Weekend Mississippi events on Twitter @SWmississippi or visit its Facebook and LinkedIn pages by searching Startup Weekend Mississippi.
Ryan's Buffet in Pearl Closed, Asset Auction Cancelled
Buffet-style restaurant Ryan's (436 Riverwind Dr., Pearl) in Pearl closed its doors for good Monday, March 7. The restaurant's remaining assets were set to be auctioned to the general public through national online auction company Auction Nation, but a company representative told the Jackson Free Press that the auction was cancelled on Wednesday, March 9, for unspecified reasons. With the auction cancelled, the restaurant's assets are currently under the control of a local federal bankruptcy trustee.
The Ryan's in Pearl is only one of more than 90 nationwide locations that parent company Buffets LLC, which is comprised of Ryan's, HomeTown Buffet, Country Buffet, Fire Mountain Buffet and Old Country Buffet, has closed in recent months. Buffets LLC filed for Chapter 11 bankruptcy for the third time since 2008 so that it can restructure its debts and liabilities.
Send business tips to [email protected] Read more local business coverage at jfp.ms/business.