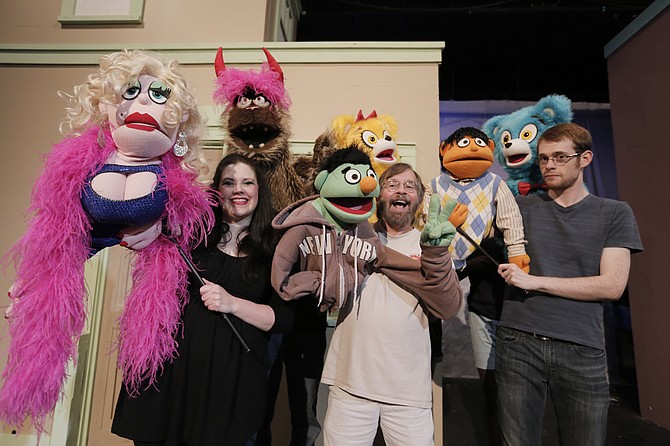 A puzzled puppet bounces down a New York City street—one that isn't quite up to the "Sesame" code. His name is Princeton, and he's looking for his purpose, though a job would be a good start.
Then, out from behind some nearby buildings come two adorable harbingers of poor judgment, the Bad Idea Bears, who tell Princeton that he should use what little money he has to celebrate. After some debate, he gives into peer pressure, and the bears scurry off to cause mischief elsewhere.
It's a setup one might find on any of the puppet-led educational programs that have popped up over the years. However, unlike characters on children's TV, when Princeton and the felt-covered cast in Tony Award-winning musical "Avenue Q" learn lessons, they tend to be on less kid-friendly topics, including sexuality, racism and unemployment. While the result is undoubtedly funny, it's also raw and honest. Fondren Theatre Workshop brings the play to local audiences July 22-24 and July 28-30 at Actor's Playhouse in Pearl.
"There are some people who consider 'Avenue Q' to be 'Sesame Street' meets 'South Park,' and that's an easy way to identify it, but I think that's a little oversimplified," director Josh Harris says. "Yes, there is some satire to it and lessons that we don't necessarily agree with about the purpose of the Internet and people's natural attitudes toward each other, but it does teach some valuable lessons, as well.
"No matter what your problems may be, they're temporary; and I hate to quote a number from the show, but, 'There is life outside your apartment.'"
Harris, who is in active service with the United States Army, relocated to Jackson in summer 2015. While his work means that he and his wife, Jenn Harris, move every two to three years, the pair has always managed to take part in the theater wherever they landed. They got involved with Fondren Theatre Workshop's production of "Rocky Horror Show" shortly after moving, and during the rehearsal process, Harris mentioned to actress Mandy Kate Myers that he had previously acted in "Avenue Q" in San Antonio and would love to direct it one day. A few months later, FTW co-founder Diana Howell asked him to do just that.
Harris says he fell in love with the musical while living in Brooklyn when it came out in 2003, drawn to its comedy and heartfelt songs, such as "There's a Fine, Fine Line" and "I Wish I Could Go Back to College." For FTW's production of "Avenue Q," Harris wanted to find actors who could perform the songs with Broadway quality while also capturing the character-voice elements of children's puppet shows. The cast includes Myers as Kate Monster, Tommy Pittman as Princeton, Joseph Strode as Rod, JC Patterson as Nicky, Richard Lawrence as Trekkie Monster, Claire Mayronne and Allen Dillon as the Bad Idea Bears, Robbie Looney as Brian, Jenn Harris as Christmas Eve, Clif Hogan as Ricky, Courtney Middleton as Lucy the Slut, and Taylor White as "Diff'rent Strokes" star Gary Coleman, an apartment superintendent. Mayronne also plays Mrs. Thistletwat, Taylor Dunn is the understudy for Kate Monster, and Hogan is the understudy for Brian.
One difficulty in the production is that the actors had to learn to use a puppet as an extension of self, he says. While his usual rehearsal schedule would tackle blocking and choreography in a week, "Avenue Q" took about three weeks, letting actors run the play without puppets before plugging them in. 
 To help with that, Harris brought in puppeteers Peter Zapletal of the Emmy Award-winning children's show "Ticktock Minutes" and Keri Horn of Mississippi Public Broadcasting's "Ed Said." Handling the puppets well allows the play to be fun and crass, Harris says, but it helps it feel real enough to forget that the characters are just felt and foam.
"There are people who, no matter how hard you try, will walk away and go, 'Wow, that was funny; I really enjoyed seeing all those puppets doing adult things,' and that's fine," he says. "Far be it for me to tell an audience what to think. But if at least one person a night leaves thinking, 'I had no idea puppets could be so human,' or, 'What a neat way to teach these lessons,' I really think we'll have done our jobs."
Fondren Theatre Workshop's "Avenue Q" runs at 7:30 p.m. July 22-24 and July 28-30, with performances at 2 p.m. on Saturday, July 23, and Saturday, July 30, at Actor's Playhouse (121 Paul Truitt Lane, Pearl). General admission is $15, and VIP admission is $20. The play is for mature audiences. For more information, visit fondrentheatreworkshop.org.
More like this story
More stories by this author
Support our reporting -- Become a JFP VIP.
The news business has changed dramatically in the past year, and we need your help more than ever to keep bringing you important stories about Jackson and the Metro. Become a JFP VIP with an annual membership or you can Sign up as a monthly supporter. Thanks for anything you can do to empower our journalism!