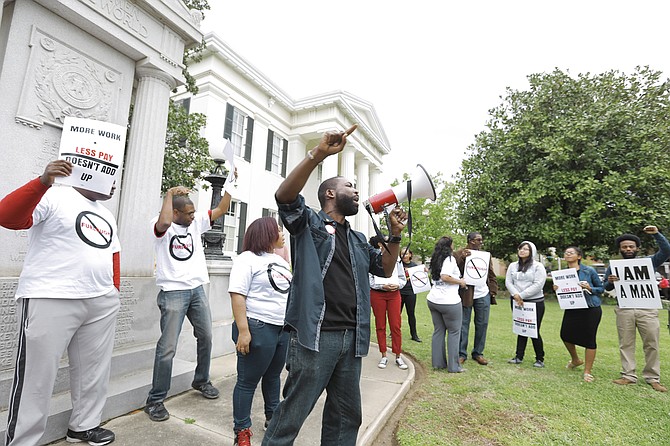 JACKSON — Earlier this morning, City of Jackson workers, Mississippi Alliance of State Workers/ Communications Workers of America members, the Black Caucus of the Young Democrats of America and community organizers held a rally outside City Hall to protest the city-mandated monthly furlough day. Decked in white T-shirts with the word "furlough" stamped out, workers demanded that citizens hold Mayor Tony Yarber and his administration accountable.
Amber Cooley, an apprentice with the MASE CWA, told the Jackson Free Press today that the union wants to start a conversation with the mayor to underline why furloughs were implemented to fill a $15-million deficit. She's been in Mississippi for five weeks and spent the last two organizing the rally with city workers. She said there has been some fear from workers and threat of consequences for participating in the rally, but a group of 40 workers and union members gathered in front of City Hall to fight for their pay, shouting "Ain't no power like the power of the people because the power of the people don't stop."
Pat McGee, an office coordinator with the Department of Public Works, says she wants to know who is accountable for monitoring the furloughs. McGee has been working for the City for 19 years; her husband, John, worked in Public Works and Planning and Development for 28 years.
The furloughs, as well as changes to the water-billing system, have affected her household budget, McGee said. Under the previous system, she said she paid $123 every two months for her water usage. Now, she pays around $86 a month, a nearly $50 increase over two months. The furlough also means that she has to cut down on doctor's visits and saving for unexpected expenses.
McGee says that under the furloughs, she understands that emergency divisions have to work on furlough Friday such as the Police Department, the Fire Department, water and sewage. Her issue is that some divisions still have entire staffs working when the City is under furlough. In her division, maintenance supply, the entire staff works except for her and another worker. She said that there isn't a need for a full staff when the City is shut down, which is one way to say money, but no one is monitoring the hours workers are doing their jobs, including overtime hours. McGee said that she isn't seeking any compensation for the hours she has lost on furlough Fridays, but she wants to know who is accountable because people who shouldn't be working are allowed to work.
"Right now, from where we stand, I would be happy to get back to where I was," McGee told the Jackson Free Press. "I'm just taking it one day at a time."
Bill Chandler, executive director for the Mississippi Immigrants Rights Alliance, said that the furlough is an insult to city workers. He points to the congested administration and not enough frontline workers, as well as the state Legislature that affects the revenue for the City. He also says the controversial Jackson-Medgar Wiley Evers International Airport "takeover" bill strangles revenue and has a direct effect on the workers.
"We've got to organize and fight back," Chandler said to the Jackson Free Press. "Workers need to be registered to vote and be ready to participate by voting in the process and then hold their elected officials accountable to what's going on."
The City of Jackson released this statement via email today in regard to the furlough and organized protest: "As we've stated throughout the process of preparing this fiscal year's budget, the furlough decision was not an easy one to make. We had a choice between massive layoffs and a once-a-month furlough. We value our city employees and we were determined to save jobs. When we presented the budget for the City Council's approval, the furlough was among a number of measures included to address declining revenue while preserving city jobs and services."
Maya Miller is the deputy news editor for the Jackson Free Press. Email her news tips to [email protected]. Follower her on Twitter @mayalmiller.
More stories by this author
Support our reporting -- Follow the MFP.