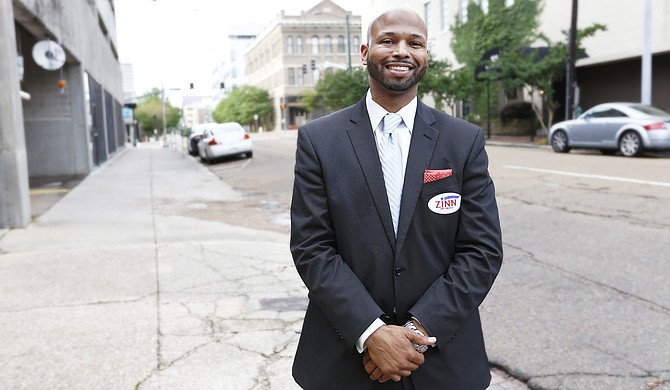 Going into the final two weeks before a runoff election for Mississippi's 1st Congressional District, Walter Zinn is emphasizing his time spent working for the City of Jackson.
A Millsaps College alumnus, Zinn called Jackson a valuable training ground for the congressional race in which he beat the odds on May 12 and finished with the most votes cast. That win set up a faceoff with Trent Kelly, a north Mississippi district attorney, on June 2.
Zinn, an aide to late Jackson Mayor Chokwe Lumumba and former Mayor Harvey Johnson Jr., said that after the Lumumba's death last year, he went to work on campaigns in Iowa and Central Michigan, where divisive race politics takes a back seat to kitchen-table economic issues.
"We don't have to let (racial tension) be the definition or the shackles that hold our politics back," Zinn said at a fundraiser at Underground 119 last night.
Although the special election, which was called to replace the late U.S. Rep. Alan Nunnelee, is officially nonpartisan, Zinn is black and a Democrat who has the support of the state party. Kelly finished a hair behind Zinn in voting, but ahead of a dozen fellow white Republicans. Analysts expect Kelly to draw support among the GOP, which altogether received 83 percent of all votes.
However, Zinn's supporters argue that former Rep. Travis Childers' success in the district as recently as 2008 proves that Democrats can win there. That year, Childers captured 54 percent of votes in a May special election to replace Roger Wicker, who won a seat in the U.S. Senate. Childers' totals held up later in 2008 when he again beat former Southaven Mayor Greg Davis to hold the seat.
Two years later, in what President Obama called a Democratic shellacking, Republicans regained control of the House. In that election, Childers only received 41 percent of votes to Nunnelee's 55 percent.
As a result, many pundits, including Sam Hall, a former Democratic operative and Clarion-Ledger editor, don't give Zinn a snowball's chance to defeat Kelly.
Zinn's camp uses Hall's recent column, in which he wrote, "Kelly is all but certain to be the next U.S. congressman from Mississippi's first district," as a motivator. Zinn also says Hall's conceding the influential courthouse crowd to Kelly is premature. Being an attorney has earned him good relationships with judges and other courthouse officials in the area, Zinn believes.
One path toward victory for Zinn could lie in increasing turnout among African Americans who were lukewarm to Childers' brand of Democratic conservatism, which included voting against Obamacare. For now, Zinn says he isn't making any overt appeals to black voters, but he isn't hiding the fact that African Americans are a large part of his base.
"I won't run away from the fact that I have done a lot of organizing in the black church, largely because that's where I come from," Zinn told the Jackson Free Press.
Nor is he running on the anti-government messages that he says have dominated among Republicans in the race.
Zinn, who is 34 and started working for the city of Jackson at age 28, refutes claims opponents lobbed at him that he spent too much time in Jackson away from north Mississippi. He believes his experience in the capital city working with federal funding and on infrastructure projects and small business issues are unique assets.
If he is successful in his bid, Zinn says being a Mississippian will give him a distinctive voice among members grappling with many of the same issues our state faces.
"There are a lot of 'Mississippis' given our poverty issues, equal pay for women issues, issues about better education," he said. "Those are Democratic issues, but they're also economic development issues."
More stories by this author
Support our reporting -- Follow the MFP.