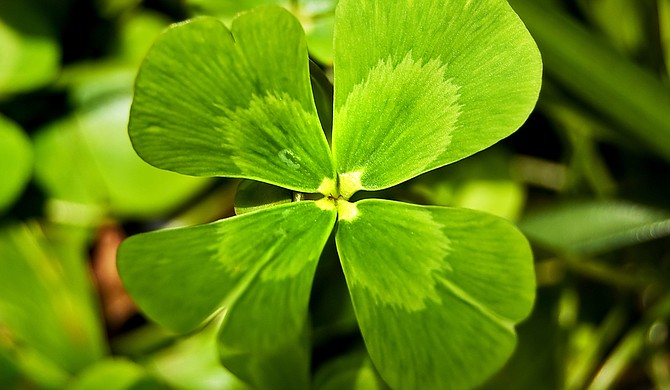 It's time for the annual Mal's St. Paddy's Parade, and many Jacksonians are getting ready for parade day. In addition to the traditional festivities, many local business establishments are ready to help you get a little greener this week.
Broad Street Baking Company
(4465 Interstate 55 N., Suite 101, 601-362-2900)
Broad Street offers a special St. Paddy's Day king cake made with Guinness beer swirled in chocolate Bavarian cream and cream cheese and then drizzled with a rich chocolate ganache on top. The cakes are $23.95 each and are available through March 21.
Campbell's Bakery
(3013 N. State St., 601-362-4628)
Campbell's will have green petit fours and shamrock teacakes until March 21.
Nandy's Candy
(1220 E. Northside Drive, Suite 380, 601-362-9553)
For St. Patrick's Day, Nandy's Candy will have chocolate shamrocks, green chocolat shamrocks and chocolate pots filled with chocolate coins. The treats will be available until March 21.
One Block East
(642 Tombigbee St., 601-944-0203)
One Block East is taking the party to the street with the second annual St. Paddy's Block Party and Crawfish Boil. The event will feature live music bands including the Jason Miller Band, Burnham Road, Waylon Halen, Andrew Pates and Seven Handle Circus. Gates open at 10 a.m. and live DJs will perform throughout the day and into the night. The event will have beer gardens, Jager Girls, a large private viewing area to watch the parade, and crawfish and Bad Ass burgers served all day.
Fenian's Pub
(901 E. Fortification St., 601-948-0055)
March 17, Fenian's Pub will host the Open Mic Night contest finals with Brock Bailey. The winner will get a chance to perform a one-and-a half-hour set during Fenian's St. Paddy's Day block party March 21. At the block party, the pub will have live music all day long, with performances by Spirits of the House at noon, 4 Hearts 1 Beat at 5:30 p.m. and The Cut at 8 p.m. Fenian's will also have drink specials sponsored by Jameson Irish Whiskey, New Belgium Brewing and Capital City Beverages. Capital City will also be giving away swag. The party has a $5 cover beginning at 3 p.m., and all ages are welcome until 7 p.m., when the party is 21 and up only.
Hal & Mal's
(200 S. Commerce St., 601-948-0888)
On Friday, March 20, at 5 p.m., Hal's Marching Malfunctions kicks off with the Second Line Stomp featuring Southern Komfort Brass Band. It starts at the King Edward Hotel at 5 p.m. The Second Line Stomp parade begins at 6:45 p.m. and marches from the King Edward to Hal & Mal's Restaurant. Navin Johnson & The Special Purpose will perform in the dining room, and DJ Young Venom & Jonasty's Bogus '90s party is in the Big Room. Attendees can dress up in '90s clothes, play games and dance to music from the era. The doors open for the event at 9 p.m., and the party will have a $10 cover charge. Lucky Town will tap its Brewe of O'Tux Charity Red for the very first time. On Saturday, March 21, the Mal's St. Paddy's Street Festival, which begins after the parade ends, will feature Trombone Shorty & Orleans Avenue, Dumpstaphunk, Brownout presents Brown Sabbath, and Roxy Roca. Tickets are available at ardenland.net and at Hal & Mal's (cash only). Don't miss the award ceremony inside with Southern Komfort Brass Band and DJ Nu AJC.
Bonny Blair's Irish Pub
(1149 Old Fannin Road, Brandon, 769-251-0692)
For its inaugural St. Patrick's Day After Party Celebration, Bonny Blair's will have live performances by David Dunavent and Evol Love, and Stogdaddy and the Good Time Band. The event will have beer, food, games and a beer pong tournament. The after party is from 3 p.m. to midnight Saturday, March 21. Southern Beverage Company sponsors the event.
Ole Tavern on George Street
(416 George St., 601-960-2700)
March 21, Ole Tavern will have its St. Patrick's Day Ultimate Downtown Throwdown and Dance Party. DJ Glenn Rogers will kick off the event. The event includes sets from by Third Era and Violator, DJ Nasty Sho, DJ DVDJ Reign and Hardrock Resident, and DJ Hyphee, with live performances by Plow Mule, Rooster Blues and the Larry Waters Duo. The event begins at 2 p.m.
F Jones Corner
(303 N. Farish St., 601-983-1148)
Bernard Lucas presents the Irish Party on Farish Street, featuring live performances from Dexter Allen and Blues Man. The doors open at 10 p.m. $1 Jell-O shots and other drink specials, and $5 grilled Rueben sandwiches will be available all night.
Club Mirage
(824 S. State St.)
March 21, Club Mirage will host a St. Patrick's Day BBQ & Crawfish Boil, which starts at 1:30 p.m. The event will feature performances from Saving Abel, 12 Stones, Crashing Broadway and Bikini Frankenstein. The barbecue will have a bounce house for kids, and those ages 12 and under get in for free. Regular admission is $20. Budweiser sponsors the event. Club Mirage's Get Lucky St. Patrick's Day Bash begins at 9 p.m. Lil Wyte will perform, along with DJ Kaila Troy and DJ Duvall. The cover charge for men is $20, and the event is $10 for women. The event will have free beer and an open bar all night. Text 202-575-2585 for tickets and more information.
Jaco's Tacos
(318 S. State St., 601-961-7001)
Jaco's St. Paddy's Party will feature live music by John Clarke. General cover is $7 and reserved seating with parking is $50. Jaco's will have a beer cart set up outside during the parade with shots starting at $3. The party begins around 4 p.m. and goes on through the night.
Martin's
(214 S. State St., 601-354-9712)
Martin's starts its St. Paddy's celebration at 10 a.m. Beginning around noon, DJ Young Venom will perform in the bar's parking lot all afternoon. There will be a full bar of both liquor and beer and no cover charge until 6 p.m., when Martin's will begin collecting a cover for Flow Tribe's performance at 10 p.m. The entire day's events are 21 and up.
Burgers & Blues
(1060 E. County Line Road, Ridgeland, 601-899-0038)
March 21, Burgers and Blues will close down its back parking lot to make room for its St. Paddy's Day Blow Out, which features a crawfish boil and drink specials all day, including a $5 vodka and energy drink special. The Aaron Coker Band perform from 1 to 4 p.m., and Drivin South perform from 6 to 10 p.m. For more information, find Burgers & Blues on Facebook.
Club Eclipse
(960 West St., 601-360-0063)
Club Eclipse has its Irish Revolution Saturday, March 21, at 9 p.m. DJ Kaila Troy and DJ Duvall will perform. The party will have free beer and an open bar all night. The event ends at 5 a.m. The cost is $20 for men and $10 for women. Patrons get half off admission with a Club Mirage wristband.
More like this story
More stories by this author