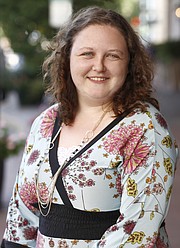 An IED caused then-U.S. Army soldier Noah Galloway to lose his left arm above the elbow and left leg above the knee. His right leg was badly injured, and his jaw had to be wired shut. He was unconscious for five days. After recovering and then leaving the U.S. Army, Galloway decided to become a personal trainer and a motivational speaker. He was a contestant on season 20 of "Dancing With the Stars," and he and his partner, Sharna Burgess, finished in third place on the show.
Bruce Jenner, who won the men's decathlon at the 1976 Summer Olympics, came out as a transgender woman in a "20/20" interview with Diane Sawyer in April 2015. After cosmetic surgery, he made his debut as Caitlyn Jenner on the cover of the July issue of Vanity Fair. At the ESPY Awards this year, which was Wednesday, July 15, Jenner accepted the Arthur Ashe Courage Award.
My Facebook went nuts, to say the least, when ESPN announced that Jenner would receive the award. Some people thought the organization chose Jenner ahead of Galloway, and that he should receive the award instead.
ESPN's choice created a firestorm on the Internet, from those who commended Jenner for coming out as transgender to those who said that since Galloway lost half of his limbs fighting for his country, he's definitely more courageous and should get the award.
Here's the thing: Galloway is courageous. He was seriously injured, and then he went on to be an example for so many. But let's take a look at what courage really means before trashing Jenner.
Dictionary.com defines courage as "the quality of mind or spirit that enables a person to face difficulty, danger, pain, etc., without fear; bravery," and it defines having courage as "to act in accordance with one's beliefs, especially in spite of criticism."
So with that basic definition in mind, doesn't Jenner's transformation count as courage, too? She did what most of us never do: She showed the entire world her true self. After 66 years on this Earth, she declared herself a woman, though she'd known it her entire life.
And her transformation came at an interesting time, considering what happened next: The U.S. Supreme Court struck down states' bans on gay marriage. Finally, everyone could be equal, at least concerning marriage rights, as we still have a long way to go before LGBT citizens have all the same rights as anyone else.
I couldn't help but sit in amazement at the things that were happening. For several days, I watched the news desk turn out story after story about LGBT rights in Mississippi. Reporter Arielle Dreher, who was on the news desk by herself that week (Ryan was on vacation), ran around to event after event and turning out so many stories on the huge news that it made my head hurt.
I watched as my friends on Facebook colored their profile photos rainbow and as local businesspeople such as Tom Ramsey and Mitchell Moore showed their support for Jackson and Mississippi's LGBT community.
I watched as my Facebook friends shared posts of their LGBT friends and family finally getting the chance to marry and have it be recognized by the state. And I watched as the more conservative side of my Facebook screamed that the LGBT legislation just means that America is going to hell in a hand basket.
The response is a little drastic, in my opinion. We live in a land that has freedom of speech, freedom of assembly, freedom of religion, freedom of press, all written in its Constitution. We have all these freedoms, but people don't seem to understand what that really means.
Free doesn't mean you're free only if you agree with the majority. Just like courage, freedom is freedom. Everyone has the right to liberty, life and the pursuit of happiness. You shouldn't discriminate because someone looks different than you or doesn't like the same kind of people. That's not freedom.
That's oppression.
People like Jenner have been oppressed for so long. She couldn't even have a truly healthy relationship with her ex-wife, Kris Jenner, because Kris insisted that Caitlyn could only experiment with her sexuality when they weren't together. Caitlyn couldn't talk about it with her.
And that's what so many LGBT people, and people in general, want. To have someone they can truly be open with. The most basic human need is companionship, and it's a travesty that there are people in this world who want to take it away from people like Caitlyn, who want to tell people like her that they can't really be themselves. But against all odds, Caitlyn stood up and said: "This is who I am. I'm not hiding anymore."
I don't know the reasoning behind ESPN's choice for the Arthur Ashe Courage Award, and it's of no consequence to me. I think Jenner deserves the award, just like all the other athletes that came before her and will come after her. Courage is courage no matter what form it takes and no matter if you agree with it.
I'll leave you with this snippet of Jenner's speech at the ESPYS:
"Trans people deserve something vital: They deserve your respect. If you want to call me names, make jokes, doubt my intentions, go ahead, because the reality is, I can take it. But for the thousands of kids out there coming to terms with being true to who they are, they shouldn't have to take it. So, for the people out there wondering what all this is about—whether it's about courage or controversy or publicity—well, I'll tell you what it's all about. It's about what happens from here. It's not just about one person. It's about thousands of people. It's not just about me. It's about all of us accepting one another. We are all different. That's not a bad thing; that's a good thing, and while it may not be easy to get past the things you do not understand, I want to prove that it is absolutely possible if we only do it together."
Email Assistant Editor Amber Helsel at [email protected]
Support our reporting -- Become a JFP VIP.
The news business has changed dramatically in the past year, and we need your help more than ever to keep bringing you important stories about Jackson and the Metro. Become a JFP VIP with an annual membership or you can Sign up as a monthly supporter. Thanks for anything you can do to empower our journalism!