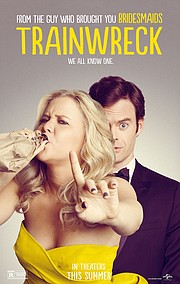 Like Quentin Tarantino or Wes Anderson, if you don't enjoy one of Judd Apatow's films, there's a solid chance that you won't enjoy any of them. From "The 40-Year-Old Virgin" to "This Is 40," Apatow has gained a loyal following and a level of predictability as a director. The screw-up protagonist will see the error in his or her ways, if only slightly. And, of course, there's always a hefty amount of vulgarity strewn over that handful of heart. Results vary.
Still, I wasn't sure what to expect from his latest film, "Trainwreck," which comedian Amy Schumer wrote and stars in. I'm neither a fan of her stand-up nor her TV show, "Inside Amy Schumer," but I was curious to see how she handles a feature film, especially in the hands of a seasoned director.
Mercifully, "Trainwreck" is funny, and despite well-tread plot points, the movie has plenty of fresh gags that make it more than Schumer pulling from the Apatow grab bag.
"Trainwreck" is the story of Schumer's character, also named Amy, who works for a magazine that promotes the casual-sex-filled lifestyle to which she is accustomed. Those habits come into question when she is assigned a story on good-hearted sports doctor Aaron (Bill Hader).
I've always liked Hader, who mostly plays the straight man here. When he gets his jersey number called, though, his delivery is top-notch. He also has an easy chemistry with Schumer, who sold me on her bizarre mix of charm and unpleasantness. As her character states proudly, if naively, she's a sexual, modern woman who enjoys her caustic life. No matter your feelings toward Amy's two- (or three- or four-) timing ways, "Trainwreck" doesn't wholly pass judgment. It does make the consequences clear, though.
To an extent, even Amy's mindset is a consequence of her father Gordon's infidelity when she was young. A funny moment early in the movie shows Gordon (Colin Quinn) explaining to his daughters, Amy and Kim, that "monogamy isn't realistic." This moment is a fork in the road for the sisters. Amy becomes her father's shadow, and Kim (Brie Larson) turns to suburban life.
The family interactions are easily the strongest elements in "Trainwreck." On a comedic level, Kim's stability gives Amy endless material for clever jabs, and on a storytelling level, Kim is a great signifier of the intimacy that Amy is avoiding, though Larson's acting elevates the character above the "well-meaning sister" archetype. Likewise, Quinn manages to make Gordon feel real, rounded and lovable but flawed, despite limited screen time and being an obvious cautionary tale.
Without giving too much away, there were also several people that I expected in cameos, only to find them given much more to do than wink at the camera. Although "Trainwreck" employed those actors with far too many lowbrow jokes for my liking, the audience at our screening roared with each anatomical reference, so I don't begrudge Schumer for writing what people will like.
However, when it comes to plot, "Trainwreck" is a by-the-books romantic comedy, albeit a vulgar one. Schumer cribs the setup of a magazine writer falling for her subject from "How to Lose a Guy in 10 Days," and the "grand gesture at a sports arena" ending has been in everything from "Anger Management" to "Fever Pitch." Yes, there's a new coat of paint on these rom-com tropes, but there's nothing we haven't seen before.
Still, bouts of unoriginality don't detract from the fact that "Trainwreck" is a genuinely funny movie. I won't personally recommend it, lest I submit a friend to the same parade of men's butts and sex jokes, but when Schumer, Hader and company deliver their best lines, "Trainwreck" reminds me of what I like about Apatow.
More stories by this author
Support our reporting -- Follow the MFP.