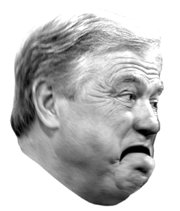 "The federal government did more right than wrong. We don't give enough credit. They had some terrible failures. FEMA's logistical system was a terrible failure and could have been a catastrophe, but all in all, the federal government were good partners, and there were some real heroes among their numbers, too."
— Former Gov. Haley Barbour, during an interview with Mississippi Public Broadcasting, on Hurricane Katrina.
Why it stinks: Who are these heroes? Of course, hundreds of federal government employees did as fine a job as one could have expected during such a disaster. By the estimation of many observers, it was the ineptitude primarily of top federal government officials that exacerbated the damage Mother Nature wrought. If that weren't bad enough, Gov. Barbour's closeness with federal officials—yes, with then-President George W. Bush—helped divert funds earmarked for low-income housing and jobs programs for political pet projects such as the Port of Gulfport expansion, even as Barbour routinely demonized Louisiana, which was run by Democrats. If those actions are heroic, we'd hate to know what actions Barbour would consider villainous.
Support our reporting -- Follow the MFP.