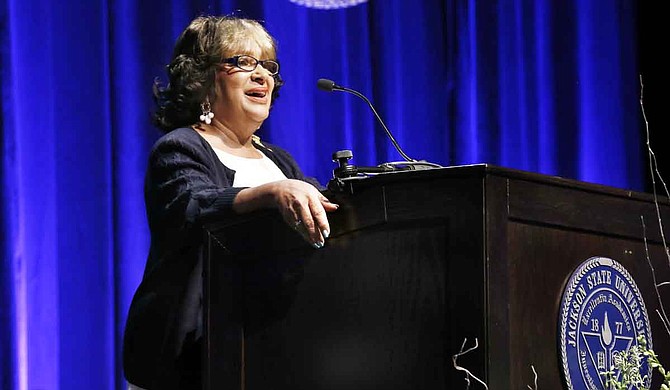 Before giving her official State of the University speech, Jackson State University President Dr. Carolyn Meyers took a few moments to dismiss some rumors out in the ether about her and her administration of the storied historically black university.
Despite murmurings abounding for the past several years that Meyers is eyeing retirement and is in poor health, the state college board recently extended her contract for four years, she said this morning.
"At this time, (I) fully intend to complete this new contract—God willing—in its entirety," she told faculty and staff gathered at the annual fall seminar.
Aside from a bit of high blood pressure, high cholesterol, Type 2 diabetes and a weakness for Almond M&Ms, Meyers says she's as healthy as she was when she joined JSU as president five years ago; plus, her contract requires her to have a yearly physical, she noted.
Also, the sofa in her office did not cost the university $10,000, she said, eliciting laughs from members of the audience. Meyers spoke frankly about challenges that lie ahead of Jackson State, including a budget cut of 7.8 percent that House Appropriations Committee Chairman Rep. Herb Frierson, R-Poplarville, requested.
In a July 10 letter to faculty and staff, Meyers said the cut would be translated into a projected $3.4 million funding shortfall, which JSU officials hope to make up without layoffs. However, as a result of the plan, this year will be the first that JSU employees will not receive raises. Until the budget cut announcement, the university had given faculty and staff raises in alternating years.
Meyers stressed the importance of the school's reserve fund, which grew to nearly $15 million and allowed JSU to spend $3 million to replace old bricks on the library, which Meyers called a safety hazard.
"If we have our own money, we can control our destiny," Meyers told the audience.
Meyers held administrative positions at two HBCUs—Norfolk State University and North Carolina A&T University— as well as the Georgia Institute of Technology before the announcement that she would take over as president at JSU. She said she has faced budget crises before, and doesn't believe the school's balance sheets will preclude it from its core principles of academics, telling the school's story, diversifying financial resources and investing in people.
Jackson State's master plan calls for expanding the west Jackson campus to connect with downtown and two new schools, one of public health and another for social work. JSU is moving ahead with planning for the public-health school, which, once completed, will be the first in Mississippi and the only school of public health at an HBCU, Meyers said. In addition, construction is under way for a new $42 million dorm. In the meantime, JSU is leasing the Sleep Inn at Gallatin and Pearl Streets for the next two years for extra housing.
"The state of Jackson State University is solid—by any measure," Meyers said.
More stories by this author
Support our reporting -- Follow the MFP.