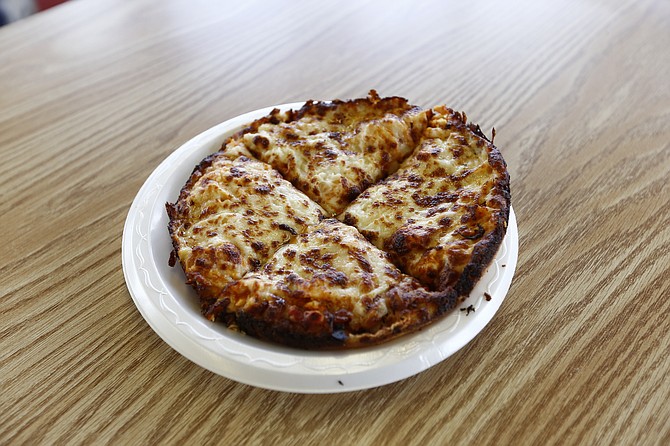 Local pizza joint Miller's Grill & Pizzeria (2146 Highway 471, Brandon) grew out of a family restaurant on Capitol Street just off State Street called Miller's Grocery, which the Miller family opened in 1998 and named after a family grocery store in Stringer, Miss. The family then opened Miller's Grill further west on Capitol Street in 2004 and later expanded its menu to include New York-style pizza. Although the last Jackson location closed three years ago, Miller's Grill and Pizzeria in Brandon, which opened in October 2012, remains open, and now the Millers are preparing to open a new location at the former Shea's restaurant (810 Lake Harbor Road, Ridgeland). Miller's hasn't announced the opening date, yet.
For 14 years, the downtown Jackson menu offered a different daily pizza special for each day of the week: barbecue chicken on Monday, chicken pesto on Tuesday, bacon double cheeseburger on Wednesday, chicken fajita on Thursday and South Philly on Friday. Now, customers can get any of the specialty pizzas on any day of the week, along with creations such as The Rez, Grant's BLT, Castlewoods Chicken Caesar and Mississippi Tropical.
The restaurant also offers a large selection of burgers, chicken tender baskets, specialty sandwiches and po'boys, chicken and waffles, and shrimp and grits.
Miller's is open Monday through Thursday from 11 a.m. to 9 p.m., Friday and Saturday from 11 a.m. to 10 p.m. and Sunday from 10:30 a.m. to 9 p.m. For more information, call 601-829-0013 or visit www.millers471.com.
Also on the local pizza front, this year's Best of Jackson winner for Best Local Pizza and Best Hangover Food, The Pizza Shack, has seen one store close and a few more open over the past month.
The Pizza Shack location in Colonial Mart (5046 Parkway Drive) closed last month in favor of a new location at 114 Byram Business Central Drive in Byram. Some employees from Colonial Mart went to the new Byram restaurant, while others went to the Belhaven location (925 E. Fortification St.). The phone number for The Pizza Shack in Belhaven has been changed to that of the former Colonial Mart location, 601-957-1975. The Byram restaurant's number is 769-233-8875. The Pizza Shack is also opening a new location at 219 Garden Park Drive in Madison next week.
The Pizza Shack offers a huge variety of specialty pizzas, including Margarita, Hawaiian, Andy's Buffalo Ranch Chicken, Chicken Curry Delight, Cajun Joe and Italian Cowboy. The menu also includes nine varieties of Buffalo wings, plenty of sandwiches and desserts and a variety of import, draft and domestic beers.
Hours of operation vary by location. For more information, visit www.thepizzashackjackson.com or follow The Pizza Shack on Facebook @thepizzashack, on Twitter @pizzashackjxn or on Tumblr @pizzashackjackson.
Mississippi Cold Drip Grand Opening at The Hatch
Raymond Horn, founder of Mississippi Cold Drip Coffee and Tea Co., will host a grand opening celebration on Thursday, May 7, from 4 to 7 p.m. at Mississippi Cold Drip's first brewing facility at The Hatch (126 Keener Ave.) in Jackson's midtown neighborhood.
Horn, a lifelong Jackson resident and former bartender for Table 100 (100 Ridge Way, Flowood, 601-420-4202), created his distinctive coffee blend out of his home kitchen. He began selling his product commercially at farmers markets and in grocery stores in Jackson, Hattiesburg and Ocean Springs in 2010. When demand grew large enough, he started brewing out of the kitchen of Steve's Downtown Deli (125 S. Congress St., 601-969-1119) on weekends because his own kitchen was not large enough.
Mississippi Cold Drip offers a cold-brewed coffee concentrate which, when mixed with water or milk, creates a robust, versatile coffee that is more flavorful and less acidic than regular heat-brewed coffee. This concentrate can also be used in baking, cooking and cocktails, and can be mixed at varying volumes and strengths for any palate.
The company will be the first tenant of The Hatch, which provides affordable overhead and hands-on business assistance for creative entrepreneurs. Midtown Partners, Inc. owns and manages The Hatch in partnership with ELSEWorks, the entrepreneurship program at Millsaps College.
Currently, Mississippi Cold Drip sells cold-brewed coffee concentrate in 16-ounce, 32-ounce and 64-ounce sizes. Horn has also created a chai tea concentrate and a vanilla-caramel coffee sweetener called "Ray Au Lait."
Find more information on Mississippi Cold Drip Coffee and Tea Company online at www.facebook.com/mississippi-cold-drip-coffee-and-tea-company/, on Twitter @MSColdDrip and on Instagram @mscolddripcoffee.
Jackson Zoo Establishes Endowment Fund with Foundation
The Jackson Zoo (2918 Capitol St., 601-352-2580) has created an endowment fund and operating reserve with the Community Foundation of Greater Jackson to help elevate the long-term growth and stability of the Jackson Zoo.
The fund and reserve will allow philanthropists and other Mississippians who care deeply about the Jackson Zoo to invest in its long-term future, a press release from the Jackson Zoo stated.
An endowment fund is made up of gifts and bequests that are required to keep the principal intact and invested in to create a source of income for an organization. An operating reserve is one of the keys to the financial stability of a nonprofit organization and can serve as an internal line of credit when needed to cover the normal fluctuations in day-to-day operations.
Crymes Pittman, Dr. William Aden, and Ellen and Charles Johnson made the initial contributions necessary to open the door for the public to invest in the zoo as well.
One advantage of having this system in place is that anyone can leave their legacy at the zoo by way of life-insurance policies, property, stock options, bequests, estate holdings and other large contributions. Another advantage is that it will aid the zoo in the process of major upgrades, such as master planning projects and major long-term upgrades for the Jackson Zoo.
The Jackson Zoo is accredited through the Association of Zoos and Aquariums.
For more information, call Angela Harris at 601-352-2580 ext. 227 or email [email protected]
More stories by this author
Support our reporting -- Become a JFP VIP.
The news business has changed dramatically in the past year, and we need your help more than ever to keep bringing you important stories about Jackson and the Metro. Become a JFP VIP with an annual membership or you can Sign up as a monthly supporter. Thanks for anything you can do to empower our journalism!