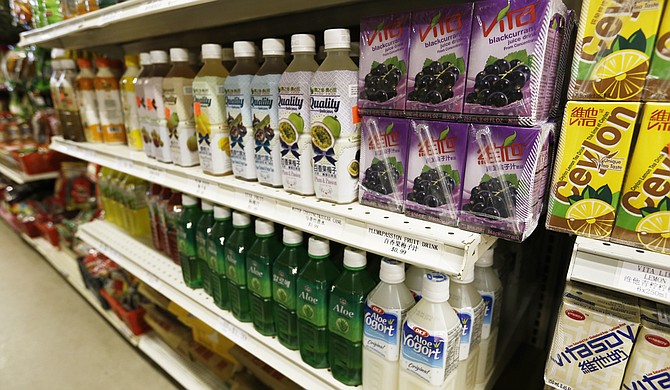 Though Jackson is not New York City, it does have plenty to offer in its variety of ethnic restaurants. If you want to try your hand at cooking different foods, the metro area also offers several ethnic grocery stores. Here are some of the ones in Jackson.
Fortune Asian Market & Restaurant (1169 E. County Line Road, 601-991-9898)
Nancy Dong, owner of Fortune Asian Market & Restaurant, is doing well in the family business. Members of her extended family across the South, including in Alabama, have pooled their capital in a number of group ventures. They have purchased and, in some cases, constructed Asian grocery stores and restaurants. Dong's restaurant and store, which she opened with the help of her uncle, Lin Wang Chuan, is inspired by a similar property her father, Dong Yi Lu, owns in Homewood, Ala., called Oriental Super Market and Red Pearl Restaurant.
Dong traveled to the United States in 2000 from her native city of Fuzhou in China's Fujian province. Her father had already come here in 1995. Initially, Dong moved to New York City seeking better business opportunities than she could find in her home country. She moved around in New York, Louisiana and Alabama, working in various Chinese restaurants along the way, before she settled in Ridgeland in 2005 and decided to open a business.
"Miss Dong opened up here because she saw a real need for a place to purchase authentic Chinese products in Ridgeland," says Fortune Manager Chen Hong, who spoke on Dong's behalf as she is not fluent in English. "You can't get the ingredients you need for truly authentic Chinese cooking in Walmart; they cater to a more general population. We like to be able to cater to the more adventurous with what we have, as well."
Adventurous foodies will not be disappointed with what Fortune offers, including a wide variety of imported Asian tea and coffee blends, and plenty of exotic seasonings. Customers will also find two aisles devoted to noodles of all shapes and numerous rice varieties, and an entire shelf of various types of cookies in blue tins featuring the Smurfs. The store also offers items such as tempura-flavored chips, fish crackers and preserved duck eggs.
The drink section includes wheat and aloe-vera drinks, black-soybean and black-sesame soy-milk juice boxes and Ramune—a carbonated drink sold in special glass bottles sealed with a marble.
The frozen-food section includes fish balls, fish cakes and mochi-flavored ice cream. (Mochi is a Japanese rice cake made from a type of rice called mochigome.) In Fortune's seafood section, shoppers can buy fresh eel, large snails, squid and cuttlefish. The store also has tanks nearby filled with live fish, lobsters and even large green frogs.
"I know frog legs are a thing in the South, but not the whole frog, I'll bet," Hong says. "The Chinese, they boil and eat the whole frog."
Fortune's restaurant boasts an extensive menu with dozens of varieties of beef, chicken, pork, seafood, rice and vegetable dishes to choose from. Many dishes are spicy, but Fortune's cooks can alter the spice level of any dish to suit your taste.
The Fortune grocery store is open Sunday through Thursday from 10 a.m. to 10:30 p.m., and Friday and Saturday from 10 a.m. to 11 p.m. The restaurant is open Sunday through Thursday from 11 a.m. to 10 p.m., and Friday through Saturday from 11 a.m. to 10:30 p.m.
Mr. Chen's Authentic Chinese Cooking (5465 Interstate 55 N., 601-978-1865)
Mr. Chen's has become a staple in the Jackson area since opening in 2010. The grocery, which takes up considerably more space than the restaurant, features an amazing selection of authentic oriental goods that you won't find in a typical American grocery store. Mr. Chen's frozen-food section alone has items such as chicken feet and frozen boiled apple snail meat along with goat, lamb, rabbit and quail. You'll also find bean buns and egg tarts, pork buns and Asian dumplings, rice-paper spring roll wraps, frozen banana leaves, red bean and green tea-flavored ice cream, durian pancakes and even cuttlefish and an entire frozen sushi section.
Shoppers will also find aisles of spices and sauces in Mr. Chen's, which include items such as tempura sauce, banana sauce and tubes of ginger paste. The store also has unusual snack options such as snow peas, rice-roll egg-yolk chips, and dried fruit and sweet potato chips.
Storeowner Chuan Wen Yu, a native of China's Fujian Province, ran a small shop there that sold locally made crafts and trinkets. He immigrated to the U.S. in 2008, and worked as a chef in a small Chinese restaurant in New York City. It was his first experience with food, Yu said through an interpreter. There, he learned everything he knows about cooking.
Yu moved to Jackson about four and a half years ago. With Mr. Chen's, he combines his cooking and entrepreneurial experience to bring an authentic Asian restaurant and grocery store to the Jackson area. Business has only been getting better and better since he opened, he said, especially with the support of the people through the Best of Jackson awards.
The grocery store is open Sunday through Thursday from 10 a.m. to 9 p.m., and Friday and Saturday from 10 a.m. to 9:30 p.m. The restaurant opens at 11 a.m. each day of the week and closes at the same time as the market.
Van Hung Asian Market (637 Highway 51, Ridgeland, 601-856-9638)
Sally and Ben Kor own Van Hung Asian Market, which features plenty of unique and authentic Asian goods well worth checking out.
You'll find items such as wasabi or sriracha-flavored green pea snacks, soy wrappers, seasoned and roasted seaweed and seaweed chips, soba noodles, memmi soup base, white rice cakes, and tempura and Ponzu sauces. Van Hung is also the place to go if you're looking for a bamboo steam cookers or two-pound bags of wasabi powder.
Van Hung also offers shrimp-flavored starch slices, sour bamboo shoots, lotus rootlets, coconut gel, spiced coconut vinegar and macapuno—a naturally occurring coconut mutant with a soft jelly-like coconut flesh. Other unusual produce selections include pickled daikon radishes, Chinese eggplants, banana flowers, enormous edible roots (appropriately labeled "big taro") and luo han guo, a fruit native to southern China and northern Thailand whose extract is nearly 300 times sweeter than sugar.
Van Hung Asian Market is open Wednesday and Thursday from 10 a.m. to 7 p.m., Friday from 10 a.m. to 9:30 p.m., and Saturday through Monday from 10 a.m. to 7 p.m.
Tienda la Guadalupe (6537 Old Canton Road, Ridgeland, 601-956-4481)
Gabriela Harmon co-owns Tienda la Guadalupe with her husband, Paul Harmon. The couple met in San Antonio in 1992 when Paul was working for a steel construction company and Gabriela was still in high school.
She was born in Rio Verde, San Luis Potesi, Mexico, and immigrated to the U.S. in 1992 for school. Gabriela graduated from Louisiana State University in 2007 with a bachelor's degree in accounting. Paul hails from Tiston, Ga., and received a bachelor's degree in business management from St. Mary's University in San Antonio, Texas, in 2009. The couple moved to Baton Rouge, La., in 1999, where Gabriela managed a small store, and to Ridgeland in 2008.
Starting in 2009, Gabriela did the books for La Guadalupe's former owners, Hernan and Christina Garcera, who opened the store 12 years ago. When the Garceras retired in September 2014, the Harmons bought it. The couple also house a tax preparation business, Professional Accounting & Tax Services, in the building.
"We have enjoyed good client bases for both of our operations because we carry things other local stores don't," Gabriela says. "We have all authentic Hispanic goods here—including things like tamale husk and banana-husk spice, and rice and beans—that we buy directly through specialty distributors like Goya in Mexico."
Sweet-toothed shoppers are in luck, as Guadalupe has a huge selection of imported treats, including traditional South American bunuelos (fried dough balls), bizcocho cinnamon cookies (also available in chip form), bars of dulce de batata (jellied sweet potato) and mixes to make your own churros, a popular long, thin, fried dough pastry. Customers will also find other specialty items such as mango and guava paste, dried chilis and peppers of all kinds, whole-leaf spices, guanabana and tamarind frozen treats and little bags of whole dried in-the-shell shrimp. Beyond food items, the store stocks candles with religious imagery, scented powders, and racks of beauty, car and medicinal products—all imported from Mexico.
Tienda la Guadalupe is open every day from 9 a.m. to 8 p.m.
Carniceria Valdez (6530 Old Canton Road, Ridgeland, 601-899-6992)
Across the street from Tienda la Guadalupe is another Mexican grocery, which Victor Valdez owns. Carniceria Valdez includes a bakery and butcher shop, and sells fresh produce.
Carniceria has a huge selection of authentic beans and spices, fresh corn for popping and bags of quinoa. The produce and meat sections have a wide and, for the most part, typical selection, but shoppers can also find unusual ethnic items such as whole cow feet and fresh whole cactus leaves.
The store also has authentic Mexican tea and drink mixes, wafer snacks—ranging from small to gigantic—and even a selection of Hispanic movies on DVD.
Carniceria Valdez is open from 9 a.m. to 8:30 p.m. every day except Sunday, when the store closes at 7:30 p.m.
Phamega African Caribbean Market (4253 Robinson Road, Suite 102, 601-923-8787)
Kunle Oladipo owns a small shop on Robinson Road in south Jackson that specializes in African and Caribbean foods. Oladipo came to Mississippi from his native Nigeria in 2003 to study business administration at Jackson State University. In 2010, he put his education to work in his store, which he bought in 2014
"I opened this store because I wanted to provide authentic products to the people," Oladipo says. "You won't (find) another store or restaurant with products like these around. I want people to come and see what we have here and know what Africa and the Caribbean have to offer."
The store has a wide selection, including powdered pounded yams and potatoes from Nigeria, as well as cassava, a plant cultivated in tropical regions for its starchy roots. It serves as one of the largest sources of carbohydrates in the Caribbean. Phamega also carries organic palm oil from Africa, which cooks can use instead of ordinary vegetable oil.
You'll also find olouin beans, kola nuts and stockfish—unsalted fish dried naturally on wooden racks and cured with a process similar to cheese maturing. The store also carries Caribbean jerk barbecue sauce and plantain chips, along with fresh chin chin, a sweet and crunchy donut-like fried snack popular in West Africa, made of baked or fried wheat flower dough and often flavored with ground nutmeg.
Phamega also carries African clothing., a favorite of local schools and other organizations looking for authentic African clothing for cultural productions.
Phamega African Caribbean Market is open 10 a.m. to 6 p.m., Monday through Saturday.
Bombay Plaza (957 Highway 80 E., Clinton, 601-272-4000)
Brothers Paramjit "PJ" and Harpreet "Johnny" Singh, owners of Bombay Plaza in Clinton, bring Indian foods to Mississippi with Taste of India, India Cafe and the India Bazaar grocery store.
Born in Jalandhar in the Punjab state of India, the Singhs opened three award-winning restaurants in Utah after coming to the United States in 2002. The original Taste of India won "Best of Utah" and "Best of State" awards for Best Indian Restaurant. After visiting Mississippi on a recommendation from some of their customers, the brothers sold their Utah stores, moved to Mississippi and opened Bombay Plaza in Clinton last year.
The India Bazaar grocery carries a wide variety of spices, fresh fruits and vegetables, and dry goods including flour, masala, peas, beans, rice, frozen foods and incense.
The adjacent India Cafe offers authentic Indian street food such as pani puri—a fried, hollow dough ball filled with a mixture of flavored water, tamarind chutney, chili, chaat masala, potato, onion and chickpeas—and a wide variety of sweet treats, eggless cakes, and cold and hot beverages.
Bombay Plaza also holds an Indian clothing boutique called Bombay Fashion.
Bombay Plaza is open seven days a week from 10 a.m. to 10 p.m., with the exception of Taste of India, which closes from 2:30 p.m. to 4:30 p.m.
Aladdin Grocery (730 Lakeland Drive, 601-366-6033, aladdininjackson.com)
If you're in the mood to cook Mediterranean food and can't find the right ingredients at your local supermarket, don't fret. Aladdin Grocery, located behind Aladdin Mediterranean Grill in Fondren, can help you out. The store stocks tahini, Mediterranean spices, Bulgarian feta cheese, nabulsi and halloumi cheese, baklava, Arabic and Turkish coffee and tea blends and much more.
Aladdin owner Yoseph Ali came to the United States from Ethiopia in 1995. He opened his restaurant in 2004 and opened the Aladdin Grocery a few years later.
"I opened Aladdin because I wanted to bring the kind of food we had in my home country here to Jackson, and figured it would do well because we get a lot of people from all around here," Ali said. "Eventually, my customers started asking me where they could get the kinds of spices, cheeses and other ingredients I used in my food, and I opened the grocery so I could provide it for them."
Ali prides himself on providing a taste of the exotic to Jackson-area residents that tastes good and is good for them.
"Running Aladdin has been the best thing that's ever happened to me," Ali says. "My business keeps growing. It's easy to see what a difference it makes when you have a healthy menu where everything is made from scratch with ingredients you won't find just anywhere."
Aladdin Grocery is open every day from 10 a.m. to 9 p.m.
Add more at jfp.ms/ethnicgrocers.
More like this story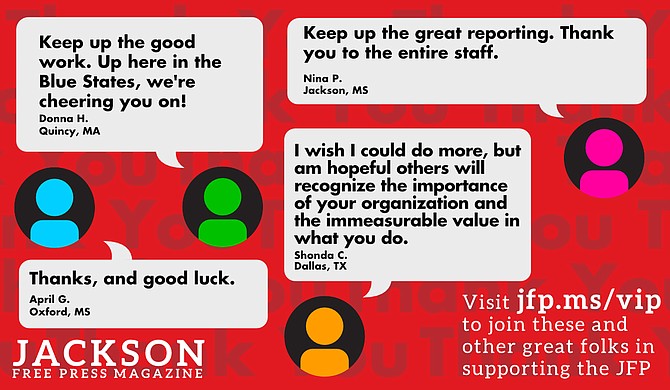 Thanks to all our new JFP VIPs!
COVID-19 has closed down the main sources of the JFP's revenue -- concerts, festivals, fundraisers, restaurants and bars. If everyone reading this article gives $5 or more, we should be able to continue publishing through the crisis. Please pay what you can to keep us reporting and publishing.