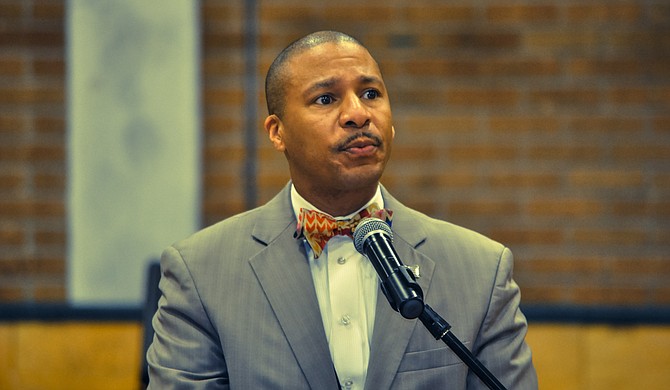 Despite legislative budget writers shortchanging them, along with every other school district in the state, Jackson Public Schools are showing improvement in several areas.
Last week, the Jackson Public Schools Board of Trustees granted a one-year contract extension to Superintendent Dr. Cedrick Gray, citing high academic performance and progress in a number of other areas.
Information from JPS shows that the number of F-rated schools in the state's largest urban district has fallen to eight from 17 and that the number of discipline incidents dropped by 1,000 between last school year and the current year.
In addition, the graduation rate ticked up from 64 percent in the 2012-2013 school year to 65.1 percent in the 2013-2014 academic year. JPS Board President Otha Burton also lauded Dr. Gray for boosting parent participation and making a positive impact on the district's culture.
"Although we are labeled a 'D' district, we are operating with an 'A' mentality, and I am confident we will continue to improve academic achievement," Dr. Gray said in a news release.
JPS' progress comes even as the Legislature has made little progress on funding public schools according to the Mississippi Adequate Education Program formula, which lawmakers are supposed to use to determine how much money to give districts. In the most recent round of budget negotiations, lawmakers boosted MAEP funding by $110 million compared to last year, but full funding remained short by more than $200 million.
The Parents' Campaign, a Jackson-based education advocacy group, analyzed what it calls the shortchanging of public schools in a report published April 9. Its information shows that JPS, the state's second largest school district by enrollment, should have received $142.4 million by state law but ended up with $11.6 million less for a total state appropriation of $130.7 million.
Since the last time MAEP received full funding, in the 2007-2008 academic year, the Legislature has shorted JPS $98.6 million behind only DeSoto County School District, the state's largest. All together, Mississippi schools have received $1.7 billion less than full MAEP funding since 2008.
"Even while schools have been starved of adequate resources, students and teachers have worked hard to improve achievement, embracing higher standards and increasing state test scores," Nancy Loome, the Parents' Campaign executive director, wrote in an email to supporters last week.
Loome also called on public-school supporters to become politically involved during this statewide election year in hopes of drawing "a more education-friendly Legislature" next school year.
More stories by this author
Support our reporting -- Follow the MFP.