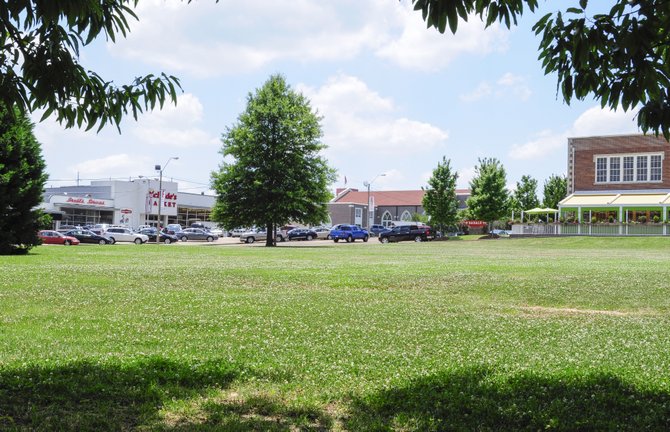 Though state officials need to approve construction on a hotel in Fondren, building could commence before the end of the year, the developer says.
Plans call for a 100-room, four-story urban boutique-style Hampton Inn with an underground parking garage at the corner of Duling Avenue and Old Canton Road, which is now a vacant grassy lot near Babalu Tacos & Tapas.
Sunny Desai, president and chief executive officer of Desai Hotel Group in Jackson, said the design would be unique to the Hampton Inn chain and that the company is working with the Mississippi Department of History and Archives to approve the plans.
Mike Peters and his Fondren Place Development Co., which own the Fondren Corner Building, also own the land for the proposed hotel.
"Because Fondren is so unique, (MDAH wants) to make sure everything fits," Desai told the Jackson Free Press Friday.
Desai added that the hotel would "look historic, yet modern" with a mostly brick exterior and a colorful interior in tune with the vibrancy of the Fondren.
Desai's company also recently finished renovating the Holiday Inn Express on High Street. That renovation included a complete inside-and-out makeover and the addition of a swimming pool.
Educare and Alcorn Open Senior Day Center
Angela Courtney of Educare Senior Services— a Medicaid/Medicare certified, accredited agency that services the elderly and disabled throughout the state of Mississippi—has formed a strategic partnership with Alcorn State University to open the Educare Senior Day Center (1014 McCluer Road).
Educare partners with professional wellness directors who provide individualized assessments and ongoing seminars that support whole-person health strategies, with each wellness program specific to the individual requirements of each resident.
The center offers wellness programs, arts & crafts, dance and exercise-based fitness, field trips and instructional classes for senior citizens.
The instructional courses at the center include training in technology, such as teaching basic computer skills for research and social networking.
The center has a game room featuring consoles like Wii and Xbox, as well as a separate game room for board games and other activities. The center also offers classes such as sewing, crafts, quilting and more.
Educare Senior Day Center provides transportation to and from the center, home-cooked meals and snacks, a social worker and registered nurse onsite for assessments, and lifelong-learning classes.
In addition to the Senior Day Center, Educare also has trained personal-care assistants and certified nurse assistants to provide at-home care. Educare provides these services when a person is unable to manage the home or when the person regularly responsible for these activities is temporarily absent or unable to manage the home.
Personal-care services include meal preparation, help with routine household tasks, emotional support, safety monitoring and more. All personal-care staff receives pre-service job training, extensive continuing education and regular supervision and support from Educare administrative staff. Personal-care providers are also all certified for personal-care assistance through the Division of Medicaid, are first-aid certified, are drug tested and must pass a criminal background check and are all certified as CNA or PCA.
For information on Educare, call 601-321-9620.
Millsaps Beer Garden
Millsaps College, a Division III college football school whose greatest claim to fame was being the temporary home of the New Orleans Saints training camp a few years ago, has been suffering declining attendance at games in recent years. Seeking to address the issue, Millsaps Athletic Director Josh Brooks has joined forces with local Lucky Town Brewing Co. to operate a beer garden at games.
"The more I looked at it, I realized more people were sitting at home, (watching) on their TVs, drinking alcohol," Brooks said in an interview with SB Nation. "It's going to help with revenue generation, obviously, but I think mainly it's going to keep people attending, keeping the social scene."
While 21 Division I schools have also started allowing beer sales during games, a stigma against alcohol and liability concerns have made the idea of alcohol at college football games slow to catch on. Brooks believes that his beer-garden idea will lessen these concerns because drinking will only be allowed within the beer garden itself. Beer sales could be opened to the Millsaps stadium in general if conference guidelines allow for it in the future.
Lucky Town o-founder Chip Jones told SB Nation that Millsaps' place in the community and its size make it a good fit for a new experiment like this one.
"Millsaps is actually very involved in the community where we're building our brewery right now, and they recruited us to locate here," he said. "When they come out and do this, they're not going to have too much pushback, even with us being in the Bible Belt."
The Millsaps beer garden will open during the school's first home game of the season Sept. 6.
JSU Opens New Facility Downtown
Jackson State University's Institute of Government is set to move into its new building at 101 W. Capitol St. in January. The site will also be the new home of the Mississippi Urban Research Center and part of the College of Public Service.
Otha Burton Jr., the Institute of Government's executive director, recently toured the facility with JSU President Carolyn W. Meyers, Provost and Vice President for Academic Affairs James C. Renick and others. Burton said in a release that the move would be an opportunity to broaden JSU's presence within the larger community and foster professional development for students through meaningful research.
"There are organizations waiting for us to get down there—the Chamber of Commerce, City of Jackson. Many are looking forward to that as a resource," Burton said. "The beauty of the downtown JSU campus is that it will house urban programs and increase our potential to reach out and bring in new clientele."
Burton said that the space will be "a place where we can continue to launch programs for the Institute of Government." This will include on-site training, forums, and professional research. One of the programs is a polling center.
Two programs in the College of Public Service—Public Policy and Administration and Urban and Regional Planning—will occupy classroom space on the second and third floors.
Ricardo Brown, dean of the College of Public Service, was also present at the tour. He believes the new campus will offer students access to networking and outreach potential the current location at the University Center is not able to facilitate.
"This moves students closer to lawmakers," Brown said in a release. "The downtown campus encourages synergy and creates an ecosystem to entice students within innovative learning spaces."
Support our reporting -- Become a JFP VIP.
The news business has changed dramatically in the past year, and we need your help more than ever to keep bringing you important stories about Jackson and the Metro. Become a JFP VIP with an annual membership or you can Sign up as a monthly supporter. Thanks for anything you can do to empower our journalism!