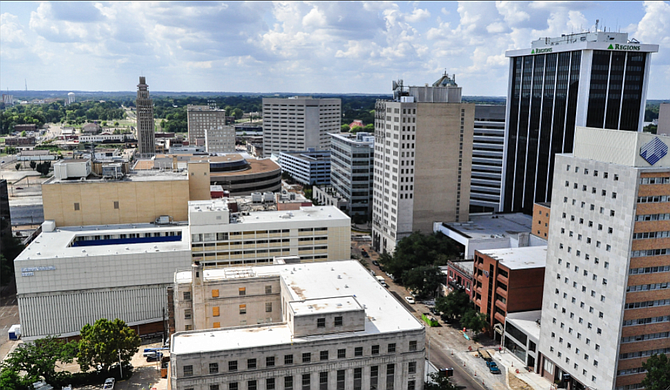 The second annual Downtown on Display will take place in Jackson on Saturday, Nov. 1, coinciding with the fourth annual Town Creek Arts Festival. The historic neighborhood will open its doors to give visitors a unique view of the buildings, churches and businesses that call downtown Jackson home. From 2 to 5 p.m., visitors can take architectural tours, access magnificent views, eat, shop and listen to live music.
"Downtown on Display is an invitation to everyone to come and see those unique and wonderful places of downtown Jackson that are not normally made available to the public," Steve Davis, partner at Canizaro Cawthon Davis Architects and one of the creators of the event, said in a release.
One unique place that will be open to the public is the Mississippi Governor's Mansion. Usually closed on weekends, the mansion staff will open its doors for the event and provide free, guided tours that will detail the history of the second oldest continuously occupied governor's residence in the United States. Self-guided tours will also be available.
Downtown on Display is free and open to everyone and will also include tours of the Clarion-Ledger, St. Andrew's Episcopal Cathedral, the Mississippi State University School of Architecture Fifth-Year Program at the Jackson Community Design Center (509 E. Capitol St.), the Electric 308 building and Underground 119.
A new stop on the tour this year is the Hinds County Courthouse, an Art Deco building constructed in 1930 with statues of Moses and Socrates towering over it. Visitors will have the opportunity to view courtroom No. 1 as they tour the building.
The Town Creek Arts Festival at the Mississippi Museum of Art will showcase artists, craftsmen, food from local vendors and live musical performances. Other offerings at downtown spots include complimentary iced coffee and delicious Amish bread at The Coffee Roastery, a unique view of the city from Electric 308's rooftop deck and the penthouse apartment in the 119 S. President St. building.
Jackson City Hall will be open to the public, and citizens can tour the City Council Chambers. Visitors will learn about the Freemasons as they tour the Masonic Lodge housed on the third floor of City Hall.
"Any business in the downtown area that wants to participate, can," Ben Allen, President of Downtown Jackson Partners, said in a release. "People are signing up every day for this great event. If you're a business and you'd like to show off your space, there's still time to sign up."
A shuttle will be on hand to transport people to and from locations. Maps of the participating properties will be at each tour stop. Visitors will also have an opportunity to take a driving tour of downtown that will highlight development projects and historic landmarks.
For up-to-date listings of downtown open-house spots, visit www.itsdowntown.com/downtownondisplay.
Madison Introduces Mississippi Bio-Medical Business Collaboratory
This Friday, Madison County will introduce the Mississippi Bio-Medical Business Collaboratory with visits from the governor and other important officials, the Mississippi Business Journal reported.
Located at 152 Watford Parkway Drive in Canton, the Collaboratory will be home to a diverse array of health care companies working in various disciplines. The building has 60,000 square feet of space for businesses, half of which is already built out. The facility will ultimately house up to 15 different businesses.
Tim Coursey, executive director of the Madison County Economic Development Authority, has been a major force in founding the Collaboratory. He credits Gov. Phil Bryant and the Mississippi Legislature for creating the health zone initiatives in Mississippi.
Among the business owners taking part in the Collaboratory are Dr. David Powe, CEO for Telehealth One, J. Todd Barrett, CEO of Advantage Pharmacy Services, and Don Glidewell, CEO of Think Anew. A number of pediatric health, senior health and other health facilities are also preparing to join.
Before he became the CEO of Telehealth One, Powe worked as an educator and superintendent, made a career at NASA, and then served as the chief administrative officer of the University Medical Center for 10 years. Telehealth One will focus on remote monitoring and health-care services, and delivering care to rural health facilities and hospitals, as well as to patients in their homes. Powe plans to eventually have as many as 40 high-paying jobs in the company, which will benefit schools and private companies, particularly in health and wellness programs.
Barrett has had a long and successful career in the pharmaceutical world, and his company, APS, will manufacture a unique new medication-dispensing cart, of which he is the patent-holder. The cart will greatly reduce drug waste, particularly in nursing homes, and will also bring greater labor savings, reduce the potential for error and better serve the needs of patients.
Glidewell's company, Think Anew, will provide information technology support for the Collaboratory. Think Anew serves the IT needs of many nursing homes throughout the Southeast, and the company is highly adept at working in the health care environment. Think Anew will move operations to the Collaboratory in early 2015, initially bringing 30 to 40 jobs to the facility.
One of the largest enterprises under development at the Collaboratory is the Global Training Institute, a simulations training facility for doctors, nurse practitioners, nurses, first responders and others. Their facility will consist of both classrooms and eight separate "operating rooms" where hands-on training will occur, covering processes and procedures, as well as work with new machines and technologies. The GTI will occupy 22,000 square feet in the Collaboratory.
For more information on the Madison County Economic Development Authority, visit www.madisoncountyeda.com. For more information on Telehealth One, visit www.telehealthone.org. Fore more information on APS, visit www.apscart.com. For more information on Think Anew, visit www.ThinkAnew.com.
2015 SBA Small Business Awards
For more than 50 years, the U.S. Small Business Administration has recognized the outstanding achievements of America's small businesses for their contributions in local communities and the nation's economy. The SBA is seeking nominations for the 2015 Mississippi Small Business Person of the Year and Small Business Champion Awards. The SBA will announce winners during National Small Business Week in May 2015.
The Mississippi SBA Small Business Person of the Year will be invited to attend the national celebration in Washington, D.C., to compete for the National Small Business Person of the Year Award against winners from across the country.
The Small Business Champions of the Year category is for those who promote small business, including volunteering time and services to small-business interests and groups. Champions may or may not be small-business owners.
SBA Small Business Week Award categories include: Small Business Person of the Year, Small Business Exporter, Young Entrepreneur, Generational Family-Owned Small Business, Minority Small Business Champion, Women in Business Champion, Veteran Small Business Champion, Home-Based Business Champion, Financial Services Champion, Entrepreneurial Success Award, Small Business Journalist and the Phoenix Awards for outstanding accomplishments during disaster recovery.
Nomination packages for the Small Business Person of the Year can be submitted online, mailed or hand-delivered. For all other categories, the nomination packages can be mailed or hand-delivered. The SBA Mississippi-Gulfport Branch Office must receive mailed or hand-delivered packages no later than 4 p.m., Jan. 16, 2015. Small Business Person of the Year Nomination packages submitted through the online web portal must be uploaded and submitted no later than 3 p.m. EST, Jan. 5, 2015 at http://awards.sba.gov.
For nomination guidelines and additional information regarding the awards, visit the SBA Mississippi web site at www.sba.gov/ms or contact the SBA Mississippi District Office at 601-965-4378 or the Gulfport Branch Office at 228-863-4449.
The Top-Ranked STEM Majors
Majors offering STEM—Science, Technology, Engineering and Math—degrees largely lead to some of the highest-paying related careers, as well as careers with positive employment outlook across several industries. STEM majors are also projected to remain in-demand well into the future.
A https://georgetown.app.box.com/s/tlfsn8vah39oyb42tpyi study from Georgetown University's Center on Education and Workforce noted that STEM is projected to be the second-fastest-growing industry in the economy, that its related occupations are some of the highest paid ones and that the demand means employers could be expected to compete fiercely for the services of STEM degree holders.
In its study of the Best STEM Majors 2014, education website WorldWideLearn.com examined not only career earnings, but educational opportunity, degree affordability, job growth potential and more to determine the overall value of the major to educational qualities and future career success.
The site examined 50 STEM majors across a cluster of nine industries, including agriculture, architecture, computer and information sciences, engineering, engineering technologies, interdisciplinary studies, mathematics and statistics, natural resources and conservation, and physical sciences.
WorldWideLearn ranked each specific major in two areas—education and employment—and created four proprietary metrics for each field: educational affordability, educational opportunity, earning index and employment opportunity.
Within the nine industry clusters, engineering dominated the list with 29 engineering-related majors and five of those made the Top 10. Computer and information sciences followed in second, placing three majors in the Top 10. Other fields, not represented in the Top 10, also made strong appearances with multiple majors on the list, including biological, biomedical and physical sciences with six majors apiece.
Starting from the highest ranking, the Top 10 list includes information technology, computer and information sciences, mathematics, civil engineering, computer engineering, computer programming, environmental engineering technology, nuclear engineering technology, petroleum technology and marine sciences.
For detailed information on the Top 10 majors and the rest of the Top 50 list, visit WorldWideLearn's website.
Support our reporting -- Follow the MFP.