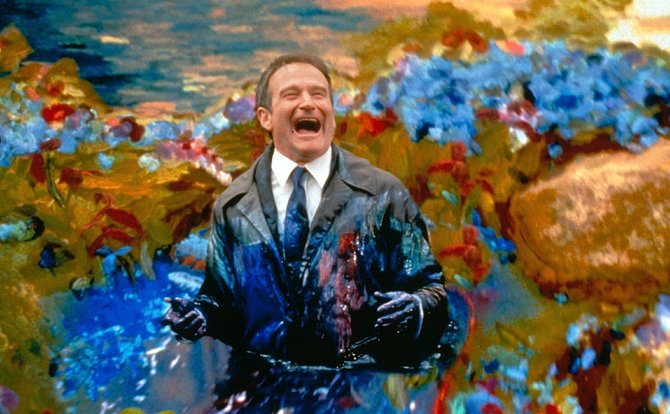 When actor Robin Williams passed away at age 63, the entertainment world lost one of its sharpest wits and most diverse talents. His acting range, whether quick and chaotic or tame and contemplative, reintroduced him to every generation. For the '70s, Williams was a good-hearted visitor from the distant planet of Ork. For the '80s, he was an American airman with a love of radio and impressions. And for the '90s, he was Patch Adams, or the pop-culture-loving Genie, or sweet Euphegenia Doubtfire. Here are a few of Williams' works that may have slipped your mind.
"The Fisher King" (1991)
Few movies managed to put both Williams' frenzied comedy and heartrending dramatic skill to work. Director Terry Gilliam's "The Fisher King" happens to be one of them. Jack, played by Jeff Bridges, is a radio DJ known for his acerbic sense of humor whose self-esteem hits a wall when his radio show unintentionally leads to a Manhattan shooting. He eventually finds peace in helping Williams' character, unhinged and homeless Parry, find the "Holy Grail." It's a story of redemption, tinged with fantasy, with a message that's timely even now: Your actions will always affect others.
"What Dreams May Come" (1998)
Given its initial reception and its status as a cult classic, "What Dreams May Come" might seem like an odd choice for this list. The film opened second in the box office and won the Academy Award for Best Visual Effects in 1999. However, the success of another 1998 Williams' vehicle, "Patch Adams," overshadowed this beautiful and spiritual film about heaven, hell and a love that transcends both.
"Jumanji" (1995)
Children's book adaptations were a dime-a-dozen commodity in the 1990s, so the fact that this film holds up so well is a testament to its pedigree. Many of those involved with its production moved on to bigger and better things, including Kirsten Dunst who played the compulsively deceitful Judy, the Industrial Light & Magic special-effects team and director Joe Johnston of "Captain America" fame. "Jumanji" enters the darker corners of kids' fears and returns with an adventure that can pull you in stronger than the titular board game.
"One-Hour Photo" (2002)
Perhaps one of Williams' most underappreciated performances, "One-Hour Photo" is a tale of obsession, loneliness and the effects of a the-grass-is-always-greener lifestyle. Williams plays Sy, a kind but friendless photo technician who develops an unhealthy fixation with one seemingly perfect family. The film is a slow-burn drama unlike most anything in Williams' career, with an intense conclusion that is just as poignant as it is hard to watch.
"Insomnia" (2002)
It's baffling that "Insomnia" hasn't gained in popularity. This directorial outing from a pre-Batman Christopher Nolan refashions a 1997 Norwegian thriller of the same name. While LAPD Detective Will Dormer, played by Al Pacino, assists with a murder case in Alaska, he accidentally shoots his partner in view of the culprit and starts a conspiratorial chain in the rural town. Williams plays crime novelist Walter Finch, dancing on a thin line between distraught and demented. It's one of the late actor's few outright villainous roles, and he plays it to perfection.
More stories by this author
Support our reporting -- Follow the MFP.