Stewpot, a pillar in the Jackson community for its service to the homeless population, has a long history of struggling to make ends meet. As a nonprofit ministry, it can only operate on the funds it receives from donations and grants—which were dramatically lower in 2015 due to scaled-back government support and the loss of a United Way grant.
Executive Director Frank Spencer is charged with making the numbers work. He has recently faced great cuts in grants from both the city and federal government, mostly due to the U.S. Department of Housing and Urban Development's decision to move away from funding temporary shelters in favor of more permanent housing solutions, he says. As a result, Spencer says he was left with only one decision—to close Stewpot's two emergency shelters.
Between the time that he announced the decision in August and the announced closing date of Nov. 25, however, Stewpot received enough in donations—$200,000, mostly from individual donors—to keep the shelters open.
Still, Spencer has a long road ahead to secure funding for Stewpot in coming years. Now, Stewpot must seek alternative resources or work to change the emergency shelters into transitional shelters.
Spencer recently spoke to the Jackson Free Press about the challenges ahead.
Billy Brumfield and Matt's House (shelters) are both remaining open. Did you actually get the $200,000 you said you needed?
Yeah. We got $100,000 from an anonymous couple. And we had $100,000 of specific gifts or grants for Brumfield.
What can you do in the future to avoid this situation?
We need sustained funding. The two grants that we lost, one is United Way, and their emphasis now is education with the reduced amount that they get in. The other is HUD, where they're not interested in emergency shelters anymore.
And what we have are emergency shelters—these two locations, where people off the street can come in ... it's a short-term emergency housing to try to tackle the problems that they have. Women and children, we can house them at our facilities and help them get employable.
Are Matt's House and Brumfield the only two emergency shelters with Stewpot?
Yes.
Does this problem with HUD changing their priorities actually make it so that you need more donations per year?
Oh yeah. That's the reason we asked the city council to fund us because we didn't think our donor base would be able to support these additional ministries. I think that's probably the case even though we got $200,000, because the people who gave us $100,000 have never contributed to Stewpot. The others, for the most part, were not people who contribute to Stewpot, so they're new efforts.
So we're going to face that situation again in the coming year to be able to fund those two facilities, which are now getting no support except for contributions. The city did give us $23,000 for Brumfield, but they were going to give that to us anyway.
The majority of (the contributors) Stewpot did not know before, and I can't count on those contributions for 2016. So we're kind of in a limbo state.
One thing you need to understand about Stewpot is the ethos of Stewpot. ... We minister to the extent we get funds. We don't have a pot of money sitting off to the side that we can draw on. If we did not have the money for other ministries, then we can't have them. I took a big chance on keeping Brumfield and Matt's House open because if we didn't get any funds, we would have been in the hole.
Is there anything that you can do to know about regulation changes beforehand?
HUD was a complete surprise. And that was a large amount of money, specifically for Matt's House. You had what could be called a legacy grant from HUD where they automatically renewed it every year. So they didn't do it—put us in a horrible hole.
(HUD) made restrictions on the city's funds so they weren't able to give us money from HUD. Heather, who's on my staff, goes to all of the relevant meetings that keeps up with HUD and meets with HUD all the time—that was a complete surprise. There's nothing that we could have done differently this year.
Who would have thought United Way would depart from their previous behavior and devote all their energy towards education in the same month? So it was a blow to the face, I'll tell you.
What else do you need from the community besides donations?
Donations are very, very important to us, because with that there's so much you can do. Right now we have food. I hate to say that because there's people that are out collecting, going to give it to us. We get a lot of donations of clothes. Clothing's not an issue. It's just mainly donations, being able to pay the staff.
When you're talking about Matt's House and Billy Brumfield, what are those funds doing at those places, and what are they paying for? Utilities, staff?
It's everything. When we lose $200,000 out of our budget, a lot of it went from just general support for those ministries as well as others. One thing we have to do ... If somebody gives us a check designated for something we have to use it for that purpose and we're audited for that by our CPA's to make sure what people designate funds for have to be used for that purpose.
What would it take to get Matt's House on that platform so that you could get HUD funding for it?
We would have to change it from an emergency shelter to a longer-term shelter. The thing is, we hate to do that. I'm in a quandary because the city of Jackson needs these emergency shelters, and so they need to stay open. If those two shelters weren't open, I don't know what would happen with the homeless.
I don't know what they'd do because nobody else takes the number of people that we do.
Getting people in the moment they become homeless and giving them shelter, that primarily happens in an emergency shelter, not rapid-rehousing?
Right. (With) rapid-rehousing you actually put the person in what qualifies as permanent housing, and then you give them services. They are housed first, and then services are provided. Emergency shelter is just somebody needs shelter quick, and so you get them into the shelter.
I would like to move to a model where we don't have to put people out after a short period of time to work with them more. And we've been looking at possible rapid-rehousing projects.
A shelter that a person can stay in for 90 days is going to, by nature, serve less people than something like an emergency shelter.
Yes. Absolutely yes.
Is that one of your big concerns?
What I'm concerned about is people on the street because it's dangerous out there. If I had to list my priorities, I would say women with children were at the top and then people being on the street and not having any place to go to.
Obviously, you can't implement any new programs or services without new funding, but if you could what would be your priority?
My top priority right now would be to get social workers to work with the people we have to service them better.
Is there a specific part of the homeless community that is underserved?
Well yeah, many of the people we deal with are underserved. The people who come in for lunch are certainly not served to the extent that they need to be to get them to be productive citizens.
If you were to go over to Stewpot right now, you'd see on the street at least one woman and one man who really, really need extensive service. They're underserved ... they're off their medicine. They do pretty good when they're taking it; when they're not taking it, they can be dangerous.
More stories by this author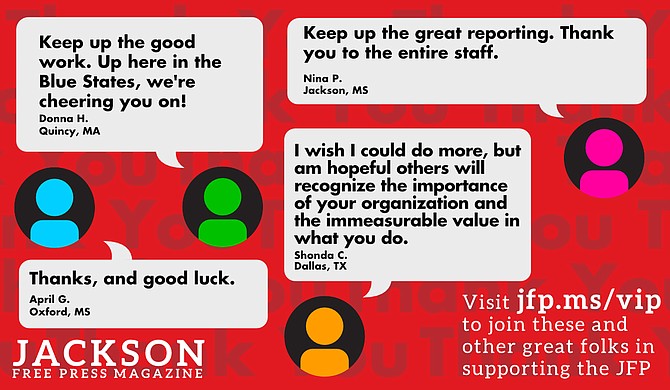 Thanks to all our new JFP VIPs!
COVID-19 has closed down the main sources of the JFP's revenue -- concerts, festivals, fundraisers, restaurants and bars. If everyone reading this article gives $5 or more, we should be able to continue publishing through the crisis. Please pay what you can to keep us reporting and publishing.