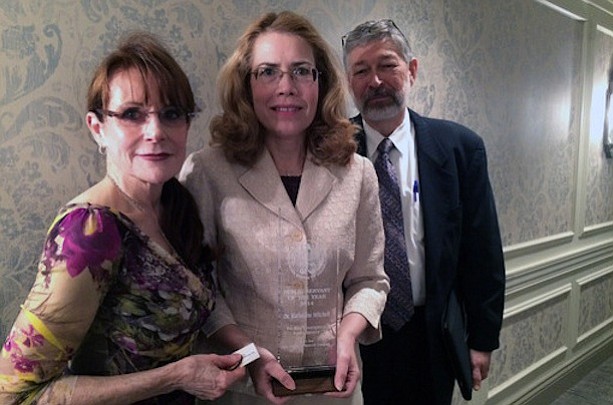 It took courage and conscience for physicians Charles Sherwood and Phyllis Hollenbeck to blow the whistle on their employer, the G.V. (Sonny) Montgomery VA Medical Center in Jackson, officials with the federal Office of Special Counsel said.
"They put their personal interest aside because they believed the public interest (required it)," said Special Counsel Carolyn Lerner at a ceremony recognizing the doctors earlier this month in Washington, D.C.
Hollenbeck alerted authorities to chronic understaffing and other issues at the Jackson VA in early 2013. Sherwood shed light on concerns about improper practices in the hospital's radiology department. Dr. Katherine Mitchell informed officials of similar problems at the VA hospital in Phoenix.
In all, five workers at Jackson's VA hospital contacted the special counsel. Specifically, the whistleblowers said the hospital failed to properly clean and sterilize such medical equipment as bone cutters, scalpels and nail clippers. Employees also said nurse practitioners were prescribing medication without proper legal permission, and that some nurse practitioners lacked proper state and federal licenses. The workers complained that "chronic understaffing" resulted in inadequate care as well.
"Because of their efforts, veterans are now far more likely to receive the treatment they deserve," Lerner said.
Sherwood said that receiving honors vindicated him from feeling, as he joked, like a "confirmed active member of the lunatic fringe" as a whistleblower.
"It's sad that being here was even necessary," he said at the awards ceremony. "It made me feel bad that I had to participate as a whistleblower in a moment to expose the systemic crisis of integrity that happened in the agency."
Hollenbeck, who grew up in Boston, compared the situation at the VA to the climate just before the American Revolution.
"The tradition of fighting for what is right and just seems to me to be in our American bones," she said at the ceremony. "I knew I had to speak up or give up, and my own rules gave me only one choice."
More stories by this author
Support our reporting -- Follow the MFP.