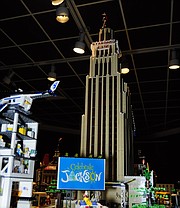 Peering down at the city of Jackson from above, familiar sites appear strange and new. There's the Standard Life building, which towers above City Hall, where Mayor Tony Yarber delivers a speech on the front steps. A J-Tran bus stops at an intersection downtown. Oh, and a few blocks away, Godzilla fights Wolverine and Storm from the X-Men.
In the singsong words of "Sesame Street," one of these things is not like the other. That's the fun of the Arts Center of Mississippi's Lego Jackson exhibit, which returns even bigger and better in its fifth year.
Scott Crawford, the builder behind the display, began the project under his Christmas tree with a few decorations and some spare time.
"I had an old Lego train that went around my Christmas tree, and I had a couple little houses and stuff," he says. "People saw it and said, 'Oh, you've got to display this.' I thought to myself, 'Well, if I'm going to display it, it has to have a theme. It has to mean something.'"
Crawford has spent hours upon hours adding depth to this massive miniature model, which has several noteworthy additions this season, including a highly detailed hospital, which took six months to complete. It's impressive at a glance, but even more so on close inspection. Inside, scientists handle hazardous materials, a proud father checks in on his newborn in the nursery, and a physical therapist helps a patient retrain his legs.
"It's fun to do the details, and it's fun to show people the details," Crawford says. "I think they appreciate it more."
While the intricacies certainly up the entertainment value, Lego Jackson has a lot to say as a whole. Whether it's the hospital, the fire department or Bailey Magnet School—which doubles as the Batcave, by the way—everything is just about perfect. Crawford envisions renewable energy sources, with working solar panels and moveable wind turbines, and perfect roads leading to all manner of entertainment and amenities.
"In order to make something happen, you have to be able to imagine it first," he says. "Part of it is to show people we can make this happen. We have to roll up our sleeves and try, but we can do this."
Crawford isn't just big talk and small blocks, either. Like the pint-sized superheroes that occupy its Lego equivalent, he works to make a difference in Jackson. For Crawford, a retired neuropsychologist, the best way to do that is to be an advocate for the disabled. He serves on a number of boards, including the Americans with Disabilities Advisory Council, the Government Relations Committee and the Multiple Sclerosis Society of Alabama and Mississippi. In a way, Lego Jackson gives him a place to visualize what he's working toward.
"Lego Jackson is kind of an idealized version of the city we all want to have," Crawford says. "I get whimsical at times, and I put in some wish fulfillment."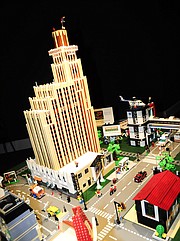 His wishful thinking has inspired some of Lego Jackson's best attractions, such as the city park, which features a zip line and a skate park, and the brand-new scenic overlook, which is located beside a body of water that represents the Mississippi River and Ross Barnett Reservoir. Crawford says the segment is similar to Fort Hill in Vicksburg. The locale is a popular spot for biking, which was one of his favorite activities before he was diagnosed with multiple sclerosis.
"I was a cyclist and a sailor. I built the sailboat I always wanted to have, and this year, I wanted to build a mountain-biking area," he says. "When I get the miracle cure, I'm going to go mountain-biking."
In 1999, Crawford began fighting primary progressive multiple sclerosis, a form of the disease found in only about 10 percent of people with multiple sclerosis. By the time he was accurately diagnosed in 2002, he was gravely ill. Luckily, doctors were able to save his life with novantrone, a form of chemotherapy.
"It was a very rapid progression," Crawford says. "I went from cycling 70 miles in a morning and snow-skiing to a wheelchair in about two years. ... It wasn't good. But you live the life you have, and you make the best of what you've got."
While Lego Jackson began as a fun hobby, it's grown tremendously in scope and cost. Last year's major add-on, Standard Life, consists of about 30,000 bricks and cost about $3,000 to make. Thankfully, donations from visitors and sponsors, such as Scott Overby of The Overby Company, have helped support Crawford's miniature vision for Jackson's future. Next year, he hopes to add Fondren Corner, but for now, there are plenty of surprises to uncover in Lego Jackson's current state for those willing to leave no brick unturned.
"I hope kids enjoy it, I hope adults enjoy it, but I also hope they're inspired to take care of their neighbors, take care of their homes and take care of their city," he says. "I've noticed that when people appreciate the miniature version, maybe it will generalize to appreciating the real version."
Lego Jackson is on display Monday through Saturday, 10 a.m.-5 p.m. at the Arts Center of Mississippi (201 E. Pascagoula St., Suite 102, 601-960-1500). The exhibit is open through Thursday, Jan. 15. Admission is free. For more information, visit greaterjacksonartscouncil.com.
More stories by this author
Support our reporting -- Follow the MFP.