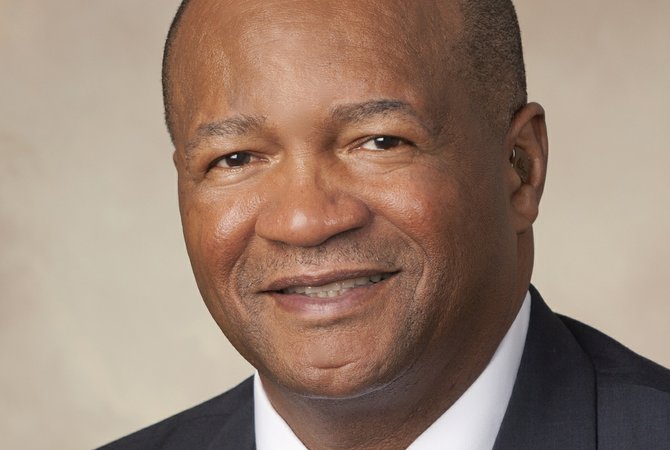 The Board of Directors of the Mississippi Food Network named Charles H. Beady Jr., the former president of the Piney Woods School south of Jackson, the new CEO of the organization Thursday, Aug. 21.
The Mississippi Food Network operates a food bank in Jackson from which it stores and distributes food and household items to member agencies in its service area, including emergency food pantries, day care centers, after-school programs and others.
"Our mission at the Food Network is to relieve poverty-related hunger in Mississippi," Beady said. "We distribute food products through 450 member agencies. The organization delivers over a million and a half pounds of food a month, and we distributed some 20 million pounds throughout Mississippi over the course of last year. There is a real need for what we do."
Beady, 58, served as president of Piney Woods School, one of the country's only historically black boarding schools, for 20 years. He left the school in 2005.
"Piney Woods provides education for youth from poor backgrounds and different parts of the world," Beady said. "I enjoyed my time there tremendously, but after 20 years, it was time for me to do other things, and my position with the Food Network is one of those things. I am proud to say, however, that one of my former students (at Piney Woods), Will Crossley, is now president of the school."
The same year he left Piney Woods School, Beady founded the Foundation for Youth International, an organization that emphasizes global learning, leadership training, and the importance of understanding and appreciating other races and cultures. Beady serves as the organization's president.
As part of his efforts to reach modern youth, Beady created a rap CD titled "Whatever It Takes: 2 Motivate 2-Daze Youth," featuring songs such as "Pull Up Yo Pants," "The B Word" and "Look-N Like a Hoochie Mama," as well as a poetry book titled "Don't Be a Fool for Hip Hop." Beady's music helps him motivate, lecture, teach, and inspire thousands of youth nationwide and internationally.
"Even though I don't care for rap, the youth of today are into it, so I put something together to show that something could be made that young people would listen to that didn't have all that cussing and denigration of women and other things you hear in rap today," Beady told the Jackson Free Press. "Young people certainly shouldn't be walking around with their underwear exposed or dressing like hookers, and I wanted to get important messages like that out there."
"I have always been interested in poetry," Beady said in an interview with Leslie E. Royal of blackenterprise.com. "When the artists took it and turned it into rap, I knew I could tap into that part of the youth popular culture by putting my messages, which were nothing more than rhyming mini-lectures, to the kind of music they loved to hear."
The CD and book, along with a teacher's guide titled "What Do You Say (2 Motivate 2-Daze Youth)?" are available on www.drbeady.com.
The Foundation for Youth International has also taken students on a tour of Europe, where they learned lessons in money exchange, historical sites and how to keep journals of their experiences.
"We took a group to Europe for 12 days because we wanted to put something together so that youth from poor backgrounds could experience other people, other places and other cultures," Beady said. "We went from Jackson to London, then to Paris, Barcelona, the Vatican, Rome, the Netherlands and back. The trip was more than 9,000 miles by train, and the kids kept a journal the whole time. In fact, one of the youths from Chicago who went on that trip, Perry Strong, is now majoring in architecture at the University of Illinois at Chicago purely because of how fascinated he was by the architecture he saw on the trip."
Beady has also worked for several organizations, most recently as associate director at the Virgin Islands University Center for Excellence in Developmental Disabilities.
"I was in the Virgin Islands for about three years providing tools and support to individuals with disabilities and their families," Beady said. "I enjoyed doing that work in that territory. We had a program that provided loans for assistive devises like hearing aids or wheelchairs that people with disabilities might need but couldn't afford themselves.
"People have asked why I would leave a place like the Virgin Islands, but the simple answer is that I love Mississippi, and the thought of being involved in an organization that's in the business of relieving hunger and food disparities is something very appealing to me."
More like this story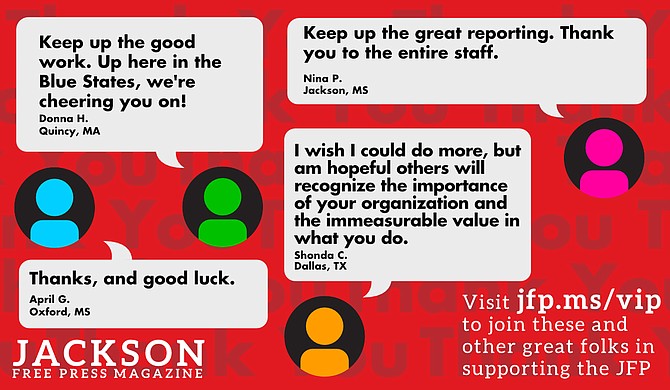 Thanks to all our new JFP VIPs!
COVID-19 has closed down the main sources of the JFP's revenue -- concerts, festivals, fundraisers, restaurants and bars. If everyone reading this article gives $5 or more, we should be able to continue publishing through the crisis. Please pay what you can to keep us reporting and publishing.