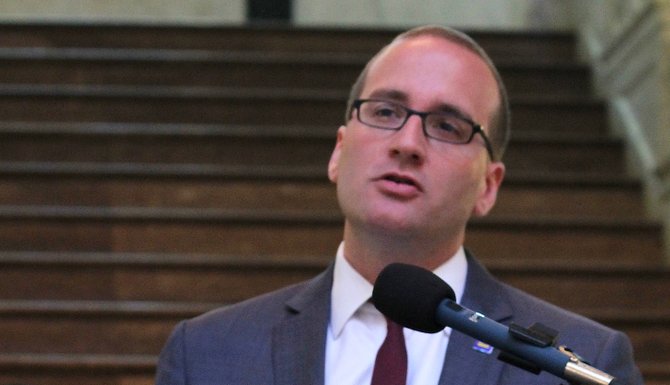 Mississippi is quickly becoming a ground zero for the battle over LGBT rights.
Next week, the Human Rights Campaign kicks off its latest endeavor, Project One America, in Jackson. The Mississippi stop is one of three HRC will make during a tour that also goes through Alabama and Arkansas.
The campaign coincides with HRC's announcement of a more comprehensive push to expand LGBT equality in the south by having a permanent presence in three southern states. The initiative will have a three-year budget of $8.5 million and will hire 20 people. This will be the largest campaign for LGBT equality in the history of the south, HRC officials say.
"Right now, this country is deeply divided into two Americas—one where LGBT equality is nearly a reality and the other where LGBT people lack the most fundamental measures of equal citizenship," HRC President Chad Griffin, who is an Arkansas native, said in a press release. "Project One America is an unparalleled effort to close that gap, and it opens up a bold, new chapter in the LGBT civil rights movement of this generation. In this grand struggle for equality, we can't write off anyone, anywhere."
The project will focus on three areas: "Changing hearts and minds, advancing enduring legal protections, and building more inclusive institutions for LGBT people from the church pew to the workplace."
Magnolia (population: 2,396) recently became the fourth city in the state to pass an LGBT anti-discriminatory resolution, following three of the state's college towns. However, Mississippi, Alabama and Arkansas have no statewide nondiscrimination protections for LGBT people.
"Despite the legal landscape, it's long past time that the country stopped treating Mississippi like the 'finish line' for equality," Griffin said. "HRC has more than 10,000 members and supporters in Mississippi, and there are countless more fair-minded people ready to stand on the right side of history."
The HRC also released information from a recently completed needs-assessment survey conducted in February and March 2014. The findings conclude that nearly 65 percent of LGBT people in Mississippi report suffering from verbal abuse and about one in five report being physically assaulted at some point in their lives. Also, a quarter of LGBT people report having experienced discrimination in employment or public accommodation.
Public opinion in Mississippi appears to be more progressive than the state's Legislature, according to a poll conducted last year in Arkansas and Mississippi. The poll revealed that 58 percent of Mississippians under age 30 support marriage equality, and 64 percent of residents support nondiscrimination protections for LGBT employees.
Rev. Rob Hill of Jackson has been working to connect HRC with other local LGBT organizations over the past few months to help advance resolutions and rights in the state. He told the Jackson Free Press that, although the project was in the works before the passage of the controversial Religious Freedom Restoration Act, the bill's passage demonstrates the urgency for expanding LGBT protections in the state.
"That bill is a clear example of why we need Project One America in Mississippi," Hill said in an interview. "Because the truth is, with or without SB 2681, there are still no protections for LGBT people in Mississippi when it comes to employment and when it comes to health care. People can still be discriminated against. SB 2681 ... is just a further means of disenfranchising people and demeaning them."
Update: Although Rob Hill originally said "...there are still no protections for LGBT people in Mississippi when it comes to employment and when it comes to health care," he called this afternoon to say that "housing and public accommodations" should be included as something that LGBT people don't have protection for as well.
Support our reporting -- Follow the MFP.